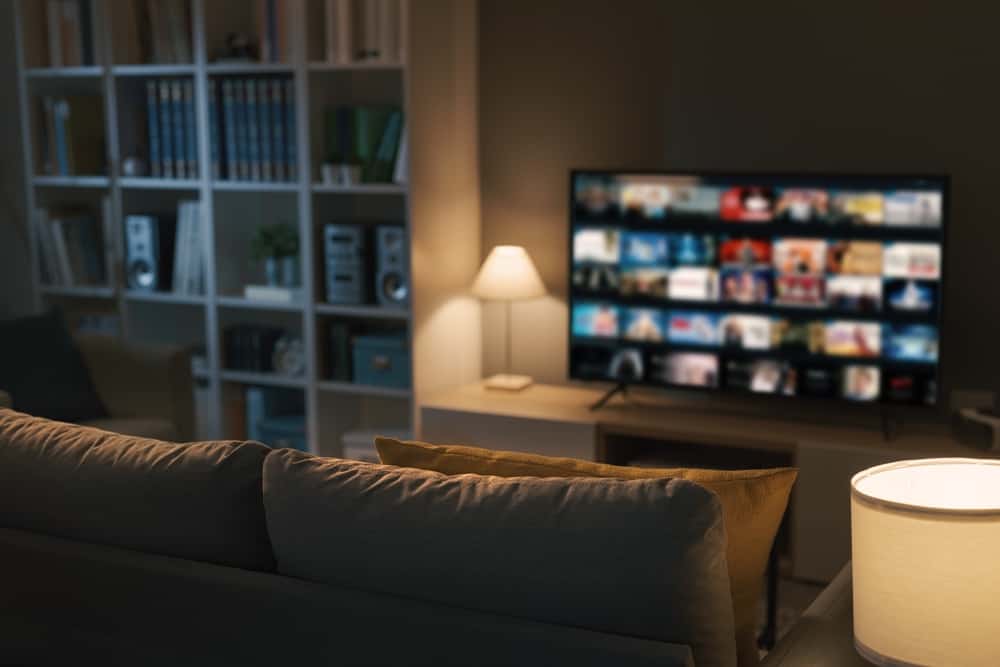 Onn TVs are good if you look for something relatively cheap that will get the job done. Onn is not as high quality compared to other TV brands, having more dull color and brightness and quieter audio. However, it works pretty well considering its price, and if you aren't looking for something super fancy, you will most likely enjoy it.
The rest of this article will teach you more about Onn TVs and go in-depth on some of their features and help you decide if they are worth buying.
What Kind of Features Do Onn TVs Have?
One feature that is very well-liked in Onn TVs is that they are compatible with Roku. This makes it very easy to set up and navigate the TV. You will be able to see all your apps in one spot and go through them with ease. This means that Onn has access to all streaming apps such as Netflix, HBO, Amazon Prime, Hulu, and more.
Onn TVs also have a good amount of ports to connect several devices. Though it depends on what kind you get, most Onn TVs will have 3 HDMI ports that allow you to connect things such as soundbars and USB cords. They will also have an ethernet cable if you're looking to stream without WiFi, though it's easy to connect to a router.
One thing you should be aware of before buying an Onn TV is that they aren't compatible with smart hubs such as Alexa or Google Nest. So if you have these devices and want them to connect to your TV, it's best to look into other brands as Onn TVs will not be able to provide that connection.
Are Onn TVs Cheap Compared to Other TV Brands?
Onn TVs are definitely a good cheap option when it comes to different TV brands. Some Onn TVs sell for as low as $88, whereas others will be a little more expensive, ranging up to $450. However, this is a small price to pay compared to some of the other TVs on the market.
Just comparing the lowest possible prices, Onn TV will be your cheapest bet. More famous brands are going to start at higher prices. The most inexpensive Samsung TV goes for about $200, and one of the cheapest Sony TVs is about $250. Compared to the Onn TV's $88, you can see that Onn is the most affordable option.
Can You Connect Gaming Consoles to Onn TVs?
Since Onn TVs are compatible with Roku, you should be able to connect your gaming consoles to most models. The quality of your gaming may be pretty low, and there have been complaints about lagging with most Onn TV models.
Many Onn TV models also have 60 Hz, which is low for playing high-end games. If you want good quality and less lag, you probably won't get that with just 60 Hz. This means that if you plan to play games on your Onn TV, it will be beneficial to make sure you are getting a model with more than 60 Hz. 120 is an ideal number.
Furthermore, if you like to use your computer to play games, don't expect it to be compatible with an Onn TV. Onn TVs don't have an HDMI 2.1 port, which is the ideal way to connect your computer for gaming. It's still possible to connect it to the HDMI ports that Onn offers, but the resolution and overall quality will be worse than if you were using a different TV with an HDMI 2.1 port.
Are There Common Complaints About Onn TVs?
The most common complaint about Onn TVs is about their sound quality. Onn TVs tend to be pretty quiet, and even if you turn them up to the max, some people still have issues hearing them from far away. This is something to consider if you are hard of hearing or are bothered by quiet TVs. Another common complaint is lagging during gaming, which was discussed previously.
However, there are also many good things about Onn TVs, such as their price and the easy streaming ability with Roku. Though there are some common complaints, these will happen with any product, and it's important to weigh these cons with the pros to understand if the brand will be a good fit for you.
Are Onn TVs Worth Buying?
At the end of the day, it is up to you and your preferences when deciding if an Onn TV is worth buying. You have to consider your budget and what features you are looking for in a TV. Are you looking for a TV that will provide good quality gaming, or are you just interested in streaming movies and shows?
If you want a TV with higher sound and video quality, it might benefit you to look around at other brands, especially if you have a higher budget and don't mind spending a little more to get the quality you are looking for. This also goes for if you are interested in gaming and don't want to deal with low quality and lagging.
It's also important to ensure you won't be devastated if you can't connect a smart hub such as Alexa to your TV. As previously stated, there aren't any Onn TVs that will connect to a smart hub device, so if that is something that you have to have in a TV, Onn won't be the right brand for you.
All that being said, Onn is one of the most affordable brands out there. If you don't necessarily mind lower audio and video quality, if it means you can get a cheaper TV, Onn will be a good brand for you. And if you are looking for a TV that will stream your shows and movies, you really can't go wrong with Onn. It's a great cheap option.