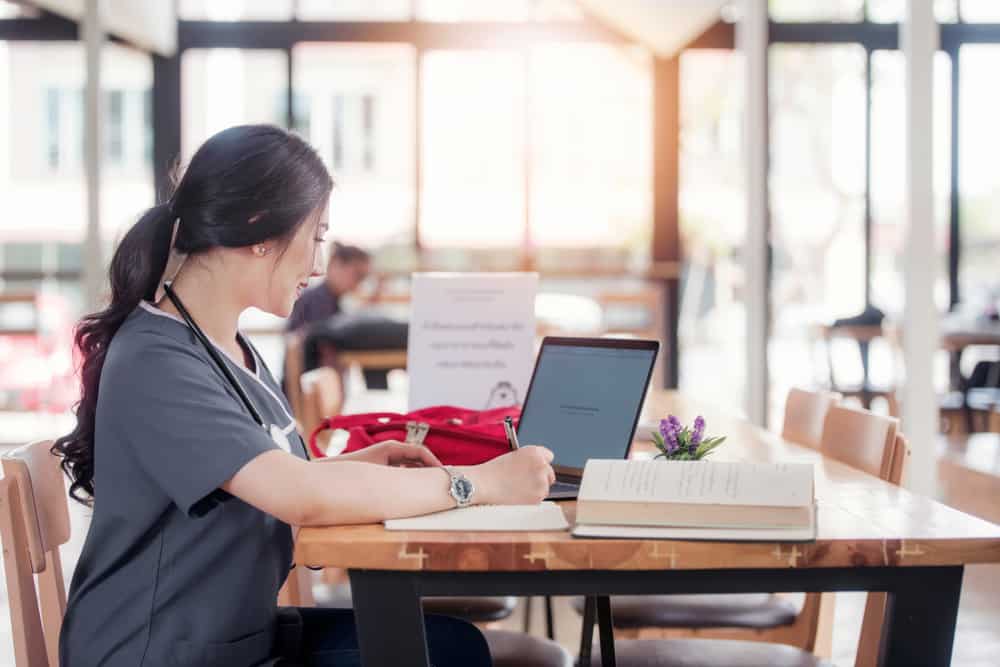 Nursing school can be pretty challenging as there are tons of lectures, textbooks to read, and clinical hours that can take up most of the day. Essentially, as a nurse, the type of laptop you'd need is quite different from an average game or video editor. So, what are the best laptops for nursing students? 
The ideal laptop for a nursing student should be portable and has long battery life. It should also have a large HD display and a great processor to allow the nurse to pull out multiple records without compromising performance. 
As a nursing student, you need a trustworthy laptop, so you mustn't settle for less. Laptops like the Apple MacBook Air, Acer Swift 5, HP 15, Dell Latitude 5520, and the MSI Summit E15 are good laptops to buy to handle all your academic research and writing, complete laboratory outputs, and handle all other software needed. 
Recommended Laptops for Nursing Students 
There are so many laptops that fit the category of laptops suitable for nursing students. But since the budget is always limited, we've chosen five of the best laptops you can consider that would suit every budget. 
The 2020 Apple MacBook Air is our number one choice because it is lightweight and offers enough power to handle all your computing needs as a nursing student. Furthermore, this Apple MacBook has an impressive battery life that can last 12 hours on a single charge, sufficient for all-day usage. 
Performance-wise, this Apple laptop comes with the Apple M1 chip, which features eight cores delivering up to 3.5X faster performance than previous generations. Apple also integrated this laptop with the Apple 8-core GPU, which provides nursing students with enough power and speed to handle all their graphics needs. 
The build quality of this MacBook is pretty sleek, thanks to the metallic chassis, which is durable and elegant. This Apple MacBook also comes with a 13.3-inch full HD retina display giving you impressive colors and clarity even when outdoors. The keyboard also comes with a backlit, which comes in handy when using the laptop at night. 
You would also find all the essential ports and connectivity features to handle all your nursing needs, such as DisplayPort, Thunderbolt, USB, and even USB 3.1 Gen 2, which supports up to 10 GB per second transmitting speed. 
Another laptop worth considering is the Acer Swift 5, which is lightweight and has powerful features any nursing student would find helpful. Acer used the powerful Intel Core i7-1165G7 processor. This processor has four cores, a clock speed of 4.7 GHz, and an Intel Smart Cache of 12 MB. As for the GPU on this laptop, Acer used the Intel Iris Xe graphics card. This GPU provides up to 128 MB of dedicated video memory, capable of handling high-end graphics-intensive programs. The build quality of this Acer laptop is also excellent as its ultra-thin all-metal chassis, which weighs around 4.6 pounds, makes it durable and portable.  
The display of this Acer laptop is also outstanding as it features a 14-inch full HD widescreen with an antimicrobial corning gorilla glass which helps protect it from being easily soiled or scratched. The display provides up to 340 nit of brightness which is enough screen brightness even while in the sun. Acer also designed this laptop with an excellent battery that lasts up to 15 hours on a single charge. And with numerous ports on the laptop, such as the Thunderbolt 4, USB, DisplayPort, USB type-C, etc. 
If you are on a budget yet want an outstanding laptop for your nursing classes, this 2021 HP 15 is the perfect match. Despite being one of the most affordable laptops you can get for nursing, it is packed with sufficient power to handle all your needs. The CPU on this laptop is the Intel Core i5-1135G7 which has four cores making it efficient and fast when completing nursing school assignments. Also, this HP laptop comes with Intel Iris Xe Graphics to handle all your graphics needs. 
Furthermore, this HP laptop weighs a little under 4 pounds, and its battery can last up to 12 hours on a single charge, which are both great features any nursing student needs. The HP 15 is also pretty durable, with a thin bezel. As for its display, HP used a 1920 x 1080 resolution, providing vivid images and an antiglare feature. There are also plenty of ports that nursing students will find useful, like the HDMI, USB, audio jack, SD media card, etc.       
If you are looking for the perfect mix of durability and power, this Dell Latitude 5520 is the ideal nursing laptop. Dell used the Intel Core i7-1185G7 processor for this laptop, which features four cores and a clock speed of 1.20 GHz. The graphics processor on this laptop is integrated with the Intel Iris Xe, which allows you to perform tasks or run programs with high graphics needs. The build quality of the laptop is also excellent as it features a thin bezel and weighs around 5 pounds making it easy to carry around all day. 
Also, it comes with a 15.6-inch touchscreen display which is easy to navigate, and plenty of screen for multitasking. The display comes with 1920 x 1080 resolution, meaning you can see all your nursing material in great detail. The keyboard that comes with this laptop is pretty easy to type on with an island-style backlit. And the touchpad supports gesture control, making it easy to zoom in/out or scroll between programs or websites. There are also sufficient ports and connectivity features, such as USB ports, Thunderbolt, DisplayPort, etc., that every nursing student needs. 
If you want to take things a notch higher in terms of power and style, this MSI Summit E13 is the perfect laptop. It comes with a 13.4-inch IPS display which delivers a high-resolution display and a touch screen capability for easy navigation. MSI also used the Intel Core i7-1185G7 for this laptop, which offers ample power to run programs and daily tasks efficiently. This processor comes with four cores and a clock speed of 1.2 GHz, which is decent enough for a nursing laptop. Also, this laptop comes with Intel Iris Xe integrated graphics to handle all your graphics needs.
Furthermore, the build quality of this MSI laptop is pretty impressive with its all-aluminum chassis. It is also ultra-thin and weighs just under 3.5 pounds, which is lighter than an average laptop its size. MSI was also gracious enough to include a variety of ports on this laptop, including the USB 3.2 gen 1 port, thunderbolt port, HDMI out, and so on. And with a battery that can last up to 12 hours on a single charge, this MSI nursing laptop is perfect for all-day usage. 
The best laptop for nursing students must be able to withstand regular use and have a high processing capacity. Since you will be doing a lot of research, it is advisable to have a laptop that can run the common Microsoft programs.
Conclusion 
So, as a nursing student, if you are looking for a powerful laptop with a great display, battery life, powerful performance, and an impressive number of ports, then the recommended list in this guide is for you. Finding the perfect laptop that suits you is tough, but we hope this guide helps you find the ideal portable laptop you want.