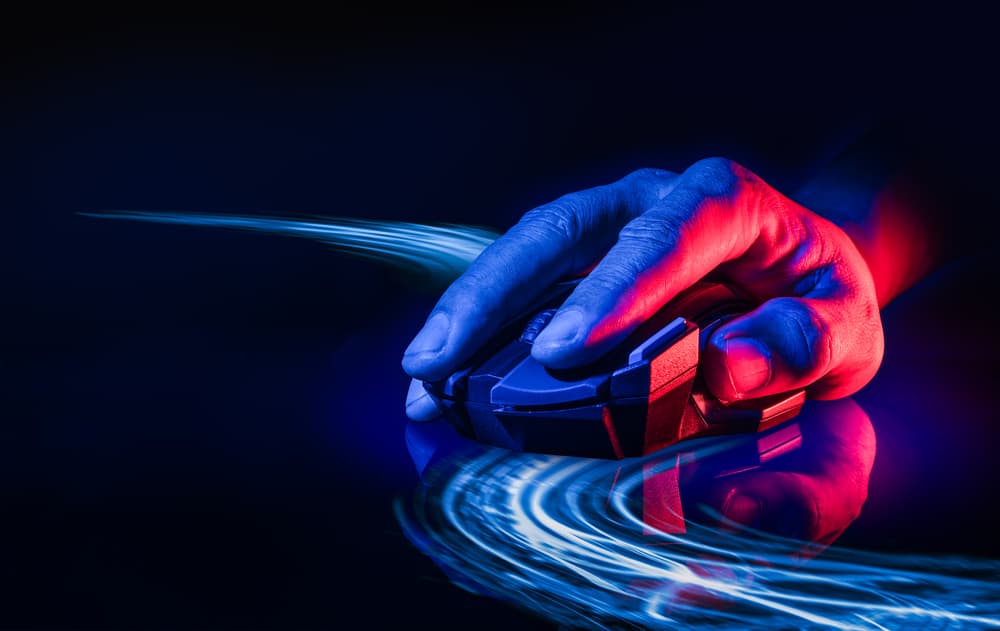 Have you ever thought that your equipment could be holding you back from your mad gaming skills? It's possible, especially if you're not using a mouse made for butterfly clicking. 
We've skimmed the web and found 7 of the best mice that will help you step up your game with butterfly clicking.
Get on the same level as all the pros, using one of these mice to get on the same level as some of your biggest competitors.
What Is Butterfly Clicking?
The world of gaming is a competitive one, leading many to push their limits and develop ways to be better than the competition. One of these techniques has taken gamers by storm, giving them a way they can maximize clicks per second.
So, how can you do it? Well, first of all, you need the right mouse. We'll introduce you to the best seven you can find on the web. Once you have the perfect mouse, you'll need to use your index and middle finger, placing them at the very end of the mouse. Then, simply alternate clicks as fast as you can.
It's quite simple, though it takes a bit of practice as the pros do. To start, grab a mouse that supports the wrist and click away, seeing how fast you can get your clicks in.
Is Butterfly Clicking Allowed?
If you follow some of the top gaming competitions, you might see certain clicking forms like butterfly clicking and jitter clicking are against the rules. Some companies do not allow their gamers to click in certain ways, though that's not the case for amateur players.
As a freelance player, you can click any way you like, choosing the method that best suits you. It's good to play around with different clicking styles, finding the one that gives you max clicks per second. You may find that one works better for you than others, so practice and see how quickly you click once you find it.
The Top 7 Best Mouses for Butterfly Clicking
Now that you've gotten the scoop on butterfly clicking, it's time to look at the hour's products. To come up with our list, we've searched high and low, picking out the best of the best mice.
We looked at all the technical stuff first, then moved on to comfort and aesthetics to come up with 7 of the best for butterfly clicking, listed below.
#1: Razer Naga Trinity – The Best of the Bunch
Featuring 19 buttons, a sleek design, and supports up to 50 million clicks, this Razer Naga Trinity mouse is just the thing to take your gaming up a notch. 
Configure the buttons to give audible feedback with each click to ensure things are running smoothly. All buttons can be switched around for your needs to have the best tool in your hand for your next gaming experience.
Specs
16,000 max DPI.
Weight = 4.2oz.
Wired connection.
19 buttons.
20 million clicks.
Pros
19 buttons that are all programmable.
16,000 DPI.
Comfortable shape and design to support hands.
Audible feedback from buttons to ensure clicks are registered.
Cons
A bit on the expensive side.
Some click slips are possible.
#2: Glorious Model O – Lightweight and Stylish
One of the most loved mouses in the game is the Glorious Model O. It's packed with customizable features and made for comfort that lasts throughout your gaming session.
The shape is full size and suits gamers who use either hand. From hand sizes small to large, this mouse rests right in the palm and provides all that's needed for a day of solid gaming.
Specs
12,000 max DPI.
Weight = 67g.
Wired connection.
6 buttons.
20 million clicks.
Pros
Super lightweight.
Supports up to 20 million clicks.
Ergonomic design.
Fits all hand sizes and shapes.
Cons
This mouse may be perfect!
#3: Hyperx Pulsefire Raid – Intense and Customizable
This mouse is super lightweight and rests perfectly in the palm. Cupping around the mouse will allow the fingers to land in the exact spot necessary for butterfly clicking.
Change up the 11 buttons features on the mouse to do what you want them to, using them to enhance your strategy and maximize your clicking In no time. It's powerful, visually pleasing, and provides max comfort for your hands.
Specs
16,000 DPI.
Weight = 4.5 oz.
Wired connection.
11 buttons.
Pros
11 buttons that are all programmable.
Cool design.
Supports the hand and wrist.
Perfect for butterfly clicking.
Cons
A bit limited on features compared to the others on this list.
#4: Steel Series Sensei 310 – Sleek Ambidextrous Design
This Still Series Sensei mouse was designed in collaboration with the masterminds at Pixart, featuring 1-to-1 tracking. This mouse was made to maximize performance and pick up each move so that you never miss a click.
The sides of the mouse have a no-slip grip material that facilitates butterfly clicking, keeping up with the most intense clicking sessions. There are 8 buttons all around the mouse, all of which you can change up to do what you want them to.
If you're looking for a comfortable mouse with all the latest tech, this one is a winner. 
Specs
12,000 CPI.
Weight = 92g.
Wired connection.
8 buttons.
Pros
Advanced tracking software built in to reduce missed clicks.
Lighting all around.
Ergonomic design that's comfortable for both lefties and righties.
Non-slip grips on the side.
Cons
Weights slightly more than some of the others on the list.
#5: Logitech G403 Hero 25K – The Premium Pick of the Lot
When you first look at the Logitech mouse, you'll find that it has a discreet and sleek design. However, once you hook it up to your computer and start using it, the premium features shine through, making it one of the best gaming accessories around.
Choose from over 16 million color combos to make the experience your own and customize buttons to do what you want. You can adjust just about everything, including the buttons, the lighting, and even the weight, thanks to a removable 10g weight for your needs.
Specs
25,6000 DPI.
Weight = 87g.
Wired connection.
6 buttons.
Pros
Super comfortable grip that won't slip.
10g removable weight.
Created for accuracy when it comes to clicking.
Highly customizable.
Cons
A bit pricey.
On the smaller side, might not work for those with large hands.
#6: Razer DeathAdder V2 – Longest Playtime between Charges
Razer mouses are a gamer's best friend, not only designed with them in mind but boasting a number of fun features to make it your own. This DeathAdder V2 is one that was designed with butterfly clicking in mind, providing the perfect grip to stick and click.
The reaction time in this mouse was tested by some of the best gamers, topping off at 0.2 milliseconds. They can ensure up to 70 million clicks, making it a match made in gaming heaven. Both lefties and righties can enjoy using this mouse, enjoying the feel and the features to maximize their gaming time. 
Specs
16,000 DPI.
Weight = 4oz.
Wired connection.
15 buttons.
Pros
Long-lasting battery.
Offers two-way communication.
Super portable.
Cons
A bit on the expensive side.
Can be tricky to set up with some systems.
#7: Nacodex AJ339 65G Watcher – Best Budget Mouse 
Just because Nacodex is considered a budget mouse doesn't mean it's short on all the best features. It has a sleek design with customizable colors and 6 buttons that are all programmable. Choose from more than 10 lighting modes, finding the one that goes with your gaming style.
The grip, the shape, and the weight all come together nicely to ensure that gamers have the perfect tool that allows them to butterfly-click their way to more intense gaming sessions.
Specs
6,400 DPI.
Weight = 4oz.
Wired connection.
6 buttons.
Pros
Budget-friendly.
Lightweight design.
Customizable colors and buttons.
Cons
Smaller frame is not the best for those with bigger hands.
Stiff scroll.
Top Things to Look For in a Gaming Mouse
When hunting for a gaming mouse, there are a few key things to consider. You want to have a comfortable mouse that will also deliver results, giving you the max clicks possible in the shortest amount of time. When searching for your match, keep an eye out for these few things.
The Sensor
Two of the most common sensors for mice are optical and laser. Optical sensors are among the most preferred for everyday use, but what about gaming? Laser has the reputation of being very sensitive. Plus, you can use them on virtually any surface.
Laser tends to be more accurate, especially for quick clicks. While you can find both optical and laser sensors on mice that are great for gaming, if quick clicks are what you're after, you may want to limit your search to only laser.
DPI
Dots per inch (DPI) is a spec used to describe the sensitivity of a mouse. It has to do with the display screen and will only make a difference if your setup allows it to. For example, you won't get much difference when using a 4K screen. But, DPI can make all the difference when using a gaming screen and setup.
Go for a mouse that offers adjustable DPI so that you can be in control of the sensitivity you experience. You test it out and see what works for you, choosing a DPI that will allow you to click where you want to and avoid any chance that you can't.
Wired or Wireless?
You may already have your preference for wired or wireless mice, but gaming is a whole different ball game. Wired mice are still king of the gaming world, preferred because they are cheaper and guarantee a connection.
Still, a wired mouse has that long, stringy thing attached, which could get in the way of swift movements. Getting used to a wireless mouse does take some getting used to, though it's a good option.
Wireless mice can be a great advantage for gaming, especially if you're always on the move. They're easy to pack up and can be used just about anywhere, as long as you have some sort of flat surface to use them on.
Buttons
Buttons are another big one, allowing you to execute the moves you want when you want them. Go for mice that have programmable buttons that allow you to make changes and customize them to your liking.
This is perhaps your greatest tool, allowing you to make changes that make your top moves easier to execute. Once you get used to your new mouse, you'll be unstoppable, especially if you get the technique down of butterfly clicking.
Conclusion
Now that you've got the gist of butterfly clicking and a list of the best seven mice to help you do it, it's time to hunt. Be sure to keep a few things in mind before choosing your mouse, including the sensor, the buttons, and the connectivity.
Grip it in-store if you can, getting a feel for how it moves with the natural contours of your hands. You can play and customize it once you have it at home, setting it up for your next big gaming day.