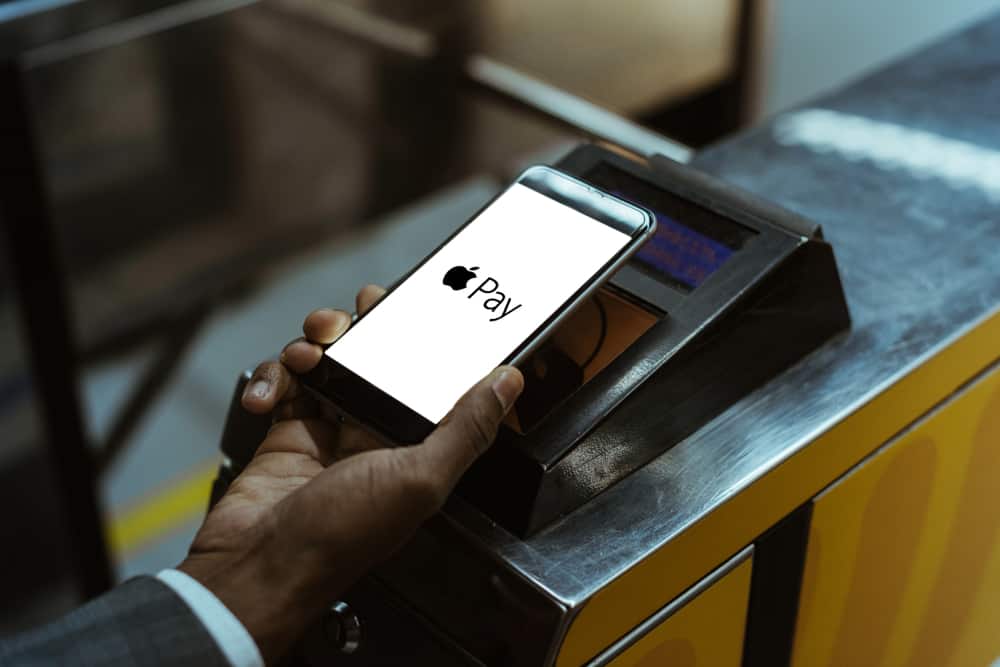 Using mobile and digital wallets such as Apple Pay can make on-the-go payments far safer and more convenient. But if this is your chosen payment method, you want to ensure that you can use Apple Pay at ATMs.
You can use Apple Pay at certain ATMs that accept contactless transaction methods. You can verify which ATMs accept Apple Pay by looking for the contactless symbol on the machine.
Please keep reading to learn more about which banks' ATMs support Apple Pay transactions and how to find them. We'll be outlining how to use Apple Pay at ATMs and the benefits of doing so. Let's get into it!
Can You Use Apple Pay at ATMs?
You can conveniently use Apple Pay at ATMs if they are compatible with near-field communication (NFC). NFC is a contactless method that Apple Pay uses.
If you want to verify that your particular ATM is NFC-enabled and will accept digital transactions like Apple Pay, see if it has a contactless symbol. These typically look like a circle with four curved, vertical lines inside – almost like a sideways Wi-Fi symbol.
ATMs that accept Apple Pay might also have the Apple Pay symbol displayed to indicate that you can use your digital wallet to withdraw cash.
With contactless payments, you don't have to insert a card chip or swipe your debit/credit card. And with Apple Pay, you don't even have to get your physical card out of your wallet.
Banks That Typically Accept Apple Pay at Their ATMs
According to a 2022 statement by Apple, Apple Pay is accepted by more than 90% of retailers. Unfortunately, the world of contactless transactions – with Face ID and Touch ID – hasn't expanded as quickly for ATM transactions.
Certain banks are known to widely accept contactless Apple Pay withdrawals at their ATMs, including the few below.
Bank of America.
Wells Fargo.
Citibank.
Chase.
Bank of America allows customers to add their branded debit and credit cards to their Apple Wallets for Apple Pay use.
Wells Fargo customers can also add their Wells Fargo debit cards or Wells Fargo EasyPay® Cards to their Apple Wallets. You can then use Apple Pay to withdraw at Wells Fargo branded ATMs and some ATMs associated with Wells Fargo.
According to Citibank, all Citi-branded debit/credit cards that are US-issued are eligible for Apple Pay. As long as the ATM is associated with Citibank, you should be able to use this method. The same principle applies to Chase ATMs and Chase-associated ATMs when you add your Chase debit card to your Apple Wallet.
When a bank's ATM accepts contactless payments, it may or may not accept Apple Pay, as some banks require customers to use their online banking app to make contactless ATM withdrawals. Moreover, not all banks that allow Apple Pay at their ATMs accept all types of cards in your digital wallet, and some are limited to bank-issued debit cards alone.
How to Use Apple Pay at ATMs
Using Apple Pay to withdraw cash at eligible ATMs is surprisingly easy and fast. You'll only need to follow these steps, with some possible variations depending on the bank that you're working with.
Make sure that your desired card is added and its information is verified in your Apple Wallet.
On your mobile Apple device, open the Apple Wallet application.
Select the card you want to withdraw funds from.
Hover or tap your device over the contactless, NFC, or Apple Pay symbol on the ATM.
Verify your identity with Touch ID or Face ID, depending on what you have set up on your device.
If prompted, enter your PIN code.
After completing these steps successfully, you should be able to select the amount of cash you want to withdraw and finish the transaction.
Benefits of Using Apple Pay at ATMs
Many ATM users prefer using contactless Apple Pay for their withdrawal transactions. The experience has specific benefits that outweigh the traditional card chip and card swipe options.
Added Transaction Safety
The first vital benefit is the added safety and security with contactless payments. Apple Pay allows users to make ATM transactions without even getting their physical wallet out. This is nice because you don't have to make your financial belongings vulnerable in public.
Furthermore, you protect yourself from the risk of illegal skimming devices that might be present, unbeknownst to you.
Using Apple Pay also adds further layers of security by requiring the user to verify that they are the identity associated with the card in the digital wallet. When you complete Touch ID (fingerprint-specific) or Face ID (face-specific), only you can withdraw from that ATM using that card.
Added Convenience/Speed
Second, Apple Pay is more convenient and faster than traditional ATM transactions with physical debit/credit cards. You probably have your phone in a more accessible location than your wallet when you're at an ATM. In fact, it's probably already in your hand when you're ready to make the withdrawal.
ATMs that accept this form of cardless payment allow you to swipe your phone over the contactless symbol quickly. There's no need to fuss around with inserting your debit/credit card into the machine and waiting to get it back when your transaction is complete.
Affordability
And finally, Apple Pay withdrawals at ATMs are advantageous because they don't require you to pay any added fees when using your bank's ATM.
Final Thoughts
A common concern among iPhone users this season. Luckily, this digital payment method is becoming more widely accepted over time, and you can currently use it at Citibank, Chase, Wells Fargo, and Bank of America ATMs.
Check that your ATM has a contactless payment or Apple Pay logo, and ensure your card is added to your Apple Wallet. You can verify Apple Pay withdrawals at ATMs with Touch ID, Face ID, or your ATM pin. This withdrawal method is safe, convenient, and fast, so it's growing in popularity.