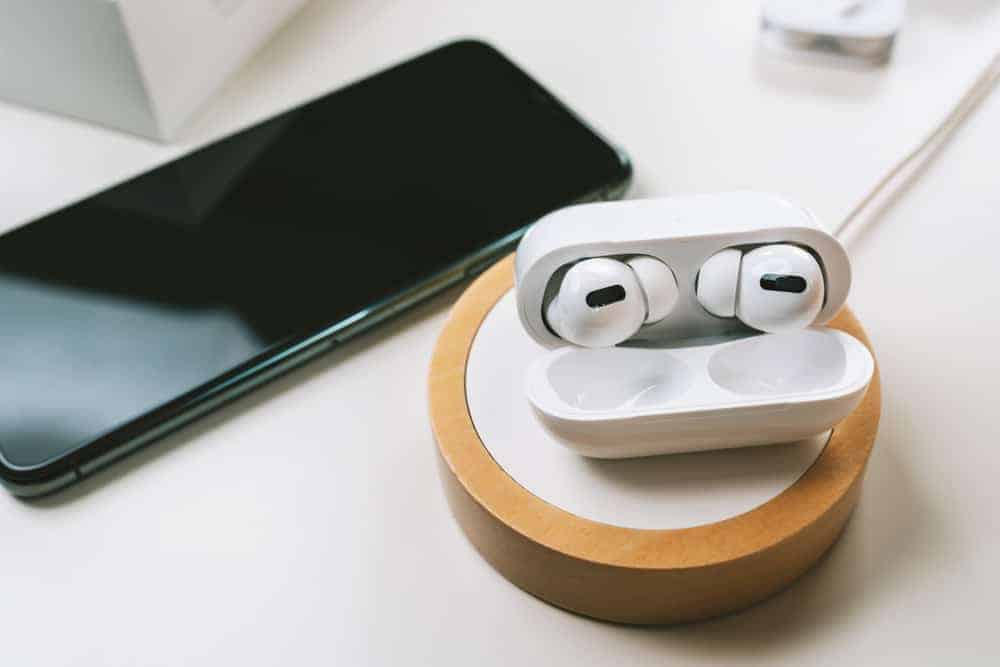 Yes, you can charge your AirPods Pro with an iPhone charger, but in order to do this, you have to use the case too. Plug your iPhone charger into the case and put the other end in the wall. Make sure your AirPods Pro are in the case; otherwise, they won't charge.
This method is convenient if your case is out of battery and therefore can't charge your AirPods Pro. By putting the AirPods in the case and plugging in the iPhone charger, you will be charging both the case and the AirPods Pro at once. This is great if you are in a rush and don't have time to charge the case before charging your AirPods Pro.
The rest of this article will teach you more about the different ways of charging your AirPods Pro and how using your iPhone charger affects them.
Is It Faster To Use an iPhone Charger for AirPods Pro?
iPhone chargers have something called power management circuitry. This means that the device being charged will only be charged with the amount of power it needs. In the case of AirPods Pro, they are generally charged at 5W, and this is how much power they will be charged with the iPhone charger even though it charges with more power on iPhones.
Therefore, AirPods Pro will be charged at relatively the same speed whether you use an iPhone charger or not. They will be fully charged within an hour of putting them in the case but can be taken out before that and still get plenty of use. Some people can put their AirPods Pro in the case for just 5 minutes and get 1 hour of listening time from that.
What Other Ways Can You Charge Your AirPods Pro?
You can charge your AirPods Pro in their case. As of right now, there is no other way to charge them besides this. Make sure you close the lid; otherwise, they won't charge. As long as the case is charged, your AirPods Pro will automatically start charging when they are in the case with the lid shut. 
Your case can be charged in one of two ways: a lightning to USB cable (aka iPhone charger) or a MagSafe or Qi-Certified wireless charger. When using a lightning to USB cable, you simply plug one end into the wall and the other into your case. It will charge once it's plugged in, and this can be a great way to charge your AirPods and case at once.
Using the wireless charger method is possible with the AirPods Pro case. Just set your case on top of the wireless charger and ensure the status light is facing up. It will light up once it's in the correct position, then continue charging after the light turns off. Like using an iPhone charger, this method also allows you to charge your AirPods Pro and case simultaneously.
Is It Bad To Use an iPhone Charger To Charge Your AirPods Pro?
Using an iPhone charger to charge your AirPods Pro is not harmful. In fact, iPhone chargers are the same as the lightning to USB cord that comes with your AirPods. This cord, which can also work as an iPhone charger, is what will charge your AirPods Pro case.
Since this cord is meant to charge both iPhones and AirPods Pro cases, it is perfectly safe to use it to charge your AirPods Pro. Your iPhone charger can't directly charge your AirPods Pro, but it can charge the case while the AirPods are charging. Since the iPhone charger keeps your case charged, it's indirectly helping to charge your actual AirPods Pro.
Will Your AirPods Pro Battery Last Longer if You Charge It With an iPhone Charger?
Your AirPods Pro battery will not last longer if you use an iPhone charger. No matter how you charge your AirPods, whether it be in the case of an iPhone charger, a wireless charger, or just by themselves, they will always have the same battery life. 
How you charge your AirPods Pro won't affect how long they remain charged, so it all comes down to what you prefer when charging them.