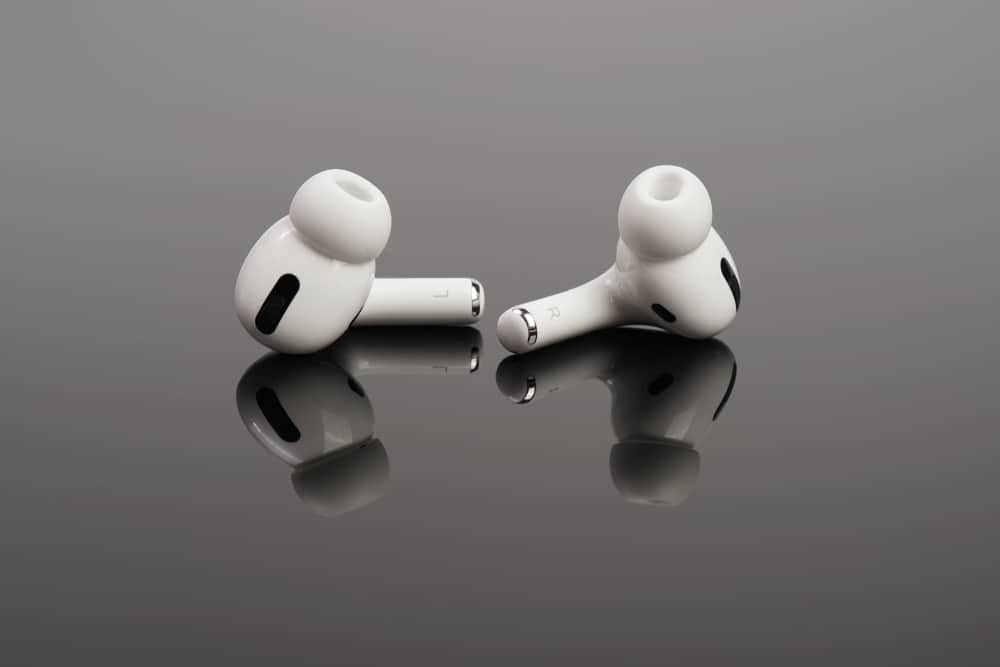 Apple AirPods have become the go-to audio gadget for iPhone and iPad users. They connect to users' devices via Bluetooth connections, functioning as an output and input accessory.
As you might already know, these gadgets come in a sleek case that houses a single pair of AirPods. However, you might not know that it is possible to pair your AirPods with your iPhone or iPad without the case.
You might begin to wonder how this is even achievable in the first place. Don't worry; we've got you covered. In this how-to guide, you'll learn how to connect your Apple AirPods to your device without a case and so much more. These methods work for all three models of the Airpods.
How Do Airpods Work?
Apple AirPods are designed with a charging case that houses a pair of pods. The AirPods connect through embedded Bluetooth protocols.
The Bluetooth protocols that enable connectivity are embedded only in the AirPods themselves between the case and the housed pods. On the other hand, the charging case is primarily designed for:
Asides from these, the charging case has no objective function added from the factory. Therefore if you've previously connected your AirPods to your iPhone or iPad, you don't need the AirPods case to initiate subsequent connections with the same paired device(s).
Connecting AirPods Without the Case
As long as you aren't trying to pair your device with the AirPods for the first time, you can easily connect to an Airpod without its case.
To achieve our aim, we will use the SharePlay feature of iPhones and iPads. You don't need to worry about whether your device has the feature or not. It comes factory installed on all Apple devices.
SharePlay is a new upgrade to the normal facetime. It allows users to multitask while video chatting. You can stream music, shows, movies, workout, and play games while video chatting simultaneously.
The feature's use is, however, not limited to this. You can also use it to connect your caseless AirPods by doing the following:
Access your iPhone's Control Centre. You can do this by swiping up from the bottom for older iPhones with the home button.
If you are using an iPhone X or later versions, you can also do this by swiping down the top-right corner of your screen.
Locate the audio card at the top right corner in the control center.
Press and hold the audio card to expand the window.
In the expanded window, tap the SharePlay icon.
From the list of paired devices, you can now select your AirPods.
At this point, if your AirPods are not dead, your iPhone will pair with them, and you can use them easily without any need for the case.
To connect an iPad, repeat the same process as the iPhone's from start to finish. And ensure that you've also previously paired the iPad to your AirPods.
After doing all these, if your iPhone or iPad doesn't connect, your AirPods are dead, or they've never been paired with your device.
Connecting AirPods to iPhone/iPad/iPod Touch
If you are yet to connect your Airpod to your iDevice, here's how to go about it:
Place the AirPods back in the case if they aren't there.
Open the cover and check the status light. It should be amber.
Next, press and hold the setup button. It is the small round button located at the back of the case. 
After a few seconds, the amber status light will change to flash white.
Now go back to your iDevice and switch to the home screen.
With your AirPods still in, open the case and hold it in place beside your iPhone.
Almost immediately, a setup animation will pop up. Tap Connect then tap Done.
That's all there is to it. If your iDevice is not connecting to the AirPods, access your device Settings and try forgetting the AirPods from the Bluetooth devices list.
How To Reset or Forget Your AirPods on Your iDevice
In case you don't know how to reset or forget the AirPods on your iPhone, here's how:
Put the AirPods in the charging case, then close the lid.
Wait for 30 seconds then open the lid of the charging case.
On your iDevice, go to Settings.
In settings, go to Bluetooth and tap the more info icon beside your AirPods in the devices list.
In the new window, tap Forget This Device and tap again to confirm.
After doing this, try to reconnect by repeating the highlighted process once again.
Can You Connect AirPods to the iPhone When You Have Lost the Case?
If the battery of the AirPods isn't dead, yes, you can easily connect your AirPods to your device.
However, there's a catch to this, when your AirPods battery runs out, which it will, you will need to charge them.
If you have misplaced the charging case, you can walk into an Apple store to get a replacement. Amazon is also an option; they go for an average of $70 per piece there.
Any AirPod case will work to set up and pair your AirPods. This is the case as long as there is no version difference between the case and the AirPods, i.e., you can only charge an AirPod pro in another AirPod pro's case.
Summary
The main gist of the tutorial is that you don't particularly need the AirPods case to connect your device whenever you want to use your AirPods. However, the case is required to pair your device for the first time.
With this guide, we hope that all your doubts about your AirPods' connectivity have been cleared, and you can now connect your gadgets seamlessly armed with everything you need to know.
Frequently Asked Questions
Can I connect my AirPods if the case is dead?
Absolutely. You can connect your AirPods even if the case is dead, but they need to be charged. Because once they are dead, you can't charge them without the case. Moreover, the AirPods must be previously paired with your iPhone before you can connect without the case.
Can I charge my AirPods without a case or charger?
No, it isn't possible to charge your AirPods without a case or Charger. You can get a replacement if you've misplaced or lost your AirPods case. Or better still, you can purchase a new set of AirPods.
Is it possible to charge my AirPods with a different case or charger?
Yes, you can charge your AirPods with a different case or charger as long as they are in the same generation. For instance, you can't charge ordinary AirPods with AirPods' pro case as they are from different generations. However, any AirPods pro case can easily charge your AirPods.