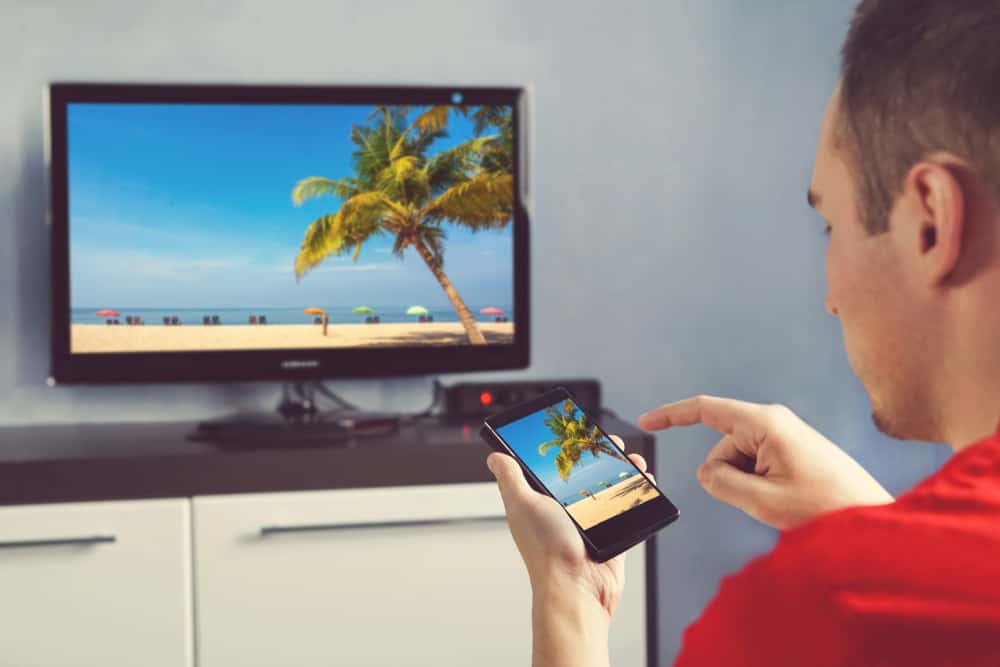 Depending on which model you purchase, Samsung TVs have built-in Bluetooth capabilities. The feature allows you to wirelessly connect speakers, hearing aids, headphones, soundbars, and many other devices. But do all Samsung TVs have Bluetooth?
No, not all Samsung TVs have Bluetooth. Hence, it is advisable to check the specifications before buying it if it's important to you.
In subsequent sections, you will discover the specific models with Bluetooth capabilities, how to pair devices with Bluetooth-capable Samsung TVs, and so much more.
Do All Samsung TVs Have Bluetooth?
As mentioned, not every Samsung TV has Bluetooth. The ones without tend to be cheaper, making them a no-brainer for shoppers on a budget. 
However, many newer Samsung models do come with Bluetooth options. Here are some examples of Samsung models with Bluetooth options:
Samsung 6 Series
Samsung 7 Series
Samsung 8 Series
Samsung 9 Series
Samsung Frame
Samsung Serif
Samsung Sero
Samsung Terrace
Samsung Q60T
Samsung Q70T
Samsung Q80T
Samsung Q90T
Samsung Q800T
Samsung Q900TS
How To Check If Your Samsung TV Has Bluetooth
If you know which TV model you have, looking at the list above has probably affirmed whether it has Bluetooth or not. However, if you're still unsure, you can check in the following ways:
Option #1: Look at the remote
Using the remote is definitely the easiest way. If your TV comes with a Smart Remote, it has Bluetooth. How do we know? Because that's how it communicates with the TV!
Option #2: Check the user manual
Do you still have the user manual? The spec page should tell you whether it comes with Bluetooth connectivity. 
Option #3: Go to the "Settings" Menu on Your Tv
Even if you have a different remote, your TV may still have Bluetooth capabilities. Head to "Settings" and click "Sound." Then go to the "Sound Output" option. If you see an option called "Bluetooth Speaker List," your TV has Bluetooth.
How To Pair Your Bluetooth Device to a Samsung TV
Once you've established that your Samsung TV has Bluetooth, it's time to connect your devices. These days, you can use various devices to make your TV work even better for you.
With so many device types, it can be tricky to know how to pair them all. So, we'll give you a step-by-step guide for a few. Just be aware that the process may change slightly depending on the TV model you own.
How To Pair Bluetooth Headphones With Your Samsung TV
Enable Bluetooth pairing mode on your headphones, ensuring they're discoverable.
Go to the "Bluetooth Audio Device List" on your television. This is where it can differ:

2019, 2018, and 2017 models — Home > Settings > Sound > Sound Output > Bluetooth Speaker List
2016 K models — Home > Settings > Sound > Expert Settings > Wireless Speaker Manager > Bluetooth Audio Devices
2015 J models — Menu > Sound > Additional Settings Bluetooth Audio
2014 H models — Menu > Sound > Speaker Settings > TV Sound Output > Bluetooth Headphone

Choose the headphones. 
How To Pair Bluetooth Soundbars With Your Samsung TV
Sometimes, a "Need Pairing" message displays on your TV when it detects a soundbar that could be connected. If so, follow the onscreen instructions. Failing that, follow the below:
Press the "Bluetooth PAIR" button on the soundbar's remote. If you don't have the remote, hit the "Source" button on the top and then "BT."
As soon as "BT PAIRING" displays on the soundbar, follow the relevant path on your TV (see section above) to get to the Bluetooth Speaker List. 
Choose the soundbar. 
How To Pair Bluetooth Gamepad or Controller With Your Samsung TV
Put the gamepad/controller into Bluetooth pairing mode, ensuring it's discoverable. 
Go to the Bluetooth device list on your television. The button paths change depending on your TV's model:

2019 R models — Settings > General > External Device > Manager > Input Device Manager > Bluetooth Device List
2016 K models — Settings > System > Input Device Manager > Add Bluetooth Keyboard; Gamepad
How To Add Bluetooth Support To Samsung TVs Without Built-in Bluetooth
If the earlier checks left you feeling disheartened, don't worry. There is an easy fix that doesn't involve investing in a brand-new television — simply purchase a Bluetooth adapter. 
Generally speaking, they're inexpensive and readily available. Make sure you purchase one that fits inside the 3.5mm audio jack or the standard red/white AUX audio port. 
Once plugged in, you should be able to connect your Bluetooth device to your TV!
Troubleshooting Samsung TV Bluetooth Problems
Even though Samsung has a pretty streamlined pairing process, problems sometimes occur.
If trouble arises, stay calm and try these troubleshooting tips:
Restart your device
Ensure you're no more than 30 feet away from your TV
Power-cycle your TV
Ensure your TV is running up-to-date Firmware
The Bottom Line
If you've purchased a relatively new Samsung TV, it will come with Bluetooth. And the best part? Now you know precisely how to pair all kinds of devices and what to do if connectivity trouble occurs!