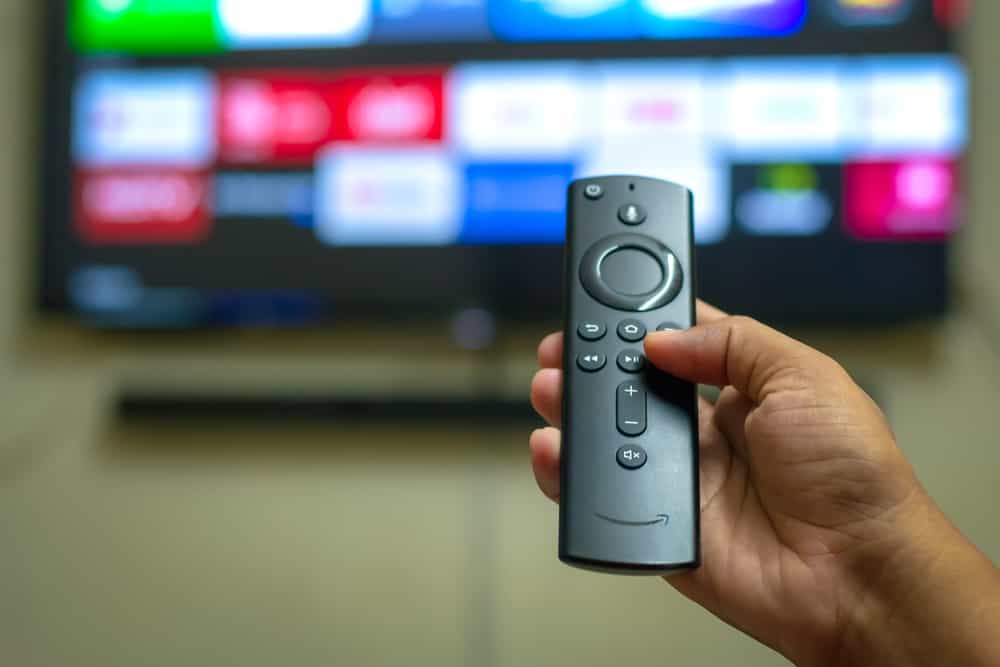 A Fire TV Stick is a device that enables you to stream online content, such as videos and music, on your TV. It also enables downloading and installing apps on your TV. It is a brilliant way to convert your non-smart TV to a smart TV.
If your smart TV has all the streaming services and casting capabilities you want, a Firestick may not be necessary. However, it is a great add-on if you want to access more apps, better quality, and improved speeds.
Firesticks have revolutionized content streaming by allowing users to access a wide range of content. Read on to find out how a Firestick works and if it can be beneficial to you.
How To Set Up a Firestick To Work With Your TV
Before setting up a Firestick to work with your TV, you need to charge and power up the device. You can do this by following the steps below.
Connect the power adapter to the micro USB cable.
Connect the other end of the USB cable to the Firestick.
Alternatively, you can connect the micro USB cable to the Firestick and the other end to a USB port on your TV.
After powering up the Firestick, you can go ahead and set it up to work with your TV. Ensure your remote control has batteries. The remote will automatically connect to your TV to enable you to set up your Firestick.
If the remote control does not work efficiently, try moving it closer to the Firestick. Ensure that the batteries are not dead or fixed wrongly.
Next, you may proceed to the following steps.
Locate your TV's HDMI port and insert the Firestick HDMI connector.
On your screen, locate the HDMI source using your remote control.
The instructions on your screen will prompt you to connect to the Internet.
You will then be required to register or login to your Amazon account.
Remember: You don't need a Prime subscription; even a regular account works perfectly.
How To Use a Firestick With Your TV
Before you can enjoy the features of a Firestick, you will need to download third-party apps. Some of the apps are free to use, while others – like Netflix – require you to subscribe before watching any content. You will need to set your language preference in the settings and choose if you want to set parental controls for your TV or not.
You can do the following activities with a Firestick.
Watch live TV through apps such as Youtube and Hulu.
Do away with your cable TV subscription and rely on your Fire TV Stick device for all your television watching needs.
Stream music using apps such as Amazon Music and Apple Music.
If your Firestick model has Alexa pre-installed, you can use the microphone on your remote to control your TV using your voice. Alexa helps you find apps quickly by speaking instead of typing the app's name.
How To Update Your Firestick Device
Even if the Firestick automatically updates its software, you will need to update your Firestick manually in some instances. An update enables your Firestick to function to the optimal level. The following steps explain the process of updating your Firestick device.
Navigate to the "Settings" menu on the top right side corner.
Scroll to the right and select "My Fire TV".
Select "About".
If your TV is up to date, you will see "Check Update". Otherwise, select "Install Update".
You need to wait for the update to install. After selecting the update option, the TV will automatically power off. Do not plug off the power during the update process.
The process takes 5-15 minutes to finish, depending on your Internet speed at the time of update.
Benefits of Using a Firestick With a Smart TV
A smart TV can connect to the Internet on its own just like the Firestick does. There are many ways that a Firestick can help enhance your smart TV experience. Here are some of the reasons.
You'll have more content options to explore.
Alexa makes it easy to operate your smart TV using voice commands.
A Firestick may improve your streaming speed and load time.
More frequent updates.
Conclusion
A Firestick device can transform your non-smart TV into a smart TV if it has an HDMI port. If you have a smart TV, a Firestick allows the installation of third-party apps not available in your TV's built-in app store.
You'll need to carefully follow the setup instructions for your Firestick to work with your TV. Remember to use the Alexa feature to help you do your searches easily. You will then enjoy vast entertainment opinions, quality pictures, and fast access to the content you desire online.
Frequently Asked Questions
What do I need to use a Firestick device on my TV?
After purchasing a Firestick device, you need the following to make it work with your TV:
• A reliable internet connection for streaming the content you want
• An HDMI port where the Firestick will get connected to your TV set
Can I use a smartphone to control my Firestick?
Yes, you can use a smartphone as a remote control for your Firestick. But you will first need to download the Firestick app on your smartphone. After that, ensure your smartphone is connected to the same WiFi or network connection as your TV and Firestick. 
The Firestick app comes with three remote control types;  Directional Pad, Swipe Gesture, and Mini — you can choose any of the three.
Can I travel with my Firestick to a different location?
Yes, a Firestick can connect to any TV with an HDMI port when there is an internet connection.
Can I simultaneously use one Firestick for multiple TV devices?
No, each TV set needs a separate Firestick to function. If you have multiple TV devices in your home, you can unplug the Firestick from one TV and use it on another TV. You don't need to re-configure the Firestick because all your apps and settings will carry over automatically.