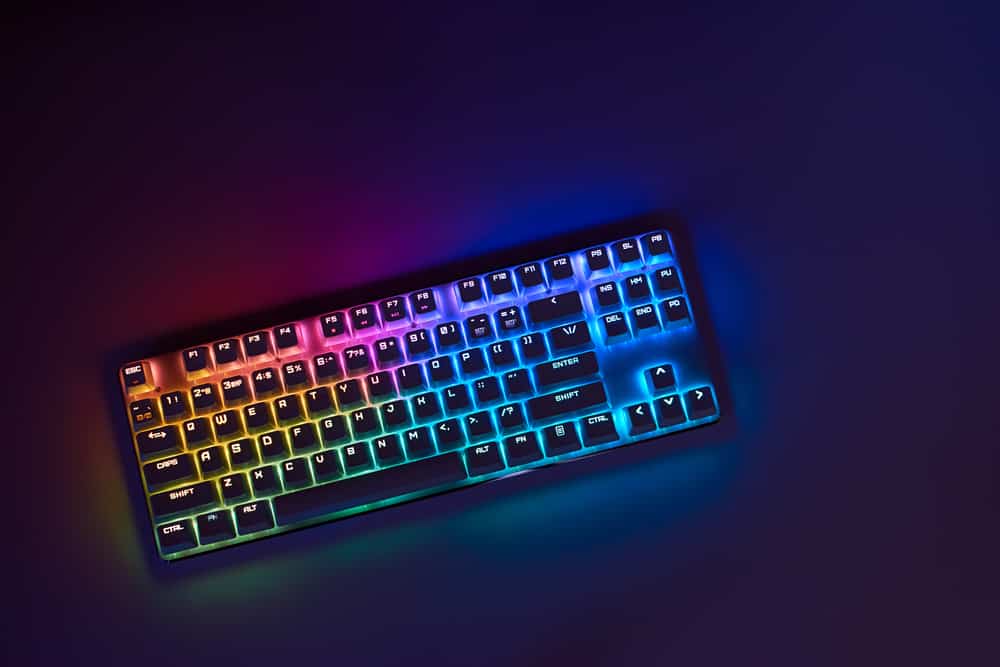 A gaming keyboard is more than just a sophisticated design focused exclusively on gamers. Someone who has no earthly desire to play games on their PC will find that the usefulness of a gaming keyboard transcends typical conventions.
A gaming keyboard is superior to a regular keyboard in almost every way that matters, including hotkeys, LED customized keys, longevity, durability, key rollover, aesthetics, and overall customization options.
| | | |
| --- | --- | --- |
| | Gaming Keyboard | Regular Keyboard |
| Cost | Medium to high costs | Low costs |
| Durability | High level of durability | Standard to low-quality |
| Longevity | 50 million key presses + | 10 million key presses |
| N-Key Rollover | Yes | No |
| Aesthetics | Wide range of types with LED lighting available for most | Wide range of types. More standardized. LED lighting is available. |
| Key Customization | High levels of key customization | Rarely available |
| Keyboard Types | Membrane, Hybrid-Membrane, and Mechanical | Membrane only |
| LED Lighting | Available on most and customizable | Available on some models |
| Build-Quality | High-level of precision quality | Meets or exceeds industry standards |
As you can see, regular keyboards aren't bad in the least. However, they don't offer the same aesthetics, capabilities, or long-term durability and usefulness as their gaming keyboard counterparts.
Why Are Gaming Keyboards Better?
Precision and speed are everything in a game, and that's what gaming keyboards are specifically designed for, offering that edge to gamers necessary to rise to the top.
Of course, these features separate a gaming keyboard from a more traditional keyboard. Not all, but most gaming keyboards are mechanical keyboards, which means that each key has a metal, spring-loaded backing that completes the circuit with each tap of the key.
Mechanical keyboards are also designed to respond to the lightest touch while retaining that attractive, addictive, clacking, tactile response. Gaming keyboards are louder by necessity, as most gamers play with headsets or the volume turned up high.
The loudness of the keys helps them know that they pressed the key rather than assuming they did.
Aesthetics
Regular keyboards can look pretty aesthetically cool. However, they don't approach the design and immersion levels of gaming keyboards. Gaming keyboards are highly competitive when standing out in the crowd.
So you will find a wild assortment of LED backlighting, curves, angles, materials, and ergonomic designs with gaming keyboards.
Extra Keys
Gaming keyboards incorporate a lot of extra keys. While these keys are highly-functional in games, they are also useful outside of games, especially when it comes to graphics design and other creative software.
These keys are usually mapped to certain features in each specific game, but that doesn't mean that they are entirely useless outside of a game. They streamline everything that you do on your PC.
Extra keys that are used for specific, in-game functions are also common on gaming keyboards, and they are known as "macros". It's usually instituted as a row of extra keys across the top of the keyboard, and you can map certain functions to them, changing a multi-key process into one.
LED Backlighting
It's not the fact that gaming keyboards have LED backlights—regular keyboards come with those too, albeit at a much lower rate—but that they have "customizable" LED backlights. We're not talking about customizing your lights to look certain ways either.
LED backlight customization can be used to highlight specific keys that need to be accessed quickly in-game without needing to look down at the keyboard to find the key. You're mapping certain colors to specific keys to hone your precision and reaction time.
Functionality
Any gaming keyboard worth its salt is going to be designed for quick response times, meaning the time that the keystroke is recognized and translates to an action on the screen. The shorter those times, the better.
Because that's such an important factor, gaming keyboards are typically far more responsive than regular keyboards, and each keystroke is recorded, with the reacting response, much faster.
Ergonomic Keyboards
There are only two people for whom ergonomic keyboards are targeted, long-term writers and gamers. Anyone who spends excessive time working with their hands on the keyboard and games.
Because of that, there are far more ergonomic choices with gaming keyboards than regular keyboards, especially when it comes to wrist posture, quick access to certain keys, and quick access to the mouse.
Types of Keys
Gaming keyboards, especially when it comes to mechanical keyboards, have a lot more choices when it comes to key types.
Linear Switch Keys.
Tactile Switch Keys.
Clicky Switch Keys.
Optical Switch Keys.
Linear switch keys are the most popular keys when it comes to gamers. They operate the smoothest with a very low compression point of the three. Tactile keys are more traditional mechanical keys that offer a tactile response when pressed and a quiet click.
Depending on the game, players need to know that they pressed the key, especially when their hands fly across the keyboard. Knowing that you pressed the key is almost as essential as pressing it for many gamers.
Clicky Switch keys give you the best of both worlds, despite being the least popular. You get the tactile response when the key is pressed, along with a very audible clicking sound. The clicking and the tactile response are more than enough to let the player know that the key is depressed.
The optical switch keys are new arrivals on the block, and they make for the most expensive keyboards you can purchase. However, they are the best keyboards to give a gamer the speed and precision necessary in terms of speed and response.
Conclusion
Unless you're just purchasing a computer for some occasional web browsing and checking out the latest news, there's no reason to go after a regular keyboard over a gaming keyboard, and you don't have to get a gaming keyboard that is aesthetically wild either.
You will get a keyboard that lasts more than five times longer than regular keyboards, has better, higher quality keys, better levels of precision and speed, and is constructed of longer-lasting material. In short, a gaming keyboard is for everyone.