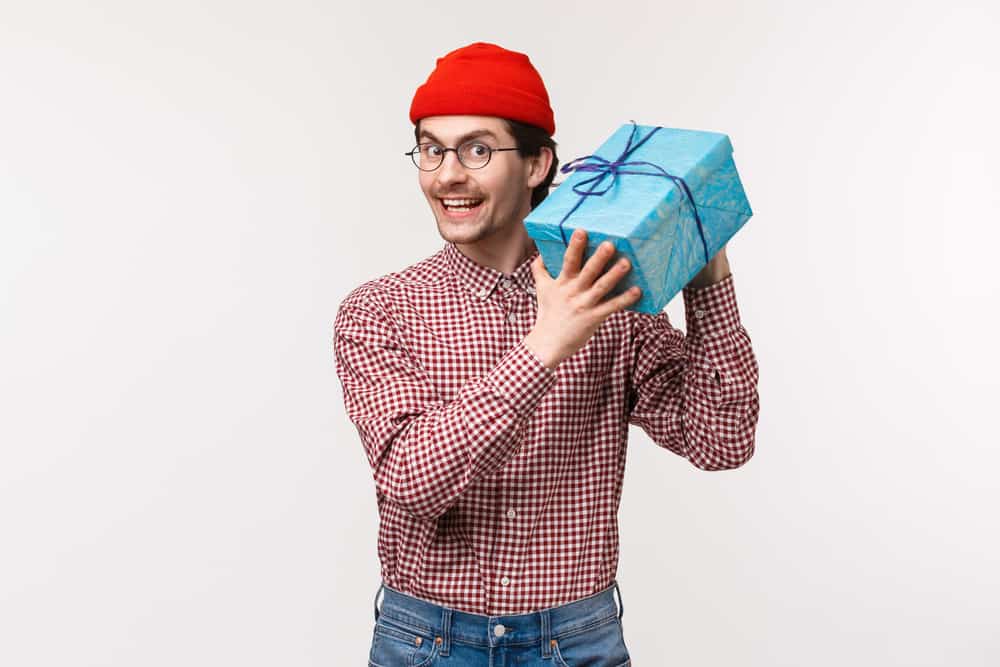 Whether your loved one is a gamer, coder, or general computer nerd, these gifts are bound to be a hit! From computer accessories to fun additions to their desk, there are plenty of gifts to choose from for the next holiday, birthday, or special event. 
Blue Light Glasses
The average computer geek spends hours looking at a screen every day. All of this screen time can damage the retina through certain wavelengths that hit our eyes. Blue light glasses can filter out some of these wavelengths, assisting with sleep, decreasing eye strain, and reducing the risk of eye disease.
There are tons of frames and styles to choose from, so pick one that matches your friend or loved one and surprise them with a pair of blue light glasses!
Floppy Disk Coasters
These fun and nostalgic floppy disk coasters will bring your friend back to the old days, or if they're too young to remember, make them imagine how the old days were. Made from silicone, these coasters are easy to clean and water-resistant.
Cable Management Box
If this computer geek's desk area is messier than your email inbox, it's time for a cable management box. These boxes hide extension cords, outlets, plugs, and wires in a neat box that can be placed directly under any desk.
Speakers
Computer geeks who love their YouTube videos, movies, or gaming experience will enjoy a new set of external speakers for their setup. By amplifying their surround sound, you'll make their PC experience all that better. Find these in both wireless and classic options.
Wireless Headphones
A solid set of noise-canceling, wireless headphones are a gamechanger for computer geeks who want to focus on what's in front of them. Most headphones have hours of wireless battery life, and others have optional cables for even the longest computer sessions.
Screen Cleaning Kit
It's easy to miss the viruses, germs, and bacteria making a home on the average computer screen. Help your fellow computer nerd maintain his PC while giving him a clearer picture with a screen cleaning kit.
Code-Printed Socks
Is your computer nerd friend a coder? If so, they'll love these funky code-printed socks. Wear them home or out with friends for a good laugh! You might also enjoy these printed shirts for coders.
Programming Stickers
What better way to add personality to a laptop or PC than by adding some coding stickers? Find them in a wide array of colors, designs, and logos. Or, if you're looking for a more personal gift, you can even order personalized stickers on Etsy or a similar website to cater specifically to your known computer nerd.
Gamer Mouse or Mousepad
If they don't have a gamer mouse already, now is your time to make their day. Gamer mouses are much more sensitive than basic mouses, responding faster and also including more buttons to facilitate computer usage. This person doesn't even have to be a gamer to enjoy this type of mouse – it makes any process on the computer faster!
If they've already got a high-tech mouse, spruce up their space by buying them a unique mousepad.
Circuit Board Cufflinks
For the computer nerd with a knack for dressing up, it's time to give them an accessory that will make them stand out among the rest. These circuit board cufflinks are the perfect addition to a computer lover's outfit on a night out!
Gaming Keyboard
Gaming keyboards are specially designed to optimize a gamer's experience. With programmable keys and a specific layout for efficient gameplay, your fellow gamer will nerd out with this gift. Some keyboards can even be purchased split for even more comfort!
Balance Ball Chair
Long hours at a desk can cause back pain, muscle weakness, and muscle strain. Balance balls have been shown to improve core strength and posture while lowering levels of discomfort. Give your friend a fun alternative for their boring desk chair by replacing it with a balance ball chair.
Standing Desk
To help stretch their legs and improve their posture, you may also consider buying your friend or loved one a standing desk. Offered in manual or electrical versions, there are options for all budgets.
Computer Screen Message Board
Computer screen message boards are neat additions to the sides or top of any screen. You can stick or write your messages directly onto the board to set reminders for important tasks or dates.
Additional Monitor
If your tech friend has been getting by with only one computer monitor, it's time to expand their computer experience. This gift should only be purchased by someone who either knows their tech stuff and/or knows what monitor preference their friend has.
Tech Course
For the friend who is always learning something new, why not pay for them to take a cool in-person or online tech course? You can find courses on IT infrastructure, cloud computing, data science, web development, cybersecurity, coding, and more.
Upgraded Desk Chair
If you've noticed the computer geek's desk chair is a bit outdated or worn in, it might be time to surprise them with a new one. You can choose from gaming chairs, ergonomic chairs, lightweight chairs, adjustable chairs, and even some desk chairs with built-in massagers!
Circuit Board Earrings
There are a few options for cute circuit board earrings on Amazon, but all of them are sure to be a hit for the computer nerd who likes their accessories! Find them in an assortment of colors and designs.
Charging Bracelet
Charging bracelets can be bought for iOS or Android products. The best part? They look like any other leather or braided bracelet! You'd never guess that you're carrying enough juice to revive your phone, wireless mouse, or wireless headphones.
Keyboard Cleaning Kit
Computer keyboards can have over 3,000 bacteria per square inch, so it's safe to say every computer geek could benefit from a keyboard cleaning kit. Kits can include compressed dusters, dust-cleaning gel, or even soft mini brushes made especially for computer keyboards.