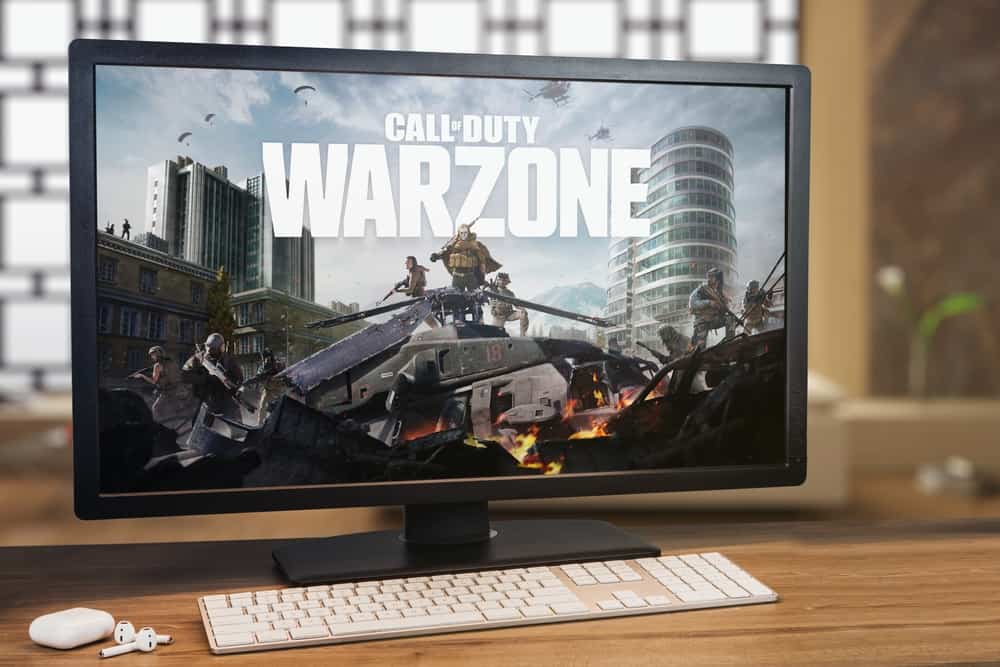 Call of Duty: Warzone – a free-to-play multiplayer game – is one of the most played in the COD series. If you have a PC, nothing but the Warzone's enormous installation size can come between you and the game. But how big exactly is Warzone on PC?
Call of Duty: Warzone takes a space of 52.4 GBs roughly. Above that, you'll need Call of Duty: Modern Warfare for it to work. Modern Warfare takes about 133.6 GBs of disk space. So, as a whole, you'll need 185 GBs of space on your disk to get multiplayer Warzone working on your PC. 
In this article, I'll talk in detail about the installation size of Warzone on PC and what specifications your PC requires to handle it.
Size of Call of Duty: Warzone on PC
I am sure you'd agree that the biggest hindrance to the popularity of COD games is their whooping installation sizes. The even more annoying thing is the ever-increasing trend of it. Once bagging a few GBs, COD games now take hundreds of GBs of installation space.
Call of Duty: Warzone is no exception to this rule. Individually, Warzone takes about 52.4 GB of space on your hard drive. This size may tend to increase in the future.
Size of Call of Duty: Modern Warfare on PC
For Warzone to work, you should have Call of Duty: Modern Warfare installed beforehand on your PC. If you don't have it already, you'll have to be even more generous in space because Modern Warfare takes almost 133.6 GB of disk space.
Taken as a whole, you'll have to spare almost 185 GB of space for Warzone only. Above and over that, the game keeps updating regularly, and the size increases by 10 to 40 MBs with every update. So, the installation size may tend to increase in the future.
Ballooning Size of Call of Duty: Warzone
The size of COD: Warzone has been increasing wildly. With new patches added to the COD landscape, the size is expected to inflate even more. In all probability, it will reach well beyond 200 GB with the next few patches added to it. Adding a patch has led to a decrease in players every time.
COD creators are not unaware of this uncomfortable phenomenon. Work is underway to decrease the game's size substantially. But that's for the future to tell if we will see any decrease in the game's installation size.
Specs Your PC Should Have To Handle Call of Duty: Warzone
Not all PCs can support Call of Duty: Warzone. Here, we go through the minimum requirements your PC must match to run Warzone. Beware, it can blow up your PC system if it lacks these specs and you try running the game on it.
Requirement #1: Operating System
At a minimum, you'll need the 64-bit Windows 10 (v.1709) to run Warzone. But if you want to go above and beyond, a fully updated Windows 10 or 11 is highly recommended.
Requirement #2: RAM
RAM of your PC is one the most important thing that directly determines the quality of your gaming experience. An 8 GB RAM is the minimum you'll need to run Warzone. But if you're looking forward to a smooth experience, 12 GB or 16 GB RAM is recommended if you can get it.
Requirement #3: Disk Drive
You'll need a space of 190 GB at minimum, spared for COD Warzone and Modern Warfare. Although HDDs and SSDs are equally compatible with Warzone, it would give you a better experience with an SSD. And, if you want to be even more specific, an NVMe SSD would be far better than the SATA SSDs.
Requirement #4: CPU
CPU is another deciding factor for the matter at hand. You'll need either an Intel Core i3-4340 or AMD FX-6300 at minimum. The more advanced processor you have, the better it is.
Requirement #5: GPU
To get the animations and graphics of Warzone all right, you'll need a minimum of GeForce GTX 670 or 1650 graphics processing unit. However, the GeForce GTX 1080 or RTX 2070 is the go-to option if you're looking for something spectacular.
Apart from these, ensure you have a DirectX-compatible sound and broadband internet connection.
On a side note, if you are looking for gaming PCs for Warzone, CyberpowerPC Gamer Gaming PC is a superb option in this regard. In a nutshell, it has everything a gamer needs, and the price is quite reasonable. You might also want to check Alienware Aurora R10 Gaming PC and Skytech Archangel Gaming PC.
Conclusion
In short, we can conclude that you will need roughly 185 GB spared for Warzone if you plan on installing it. Warzone in itself has a size of 52.4 GB. But it works with Modern Warfare, which has an enormous size of 133.6 GB.