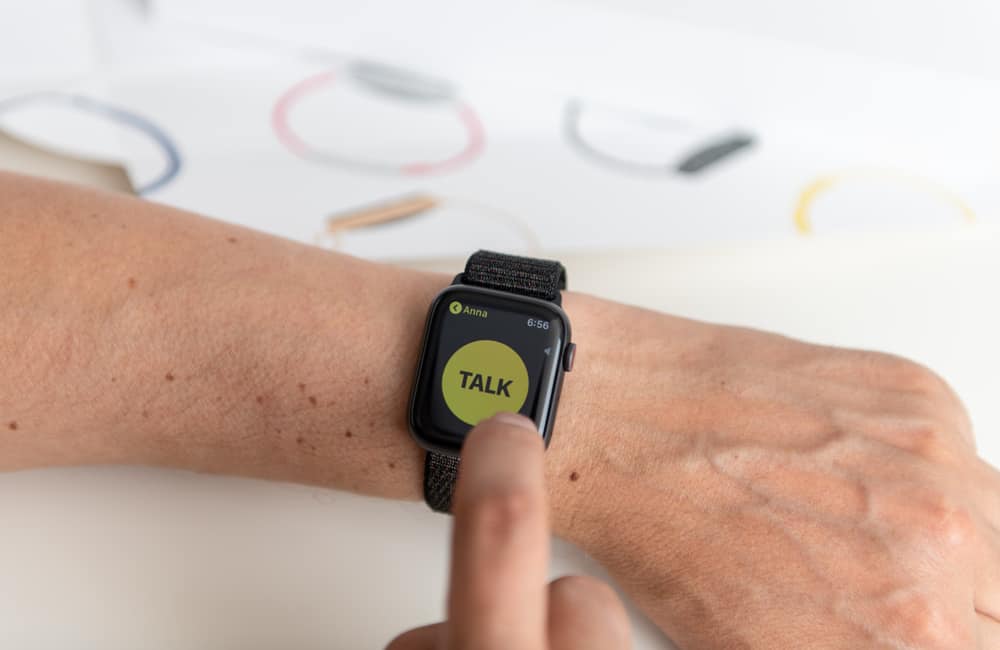 An Apple Watch does more than just tell the time. With the Walkie-Talkie app, you can use an Apple Watch to engage in a voice conversation with other Apple Watch users. While this app works like a traditional walkie-talkie, its range differs from a traditional walkie-talkie. So, what is the maximum range for an Apple Watch Walkie-Talkie?
A traditional walkie-talkie has a range of around 20 miles, more or less, because it uses radio waves with a limited range. However, the Apple Watch walkie-talkie uses FaceTime audio over the internet; hence, its range is unlimited.  
So, provided each Apple Watch has access to the internet through their paired iPhone or cellular, you can talk over any distance. The only limitation is that the Walkie-Talkie feature is only available in select regions or countries.
This article elaborates on how this Apple Watch feature works and more.
How Does the Walkie-Talkie Feature Work on Apple Watch?
The Apple Watch Walkie-Talkie uses FaceTime to access the internet via Wi-Fi or a cellular network. It also uses Bluetooth connectivity when the other user is close, like in a mall or park. If you don't have FaceTime, you must download it to be able to use the Walkie-Talkie feature. You must also have an Apple Watch Series 1 or later to use this feature. And the watch must have watchOS 5.3 or later to use this feature.
If you're having issues getting FaceTime on your device, ensure your iPhone has iOS 12.5 or later; otherwise, it wouldn't work. With FaceTime on your device, you can then make and receive audio calls over the internet. So, provided you find yourself in the region or country that supports the Walkie-Talkie feature and have an internet connection, you can talk with your friends over any distance.
How To Enable the Walkie-Talkie on Your Apple Watch
If you're hearing about the Walkie-Talkie feature on Apple Watches for the first time and want to try it out, there are a few steps to take. First, you must ensure you have the correct settings on your device and enable it to use Wi-Fi and cellular data.
The steps below elaborate more on how to get the Walkie-Talkie feature up and running on your Apple Smartwatch.
Step #1: Enable FaceTime on Your iPhone
The first thing you want to do is to get FaceTime on your iPhone and enable it. If you don't have FaceTime on your iPhone or it is outdated, go to the App Store to download it. To enable FaceTime on your device, go to the Settings app, scroll down and tap on "FaceTime". In the FaceTime menu, at the base, you'd see a toggle switch on FaceTime; turn the switch on.
Step #2: Give FaceTime Access to Cellular Data
Now that you have FaceTime enabled on your iPhone, you should also grant it access to use cellular data. Doing this is essential because it allows the Walkie-Talkie to connect with anyone with Wi-Fi or cellular data. To give FaceTime access to your cellular data, go to the Settings app again and tap on "Cellular". In the Cellular menu, on the "FaceTime" option, toggle the switch on.
Step #3: Download the Walkie-Talkie
At this stage, you can then go ahead to download the app on your Apple Watch if you don't already have it. Ensure your Apple Watch meets the requirements to use Walkie-Talkie, then download it from the App Store.
Step #4: Enable the Walkie-Talkie on Your Apple Watch
With the app download, connect your Apple Watch to your iPhone. To do this, link your iPhone and Apple Watch to the same Apple ID. Bring your Apple Watch near your iPhone and wait for the pairing screen to appear, then tap on "Continue" and follow the prompt.
Step #5: Start a Conversation
With your Apple Watch and iPhone paired, you can go ahead to start a conversation. To do this, tap on the Walkie-Talkie app on your Apple Watch. Scroll through your contact list and add the friends with whom you want to use the walkie-talkie feature. On the next screen, toggle on the Walkie-Talkie switch, and you can now talk to your friends over the Walkie-Talkie feature.
When a friend sends you a request to use the walkie-talkie feature with you, it pops up on your watch. But if you missed it, you can always return to the notification center to accept or decline the request.
Conclusion
The Apple Walkie-Talkie app is quite a useful feature that everyone with an Apple Watch should try. It works better than a traditional walkie-talkie because it gives you a longer connectivity range. Unfortunately, using it in a rural environment might not be as great as a conventional walkie-talkie as it depends mainly on internet connectivity. So, when your internet connection is poor, it wouldn't work very well.