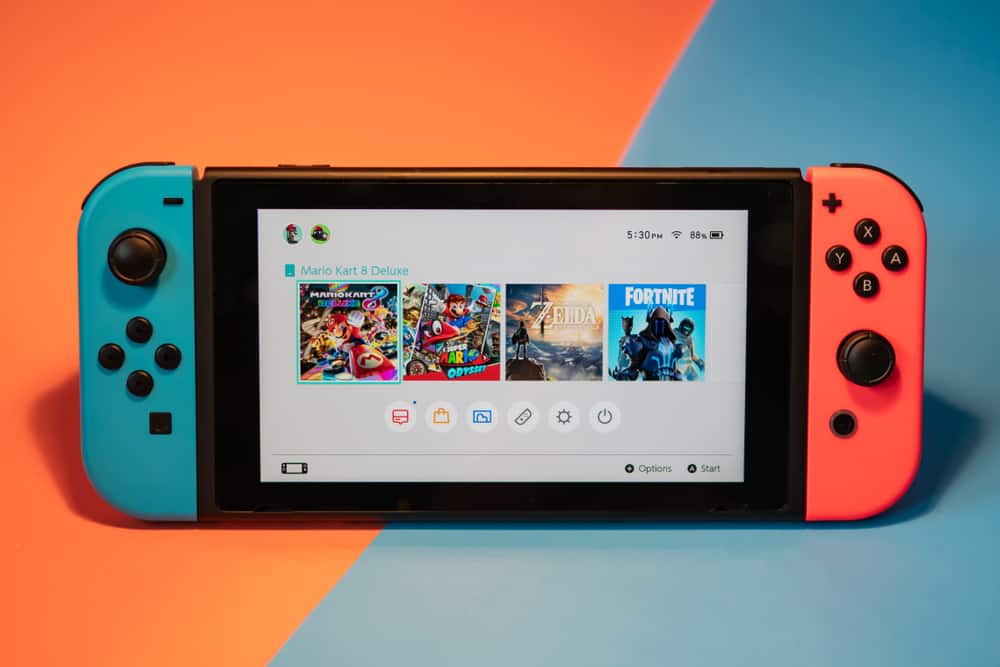 Entertainment is an indispensable part of our day-to-day lives as human beings. Entertainment in the form of playing video games either on our computers, gaming consoles, or mobile devices is now popular globally.
Fintie's Nintendo Switch console is a standard gaming console that guarantees a quality video gaming entertainment experience, evidenced by its popularity amongst gamers.
As a Nintendo Switch owner, playing many games might be challenging if you don't know your way around.
Don't stress about it. This short tutorial will sufficiently discuss all you need to know about your Nintendo Switch, how many games Nintendo Switch can hold, and so much more.
The Nintendo Switch's Storage Capacity
The Nintendo Switch console has about 32 gigabytes of internal memory. Of the 32 GB space, the console's operating system occupies about 11 GB space, leaving approximately 21 GB of internal memory space for your use.
If you are a gamer that prefers to purchase physical copies of your game to play, your Switch's internal space can support a larger number of video games. However, if you plan on downloading your games directly to the console, the available storage space will most likely not serve you for long.
Regardless, if you run out of space, you can always get a micro SD card for your console as the Switch support's up to 1 TB micro SD card.
How Many Games Can a Nintendo Switch Hold
With only about 21 GB of usable space on your Switch console, the number of games it can hold is severely limited without an external micro SD card storage, especially with the increasing size of mobile games.
Regardless of how much you can optimize your storage space to save video games, you'll at most squeeze 5-6 games into the console.
In the case of games with bigger storage sizes like The Legend of Zelda: Breath of the Wild – 13.4 GB and Pokémon Sword and Shield 20.3 GB, you won't be able to save more than one of these games at once on your Switch console.
Let's take a quick look at how big some of the popular and famous Switch games are and find out the games you'll be able to save without purchasing an external separate micro SD card.
According to Nintendo's official site, here are some Switch games and their official digital download file sizes:
The Legend of Zelda: Breath of the Wild – 13.4 GB
Nobunaga's Ambition – 5 GB
Dragon Quest Heroes II – 32 GB
Puyo Puyo Tetris – 1.09 GB
Snipperclips: Cut it Out, Together! – 1.60 GB
I Am Setsuna – 1.40 GB
Disgaea 5 – 5.92 GB
As you can see from the highlighted list, one of the games is already too heavy to save on your console's internal memory space. If you want to play Dragon Quest Heroes II, you'll have to get an external micro SD card.
Compared to Dragon Quest Heroes II, the remaining games are relatively smaller. You can download more than one game, depending on how you combine them.
We recommend using your console's internal storage to store only data and personal information – all your games should be located on your SD card. This will ensure the smoother running of your Switch console.
How To Move Switch Games to SD Card
To save space on your Nintendo Switch, you might want to save some games on an SD card after downloading them. This way, you can have your frequently played games on your console while keeping the others on your SD card.
To do this:
From your Switch's home screen, go to System Settings.
In the settings menu, scroll down, then select Data Management.
In the pop up screen, choose 'Move data between console/microSD card'.
Select the game(s) you want to move.
Select 'Move Data'.
Summary
In this guide, we've discussed the storage capacity and functionalities of your Nintendo Switch gaming console. The console's internal memory space is 32 GB with only about 21 GB usable, somewhat restricting the addition of games directly to the console.
With this guide, you know how many games your Nintendo Switch can hold. We hope we've been able to answer all your questions about the various storage functionalities of your Switch console so that you can go back to enjoying your video gaming entertainment.
Happy Gaming!
Frequently Asked Questions
Is there a limit on how many games you can play on Nintendo Switch?
If you solely rely on your console's internal memory space, there is a limit to the number of games you can play on your Nintendo Switch. However, if you have an external micro SD card of sufficient storage capacity, you can then play as many games as you want on your Nintendo Switch.
Which size microSD card is best for Nintendo Switch?
There is no specific microSD card size that is good for your Switch console. Instead, it would be best if you considered how many games you want to download/ play on your console. This will guide you to make the best decision that fits your situation. Nevertheless, we recommend getting a microSD card of at least 64GB size.
Can I get a digital copy of a game I already own Switch?
Yes, whether it is the physical copy or the digital copy that you play on your Switch, the game save data is already stored in the system memory as long as you have started playing the game. Therefore, if you previously played the physical version of a game and want to switch to digital, you can easily accomplish this.
Can I play downloaded games on Nintendo Switch without WiFi?
Yes, you can play your downloaded games without an internet connection. When you play games on your console via cartridges, you won't need internet; however, playing online with the Switch console requires an internet connection.
Is it better to get digital or physical games for my Nintendo Switch?
It depends on your preference; there is no significant disparity between the two game formats. The two game formats have their own edge over the other, especially the digital game types. Digital games afford more functionality and seamlessness than physical games on Nintendo. However, if you want to save money or show off your game collections, physical games are the way to go.