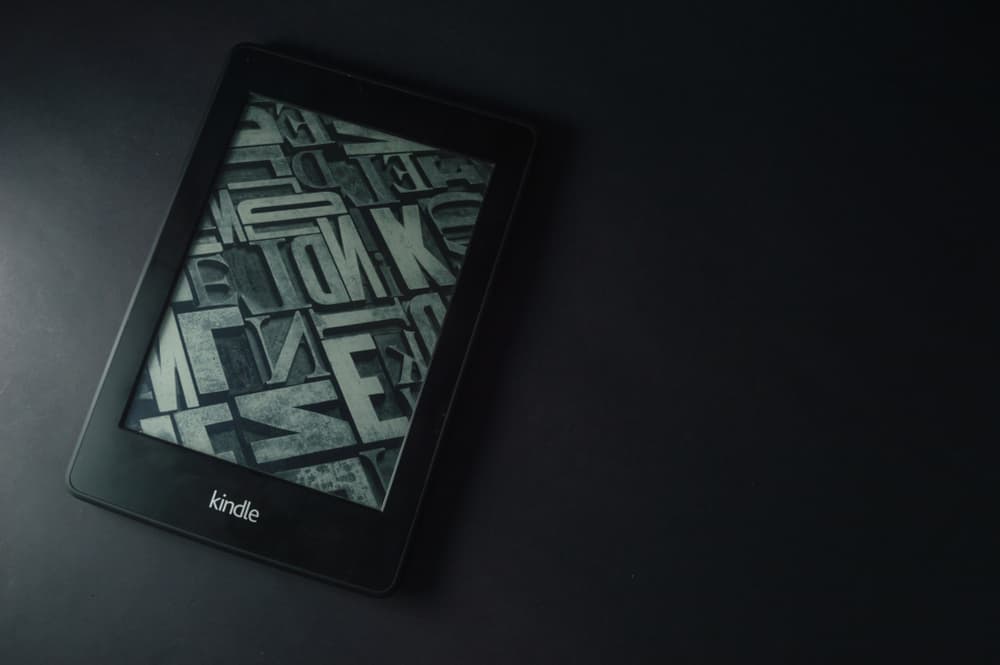 Kindle is an online e-book store that offers an ideal way to read books. This platform equips readers with many books to read, irrespective of location. That said, how many words should be on a Kindle page?
The total word count on a Kindle page is elastic. The book's formatting, such as margin width, header and footer sizer, gutter size, images, etc., influence the number of words on a page. But on average, there are between 250 and 350 words on a Kindle page. 
As an author, this information is useful as it helps you estimate the total pages of your e-book when formatted for Kindle. Because with the introduction of the Kindle Unlimited royalty system, e-book borrows are paid based on the number of pages read by the reader. Moreover, there is a minimum and maximum amount of pages supported on Kindle.
This article explains more about the word count on a Kindle page.
How Does Amazon Calculate the Number of Pages in a Book?
Publishing firms follow a standard while publishing books, and so does Amazon. As a self-publisher, you need to consider some things when publishing a book for Kindle, especially the formatting and the number of pages.
According to Amazon, a Kindle book must not be lower than 2,500 words or exceed 80,000 words. Also, the average word count per page must be around 250 words. So, if the word count of your e-book is 2,500, it means the minimum number of pages the book must have should be approximately 10 pages, according to Amazon's requirements. Similarly, the maximum number of pages the book must have, using the same word count per page, should not be less than 320 pages.
Also, note that if your book has multiple paginations of, say, i-xiii, 1-200, and then i-x, Amazon will count your book as 224 pages. And for efficiency's sake, this number will be assigned to both your e-book and a physical book if one was uploaded to Amazon.
Factors That Influence the Number of Words on a Kindle Page
Understanding the nuance of a Kindle page is essential, especially if you have multiple books in a box set. All of this begs the question: if Amazon uses a strict guideline, is it that the word per page count in each book is the same?
As elaborated below, several factors influence the number of words on a Kindle page.
Factor #1: Characters on the Page
The characters on a page are the individual letters and symbols on it. The number of characters on each page is different; hence, the number of words on each page will differ. This is because not every word has the same number of characters. Words with longer characters occupy more space, while words with short characters occupy less space. While writing, the use of characters and symbols varies, and so does the number of words on each page.
Factor #2: Images
Sometimes, images can illustrate information that a thousand words cannot convey. However, Kindle supports GIF, JPEG, PNG, and BMP formats.
Based on Amazon requirements, images must be sized at 100% and have a minimum resolution of 300 DPI. But the use of images in Kindle takes up more pages. Hence, if there is an image, be it a table, graph, or picture, such a page would contain fewer words than a page without an image.
Factor #3: Trim
In publishing parlance, the trim size is used to describe the width and height of the pages in a book. There are a variety of trim sizes you can use for a Kindle book which varies based on the pages, but the most common for paperbacks in the U.S. is 15.24 x 22.86 cm or (6 x 9 inches). The trim size of a Kindle book influences the minimum and maximum pages of the book.
Factor #4: Margin
Amazon has a standard margin size for all Kindle books. Standard on all Kindle books are three margins or gutters; top, bottom, and sides. The wider the margin, the less space the page will have to hold more words. According to the standard, the minimum margin size for books without bleed is 0.25 inches, while books with bleed are 0.375 inches.
Factor #5: Book Format
There are different book formats for Kindle books, which significantly impacts the number of words on each page. While formatting a Kindle book, you must consider the font type, size, and style. The style you use for headings can also consume a lot of space. You can format your Kindle book on Microsoft Word on Windows or Mac.
Amazon does not have a required word count that must be on each page in a Kindle book. You're good to go if the total page number is not over or below the requirement and the book size is not over 650 MB.
Conclusion
Publishing your book can be a tedious process. You have to consider a lot of things, such as ensuring each page has the right number of words to keep readers engaged and well-formatted, amongst other things. So, suppose you are curious about the number of words on a Kindle page because you are an author looking to publish a book or an avid e-book reader. In that case, hopefully, this article can put things in a better perspective for you.