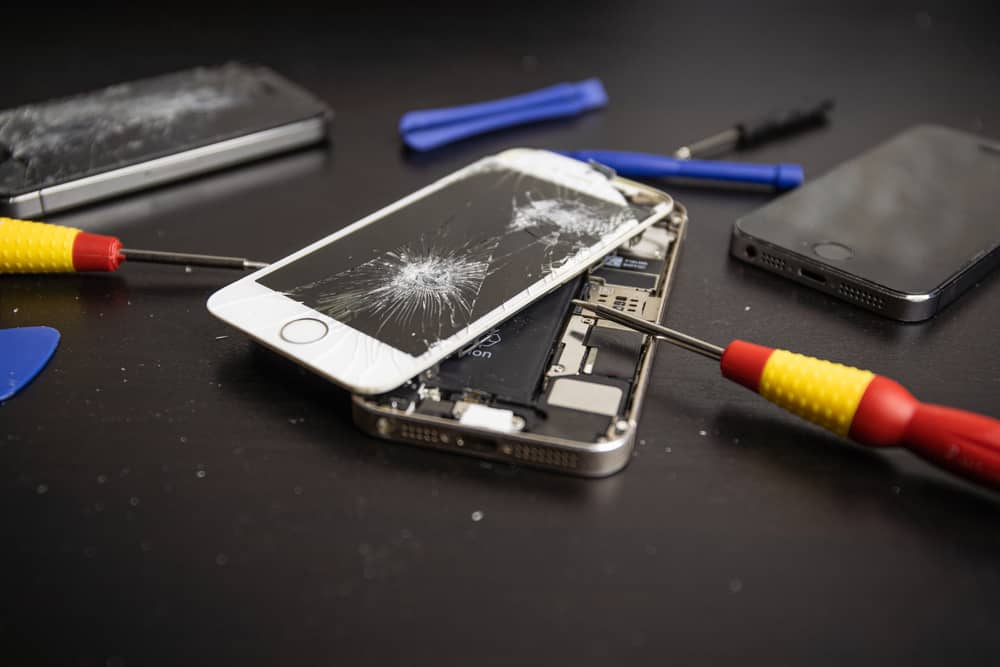 When your iPhone screen is damaged, or there is some other issue wrong with it, you can get it fixed at an Apple Store near you. But if an Apple Store is not close to you, there are many other choices you can use, like Staples. Hence, you need to know how much Staples will charge to fix an iPhone screen.
The iPhone screen repair cost at Staples varies based on the model of the iPhone. But on average, Staples's iPhone screen replacement costs between $29.99 and $229.99. 
Getting your iPhone screen replacement at Staples has its fair share of advantages and disadvantages. For example, all repairs done at Staple are backed by a one-year warranty on parts. Also, Staples is not an authorized Apple service center; hence, repairing your iPhone at Staples will void your Apple warranty.
Keep reading to learn more about getting your iPhone screen replacement from Staples. 
How To Have Your iPhone Screen Fixed at Staples
Staples is a retail company that offers services and products to support learning and working. Founded in 1986, Staples has over 1000 stores across the U.S. and 40 warehouses or fulfillment centers. So, if you need to get anything done with Staples, there are several of its stores around you can choose from.  
Hence, getting an iPhone screen replacement at Staples is relatively straightforward. However, there are a few steps to follow to get an iPhone screen replacement from Staples. Below are the four steps to take to get your iPhone screen replacement done at Staples. 
Step #1: Create an Account 
The first thing you want to do when you need to get an iPhone screen replacement at Staples is to create an account. To create an account with Staples, go to the Staples home page and click "Create Account" at the top right corner of your screen. You will be asked to provide basic information about yourself, like your full name, nationality, email, phone number, etc. If you already have an account, skip this step and log in instead. 
Step #2: Find a Store 
After creating an account, the next thing is to find a Staple store closest to you. Start by opening the Staples phone repair web page on your web browser to find a store. In this section of the website, you can choose whether you want to repair an iPhone or if you want to get a quote to have an idea of the price you will likely pay to get a replacement. Next, tap the "Find a Store" option to see the locations closest to you. 
Step #3: Select a Location  
Staples has thousands of stores around the U.S., so finding one closest to you shouldn't be a challenge. To find a location nearest to you, enter your state and city, then click the search button. From the search result page, scroll through the list of stores within the vicinity to find a location that is most convenient for you. 
Step #4: Book an Appointment  
If you can find a location close to your location, you can take your iPhone with the faulty screen to the store for service. Hopefully, if that service center has the replacement part, it will only take a few hours to resolve the problem. If the parts for your iPhone are unavailable in-store, Staples will ship your iPhone to their warehouse to have it fixed, which can take anywhere from 7 to 10 days. 
In case the location is not easily accessible to you, or you don't want to make the trip and not get what you want, you can give the Staples Center closest to you a call to book an appointment. While booking the appointment, ask whether it is still offering repairs for your particular model of iPhone. 
Staples does not offer screen replacement for all iPhones. Most of the time, you would find screen replacements for models ranging from the iPhone 5 to the iPhone Xs. So, it helps to call the Staple center before going over for an iPhone screen replacement to be on the safer side.
Conclusion 
With Staples Centers widespread, it's understandable to want to get your iPhone screen replacement at their repair centers. Staples are not only within proximity but also offers repair services for a very competitive price compared with what Apple offers. However, if your iPhone warranty is still active, you should get your screen replacement from Apple.
When you get a screen replacement from Staples while your warranty is still active, you void the coverage agreement as Staples is not an authorized Apple service center. But if you get a screen replacement from Apple, your warranty will still be intact, even though you may still pay for it.