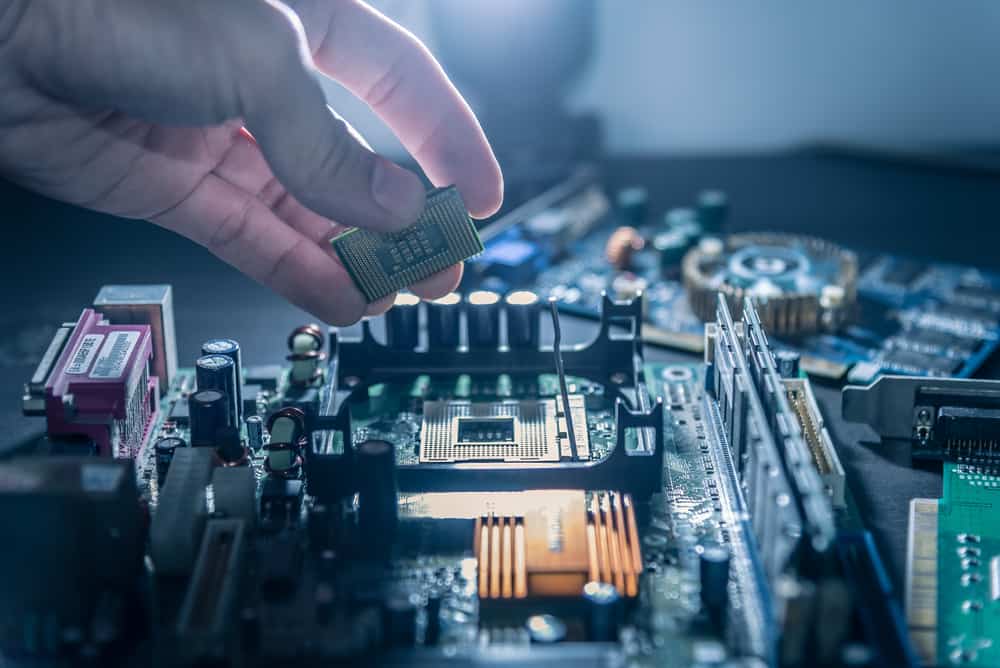 Building a custom computer is a fun and engaging experience for many of us until when you need to buy a motherboard. Buying this essential component can get tricky if you're looking to achieve the best build. It's easy to overspend on a motherboard, preventing you from spending on more important components that directly impact your performance, like the graphics card and the CPU. So, you're asking yourself, how much should I spend on a motherboard?
There are many different motherboards on the market, and their prices range from $59 to $599.
For this reason, it's hard to tell you upfront the amount you should spend on the component. It depends on the type of computer you're building. For example, if you want a gaming PC, you need to invest in a high-end, feature-rich motherboard that will deliver the best performance numbers. 
We'll discuss this in-depth below. Keep reading, and by the end of the article, you'll be in a better position to make an informed purchase. 
How Much Should You Spend on a Motherboard?
A motherboard is an essential component inside a PC. It handles all the communication between internal and external devices. However, motherboards don't contribute directly to the performance numbers while running some apps such as games. 
So, the last thing you want is to overspend on your motherboard. You also don't want to go too cheap, as that would compromise the performance and overall efficiency of your PC depending on the functions you'll be undertaking. In general, you want to purchase the perfect item for your needs. 
Buying a motherboard is one tricky decision to make for many of us while building a custom computer. It's hard to understand why one motherboard costs $59 while another costs $599 when both support the same processors and feature an equal number of dual-channel memory slots.
We all have a limit to spend while making a custom PC. Overspending on a motherboard means that we won't afford to spend sufficiently on more critical components that directly impact our performance, such as the graphics card and the CPU. 
And as much as you want a good-quality motherboard, you also need a better graphics card, CPU, and RAM for a better frame rate or benchmark score while playing those graphic-intensive games. 
You should only pay for the important features you need. And that brings us to our next section, where we'll look at the fundamental features that should determine how much we spend on a motherboard. 
Avoid going for an expensive motherboard based only on aesthetics. Don't buy a cheap one either. Most cheap motherboards are cheaply made and often lack basic features such as connectivity and 4 DIMM slots.
They may also have poor-quality power delivery systems. Check the features you need in advance, and only then buy the motherboard.
4 Basic Features to Consider When Buying a New Motherboard
A good motherboard doesn't have to be one costing $599. It just needs to be good enough to deliver the performance numbers you need while playing that game. Similarly, a motherboard for a computer handling basic tasks such as typing doesn't have to be the one costing $59 but one that's good enough for the tasks.
It doesn't matter whether you're building a gaming computer or something else. There are useful features that your ideal motherboard should have, even if it's a budget one.
Take note of the following features to ensure you don't waste your hard-earned money on pointless gimmicks:
Feature #1: Memory Slots
The RAM or DIMM slot is one of the essential things your motherboard should have. In general, standard, modern motherboards should come with 4 DIMM slots.
But, you'll find only 2 RAM slots in motherboards designed for budget users. The main disadvantage with these types of motherboards is that you won't be able to upgrade the RAM down the line.
Feature #2: Voltage Regulating Modules (VRM)
VRMs are critical components responsible for providing a stable and regulated power delivery to the CPU. Your CPU will perform better when handling demanding tasks if it gets cleaner and more stable power. 
VRMs use the power flowing in through the power supply. They then optimize this power for the CPU consumption. Therefore, VRMs play a critical role in a motherboard, especially when overlocking, when your CPU power demands increase dramatically. 
A more robust and powerful VRM configuration is important for this process as it enables the CPU to hit higher frequencies at low voltages. Generally, you want a motherboard whose VRM temperature remains cool even under load, which benefits both the CPU and the motherboard. 
It would be better to spend extra on a motherboard with a more robust VRM setup to avoid power delivery issues in the future. 
Feature #3: Connectivity
Basic connectivity is another critical area you should focus on while looking for a suitable motherboard for your custom PC build. Consider the fan connectors, USB ports, SATA ports, M.2 slots (Next Generation Form Factor – NGFF), and other connectors or ports that you might require on the board. 
You may have more than one SATA drive and wish to connect all of them. In that case, you have to choose a motherboard with more SATA ports. Additionally, consider other ports such as HDMI and USB Type-C (available in all modern motherboards) together with USB Generation 3.1 or 3.2.
Some motherboards also offer Wi-Fi connectivity and can be a good choice if that's a feature you don't want to miss. 
Feature #4: Upgrade Path
Your motherboard should serve you well for a long time. It's not something you want to keep replacing now and then. So, consider the motherboard's upgrade path while making the purchase decision.
Many chipsets support one or two gens of CPUs only. Therefore, you need to know that the board you'll buy can support a next-gen CPU and that you won't need to replace it when the time comes for the upgrade.
Most Intel motherboards provide a limited upgrade path that usually spans two generations. On the other hand, AMD motherboards are more flexible in upgrades and compatibility. Spending a little extra on such motherboards pays off as they last longer. Don't hesitate to spend more on a chipset that would offer a more robust upgrade path.
Conclusion
How much should I spend on a motherboard? It depends on the type of computer you're building. A high-end gaming motherboard can go as high as $599, which is okay if it has all the features you want and you can afford it. But, you don't have to pay all that for a computer's motherboard that will be performing light tasks such as typing.
We have learned that a motherboard is an essential component of a computer. However, it doesn't contribute directly to the performance numbers you need while undertaking draining tasks such as gaming. Therefore, you should be careful not to overspend on the component as that can affect your ability to spend sufficiently on more important components such as the graphics card and the CPU.
Also, we've discussed the significant features your ideal motherboard should have. Hopefully, you now have a general idea of how much you should spend based on your budget and the quality of build you want to achieve.