PC storage would be one of the biggest concerns for any gaming enthusiast. Despite having a lot of built-in space, the storage sometimes gets insufficient since you have to store many things other than games on your computer (e.g., music, videos, audio files).
If you tend to install 20 games on your PC with an average size of 40 GB per game, around 1TB of storage space would be sufficient. However, 250-300GB of space should be enough if you only need to install a handful of games on your PC. 
We have compiled a comprehensive guide about how much storage for gaming PC is needed and some methods for making more space on the hard drive.
How Much Storage for Gaming PC?
Most users think that when it comes to gaming storage, the bigger, the better. But frankly, that's not always the case as different games need variant space. Some need merely a few gigabytes of storage; however, others may take up an entire hard drive.
The gaming PCs typically feature at least 1TB of storage as a standard. However, a 250GB to 300GB storage can work well if you only need to play a handful of your favorite games. A gaming PC with 500GB of space is best suited for most gamers for improved performance.
The storage capacity of a hard drive directly impacts the speed of loading files into your system and doesn't impact the quality of gameplay that much.
This means that the challenges faced by a gaming enthusiast with a 500GB hard drive space would be no different from those faced by another gamer who has a hard drive of 20GB.
How To Check the Storage on a Gaming PC
It is pretty simple to check the storage on your gaming PC. Here are the steps you need to follow to check space division.
Navigate to Settings > "System".
Choose "Storage".
This method will show how much space you're using and what proportion is still available.
Ways To Increase Storage on Your Gaming PC
Storage is a big concern for PC gamers. Still, if you don't have much space on your hard drive, you can easily make room for more games without upgrading your hard drive.
The 3 methods mentioned below will save you a lot of time and effort in increasing storage on your PC.
Method #1: Extending Hard Drive Partition
Before spending your hard-earned money on a new hard drive, extending the hard drive partition for storing games is always the best recommendation.
Go to the Start menu search bar and type "disk management".
Click "Create and Clear Hard-Disk Partitions".
Check the File System for the drive partition that you want to extend.
If you have unassigned space, right-click on the partition you want to extend and choose "Extend Volume".

Select the volumes you want to increase in the next window and add them to your chosen partition.
Click next and follow all the instructions to complete the partition successfully.
Method #2: Using Disk Cleanup Utility
Regular disk cleanup is another effective method to add space to your gaming PC. Here are the steps you need to follow to perform a cleanup.
Click on the Start menu on your computer, type "Disk Cleanup" in the search bar, and click on the option.
Select "Cleanup System Files" from the dialog box on the screen.
Tick the checkboxes of the file types you want to delete, then choose "OK".
If you want to remove data from a previous installation of Windows, choose the "Previous Windows Installation(s)" check box.
Select "Delete Files" from the appeared message.
Head back to "My PC" in File Explorer.
Choose the drive you performed the cleanup process on, and select "Refresh".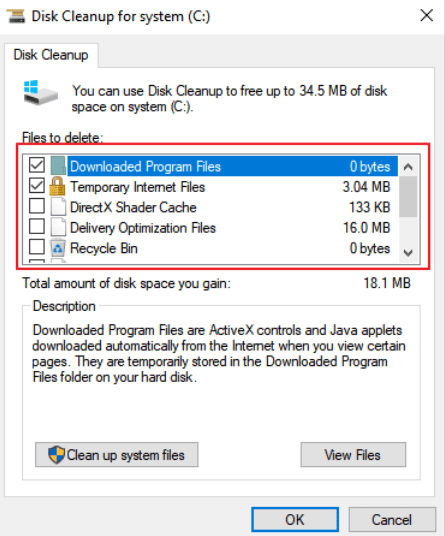 Method #3: Archiving Files That Are No Longer in Use
If you have videos, photos, or other multimedia files that are not actively used on your computer, it's better to transfer them to external storage – like a USB or DVD – to free up hard drive space.
You can also archive these files by following the steps mentioned below.
Open the "This PC" tab on your computer by typing it on the Start search menu.
Type "size: huge" in the search.
Click on the View menu, choose "Sort By", then click on "Size" to find the most extensive files at the top.
Once you find the file you want to delete, press and hold or right-click on it and choose "Delete".
Summary
In this guide on how much storage for gaming PC, we've discussed the amount of space needed for a quality gaming experience and how to check the existing hard drive storage. We have also explored some methods to expand the storage on your gaming computer.
Hopefully, now you are aware of the significance of storage and the space you need to be able to play your favorite games conveniently. Keep enjoying more new games and expand the storage all you want.