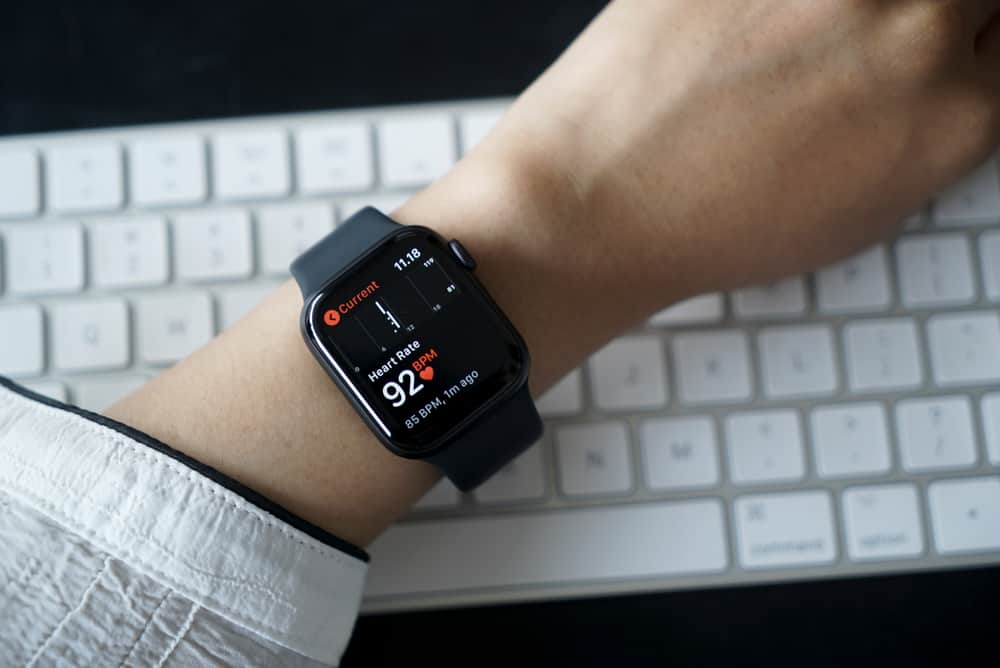 Apple Watches provides users with everything they need to monitor their health and access calls, messages, and even emails, amongst other things. But you must wear your watch correctly to get accurate fitness and health data. So, how tight should an Apple Watch be?
An Apple Watch should be a snug fit on your wrist yet comfortable. You shouldn't wear the watch too loose, else you wouldn't get an accurate reading, and neither should you wear it too tight, or else it would get uncomfortable and irritate the skin. 
Irrespective of the type of strap you have on your Apple Watch, you should feel comfortable while wearing it. You might have chosen the wrong strap if you don't feel comfortable. You can use different Apple Watch straps for different occasions, such as the sports band for exercise, the loop or link bracelet for special occasions, etc. Keep reading to learn more about how to wear an Apple Watch.
How To Wear an Apple Watch Comfortably
Different people have different wrist sizes, and that is why Apple has different lengths of straps that are adjustable for their watches. Hence, you can adjust the strap to find the perfect fit for your wrist. Below are some tips to help you find the perfect fit for an Apple Watch.
Tip #1: Find the Right Band Size for You
Apple has different band sizes ranging from 38 mm to 49 mm. So, if you have a small wrist, buy a small size band and if you have a large wrist, opt for the longer band.
Tip #2: Find the Right Band Material for You
If you are allergic to the leather or silicone Apple Watch band, there are several bands from Apple with different materials. These other bands are made with stainless steel, titanium, polyester, nylon, fluoroelastomer, etc. 
Tip #3: Test the Tightness
When you wear the watch, use your pinky finder to check the tightness of the watch. If it's a perfect fit and not too tight, your finger should pass between your wrist and the band.
Tip #4: Test the Looseness
When you wear the watch, but the sensors are not reading your heart rate, it means the watch is too loose, and you need to tighten the band a bit.
Tip #5: Wear the Watch in Your Non-Dominant Hand
You can wear your Apple Watch on either your left or right hand. So, to improve the accuracy of the Apple Watch, it's better to wear it on your non-dominant hand.
Always keep your band, Apple Watch, and skin clean and dry to maximize comfort and prevent irritation or long-term damage to the watch.
Conclusion
Overall, when you wear an Apple Watch, you must be comfortable in it. It should not be too tight, nor should it be too loose. If you wear it incorrectly, it will affect the readings and may even irritate your skin. So, follow the tips given in this article on how tight an Apple Watch should be, and you will be fine.
Frequently Asked Questions
What happens when I wear my Apple Watch too tight? 
When you wear the Apple Watch too tight, your wrist will start to feel numb over time. Apart from the discomforting pain you feel on your wrist, the sensors — such as the optical heart sensor, accelerometer, etc. — that measure your fitness and health will not work correctly. The stat you'd get will be too high as it picks up on many fault triggers. 
Can I sleep with an Apple Watch? 
You can sleep with an Apple Watch. But if you are going to sleep with your Apple Watch, you must wear it correctly. If the watch is worn too tightly, you will feel so much discomfort on your wrist that you may even find it difficult to sleep at night. Also, if the watch is too tight, you might cut blood circulation to your wrist. 
How do I switch the Apple Watch wrist? 
You can wear the Apple Watch on either of your hands. However, when you want to swap the watch you wear, you need to change the settings. So, launch the Watch app on your smartphone and make sure you are on the "My Watch" tab at the bottom left corner of your screen. 
Click on the "General" option and select "Watch Orientation" from the next page. On the "Orientation" page, switch between the left and right wrist options and the position of the Digital Crown. When you are done making those changes go back and, if you like, change the band's position on the watch to make it more comfortable.