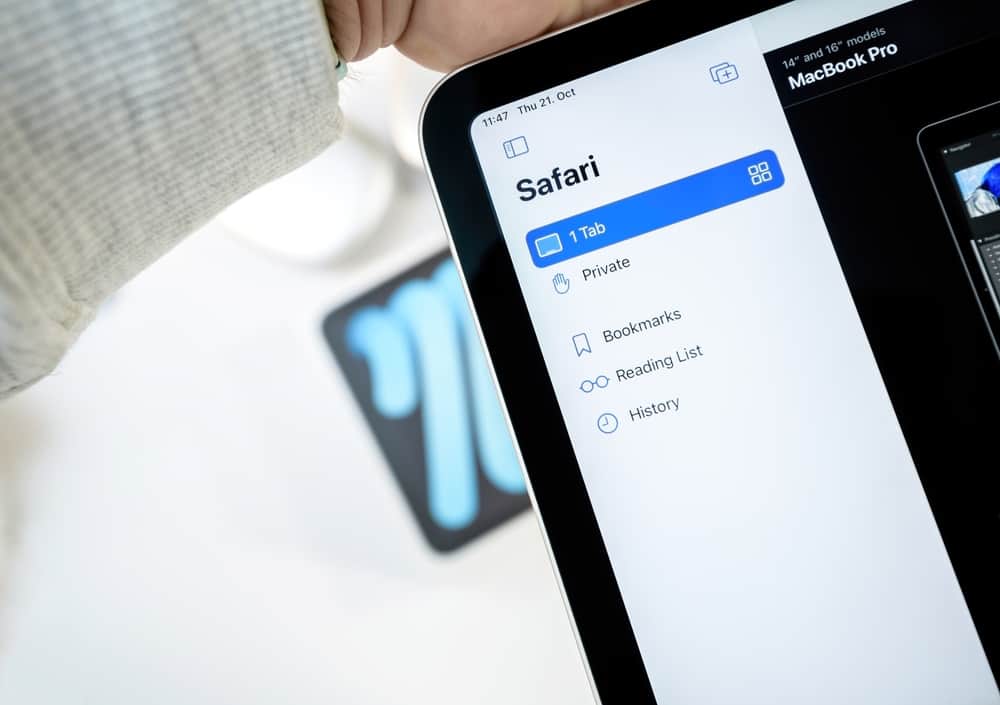 Do you have a site that you often visit or want to reference for future use? If yes, you need to add them to your Favorites in your iPhone's Safari web browser to access a website quickly. Thanks to this feature, browsing becomes a lot more convenient and easy. 
The good news is that you can easily favorite a website. Once that's done, you can easily access it at the press of a button instead of searching for the website or entering its URL. This is rather convenient and if you want to know how this gets done, read on. 
Further on, you'll also learn about the most frequently asked questions about how you can add favorites on your iPad. With that said, let's get started.   
Favorite Website on Your iPad
If you want to quickly access a particular website or bookmark it on your iPad, adding it to Favorites is the best way to do this. Here are the quite straightforward steps you need to follow to achieve this: 
Open the "Safari" browser. 
Go to the web page you wish to favorite. 
Tap on the "Share" icon located in the bottom section. 
In the share sheet, press the "Add to Favorites" option and proceed to edit the details if necessary.   
Tap on the "Save" option on your screen's top right corner to save this site on your iPad's Safari Favorites.  
Access Favorites on Safari
Once you're through with this, the site will now be added to the Favorites of your Safari browser. You can now quickly and effortlessly reach any website using your iPad. In case you don't know how to go about and access a site on your Favorites list, here are the steps to follow: 
Launch your "Safari" app. 
Click and hold the tabs icon. 
Press "New Tab", which opens up a "Safari Start" page showing your Favorites at the top section. 
Tap on the "Bookmarks" icon to see all the Favorites. 
Press on "Favorites". 
A list of your Favorites will show on your iPad, and you can go ahead to click on the site you wish. 
Sync Your Favorites
If you wish to sync the Favorites across your other Apple gadgets, such as your iPhone or Mac, use these same bookmarks on your iPad, this can also be achieved. However, you need first to sign up for these gadgets to your iCloud account. Here are the steps to follow: 
Launch the "Settings" app and go to the box with your name located at the top of this list. 
Click on "iCloud". 
Go down to "Safari" and toggle the switch to switch it on. You'll see the option to combine your local bookmarks. You can switch off the sharing option on your iPad to remove these bookmarks to remove these local bookmarks.  
Summary 
iPads running on different iOS versions come preinstalled with the Safari web browser designed to help make your browsing experience easy, convenient, and enjoyable. This is possible thanks to numerous features, and one of them is the bookmarking option which allows you to favorite any website you want.    
If you don't know how to bookmark a website, this blog post has outlined everything you need to know. With these insights, you'll be able to add a site to your Favorites on your iPad easily.   
Frequently Asked Questions
Where's the Favorites bar on my iPad? 
You can easily access the Favorites bar by going to the grey gear on your iPad and clicking on it. After that, go to Settings, scroll through the list, and press Safari. Consequently, proceed to the General section, and you'll find a switch named Show Favorites Bar. Turn this on by flipping the switch. 
How can you organize bookmarks on your iPad?
After adding a site to your Favorites list on your iPad, you can also rearrange it and move it up or down, depending on your preference. Here are the steps you can follow when doing this: 
1) Open the Safari browser on your iPad. 
2) Click on the bookmarks icon on the lower part of the Safari menu. 
3) Press on the Bookmarks tab. 
4) Click on the Favorites option. 
5) Once on the Favorites screen, press the Edit option found in the bottom right corner. 
6) Press and hold on a three-line icon found on the site's right corner, which you wish to rearrange, and subsequently drag it to anywhere you want the site to be positioned on the Safari Favorites list. 
After you're through, click on Done to verify and save these changes dine on your iPad's Safari Favorites.  
How can you edit Favorites in Safari on your iPad?
If you wish to edit or delete a bookmark from your Safari browser, simply open the Safari browser on your iPad and press the Safari window option. Click on the tab for the bookmarks list and select the location where the bookmark got saved. After that, enable editing mode by clicking on the Edit command.