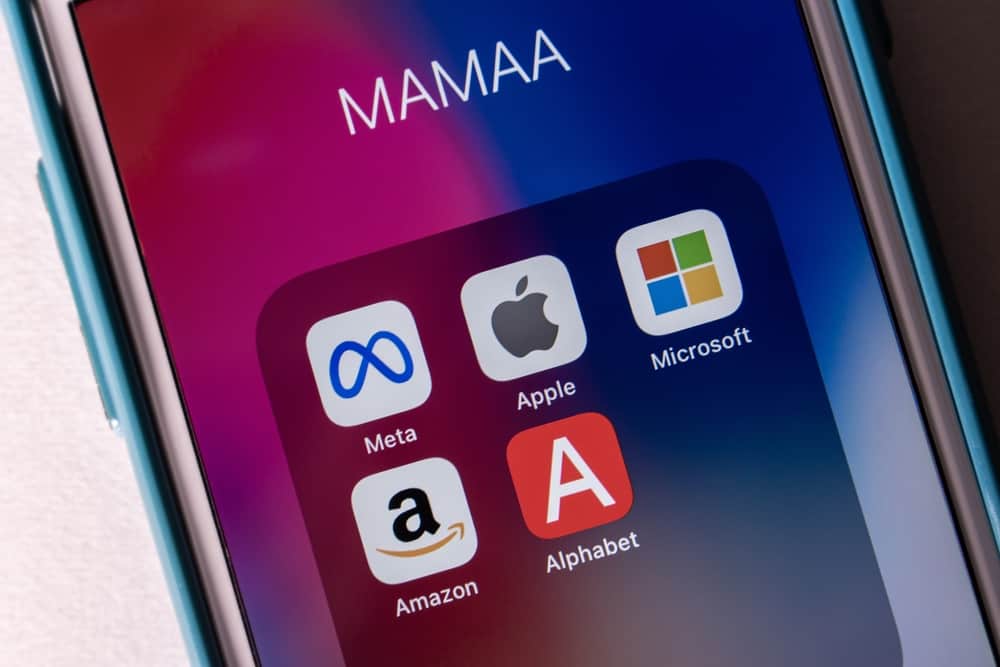 Do you have many apps spread across different home screens of your iPhone and can't find the apps you want to run when you want to run them? Luckily, you can sort the apps by name automatically on your iPhone.
You can alphabetize apps on your iPhone by going to Settings > "General" > "Transfer or Reset" > "Reset". Then, tap the "Reset Home Screen Layout" option. You'll see sorted built-in iPhone apps first and then the apps downloaded from the Apple Store in alphabetical order. 
Even if you are not fond of trying out new apps on your iPhone, you can end up having dozens of them on your device.
Therefore, we have written a detailed guide on alphabetizing apps on iPhone with easy step-by-step instructions to make your life a little easier.
Alphabetizing Apps on iPhone
There are quite a few reasons to organize apps on your iPhone alphabetically. One might be that your iPhone home screen is disorganized, and you want to give it a cleaner look and feel, or you want to find your favorite app without wasting time.
Sorting apps by name on iPhone is quite simple. Our step-by-step instructions will ensure you can organize your apps quickly and easily.
So without any delay, here are the 3 methods for alphabetizing apps on iPhone.
Method #1: Resetting iPhone Home Screen Layout
The first method is to reset the iPhone home screen layout. This will reset your phone's home screen to the default layout, resulting in your built-in iPhone apps organized exactly how they were when you unpacked and used your phone.
Also, by resetting the home screen layout, all the apps you've downloaded from the App Store will be sorted in alphabetical order, making finding the apps super easy.
Here are the complete steps involved in resetting the iPhone home screen layout.
The steps mentioned below are performed on an iPhone 13 on iOS version 15. Although you can sort and alphabetize your apps on other iPhone models and iOS versions, the steps can be slightly different.  
Go to Settings > "General".
Scroll to the bottom of the options and tap "Transfer or Reset iPhone".

On older iOS versions, you will see a "Reset" option rather than "Transfer or Reset".
Tap the "Reset" option at the bottom of your iPhone screen.
Select "Reset Home Screen Layout".

Once you tap on the "Reset Home Screen Layout" option and confirm this decision on the next screen, all of your Apple Store apps will be organized alphabetically. Your iPhone's built-in apps will appear first in the order they would show on a factory default state when you first used your phone. 
Method #2: Manually Organizing Apps Alphabetically
You can manually organize apps on your iPhone alphabetically in the following way.
Tap and hold any app on any of your home screens until you see the app icons shake.
Drag the app to the first home screen.
Release the app to the new location by taking your finger off the screen.

Keep doing steps 1-3 until you arrange all the apps alphabetically. If you have many apps, they may show on different home screens in alphabetical order.
It can take a lot of time to alphabetize apps manually, as you may have hundreds of apps. Therefore, we recommend using the "Rest Home Screen Layout" method to do this task quickly.   
Summary
In this guide about alphabetizing apps on iPhone, we've discussed two methods to help you organize your apps automatically and manually. Hopefully, your iPhone home screens show the apps in sorted order, giving you a much cleaner and easier-to-navigate feel.
Frequently Asked Questions
Is there an easy way to organize apps on iPhone?
You can easily organize your apps in folders on your iPhone. To do this, tap and hold the home screen background until you see the apps start to jiggle. Next, use your finger to drag an app onto another, creating a folder of two apps. You can continue dragging other apps to the same folder this way. 
If you want to rename that particular folder with different apps, tap and hold the folder, select "Rename" from the menu, and type in a new name.