Do you want to share photos in your phone's Gallery by emailing them to your friends, family, or business contacts? You don't have to download any app for this task, as the Android phone has default features to attach images to email without compromising its quality.
To attach a photo to an email on Android, open the Gallery app and select one or more images. Tap the share icon, select the Gmail app, and the photo files will be attached to the body of the email.
We took the time to write a step-by-step guide on attaching a photo to an email on your Android phone using different mailing applications and make the whole process easy for you.
Attaching a Photo to an Email on Android
If you are wondering how to attach a photo to an email on your Android phone, our 3 step-by-step methods will conveniently guide you through this process.
Method #1: Attaching Photos From the Gallery
Android's Gallery brings the convenience of quick photo sharing, allowing you to attach photos via email by following these steps.
Open the Gallery app from your Android phone's home screen.
Select one or more photos.
Tap "Share".
Tap the Gmail/email icon.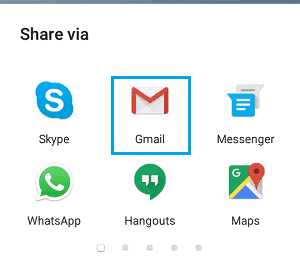 The photo is now attached to the email; type the recipient's email address, mention the subject, and tap "Send" to send the email. 
If you want to attach photos to email directly from the Google Photos app, open the Gmail app, tap the paper clip icon, and tap "Attach File". Tap "Browse files in other apps", scroll, tap "Google Photos", and tap a photo to attach to your email.  
Method #2: Attaching Photos on Gmail
Gmail mobile application is the most widely used mailing application on Android phones, which lets you attach images to email by following these easy steps.
Open the Gmail app.
Tap the "Compose" option to write a new email.
Tap the paper clip icon.
Tap "Attach file".

Choose one or more image files from your Gallery.  
Tap "Done". The images will be added to the body of your email.
While using Gmail, you can send photos up to 25 MB in attachments. If your photo size exceeds this limit, Gmail will add a Google Drive link to your email. 
Method #3: Attaching Photos With Outlook
You can also attach photos to email while using the Outlook app on your Android phone.
Open the Microsoft Outlook application.
Compose a new email and tap on the body of the mail.
Tap the paper clip icon.

Tap "Choose Photo From Library".
Select one or more photos and tap "Done" to attach them to your Outlook email.
All Outlook versions allow 20-25 MB of attachments per email. This limit is also applicable to video attachments and document files like PDFs.
Adding Email Accounts to Android Devices
If you want to share photos directly from the Gallery or Google Photos App on Android, you need to set up your email accounts first.
Follow these steps to add your email addresses to your Android phone.
Go to Settings > "Accounts & Backup" > "Manage Accounts".
Tap the "+ Add Account".
Tap the email icon and select the email type you have.
Add the email address and password.
Tap "Sign-in" to save the credentials.
Once you have set up your email account, open your Gallery and open a picture. Here, you will find the "Share" option: tap it and choose one of your email applications, such as Gmail or Outlook, and the photo will be attached to the email.
Summary
In this guide about attaching the photo to an email on Android Phone, we presented three easy methods to help you achieve this task without hassle.
We also shared how you can add an email account to Android for instant photo sharing via email. Hopefully, you can now share the images with your contacts via email quickly.
Frequently Asked Questions
How long does it take to email photos from Android?
The time it takes to email photos from an Android phone depends on various factors, such as internet connection speed and file size. The default Gmail attachment size supports up to 25 MB, which can take 5-10 seconds to upload and send. 
How do I email large photos?
There are two ways for you to send a photo larger than 25 MB via email. You can upload the image on a cloud storage platform like Google Drive and share the link via email, or you can resize the image to reduce it to under 25 MB.
Does Gmail affect photo quality?
No, Gmail is best known for retaining the original file sizes of its attachments, including images, videos, and digital documents. Some mobile email applications may reduce the file size due to a slow internet connection speed.