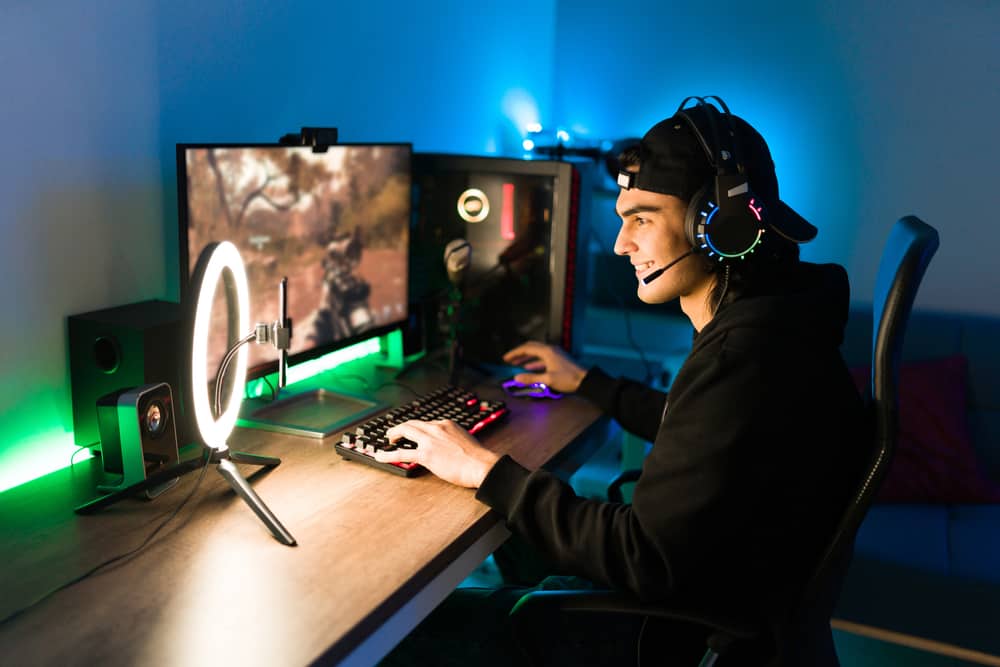 As a gamer, deciding on the configuration for a streaming PC can be pretty tricky. This is because streaming PCs are not as demanding, unlike gamers' PCs. The right CPU and a strong internet connection matter the most in a streaming PC. If you have never built a PC before, the first question that may pop into your head is, "How do I build a streaming PC?"
Generally, you don't need cutting-edge equipment to build a streaming PC. You only need the right hardware, proper internet connection, and a DIY spirit. 
You can build a streaming PC on a budget as they are not expensive. The only time streaming PC becomes costly is when the gamer wants a high-end graphics card, although it is unnecessary.
This guide will enumerate more on what you need to build a streaming PC yourself.
What Do You Need To Build an Ultimate Streaming PC?
To become a streaming game superstar, you need an ultimate streaming PC. The type of games you want to play can influence the kind of hardware you need.
Below we've put together a list of hardware to build the ultimate streaming PC capable of playing the latest games while streaming your gameplay.
Step #1: CPU
The first piece of hardware you want to get is the CPU. It's essential to choose the CPU first as this will dictate other components you can get, especially the type of motherboard you can use. Because we need a streaming PC not only to play games but to record and broadcast, you should aim for a processor powerful enough to handle heavy-duty multitasking.
You can use an Intel or AMD; both processors work fine. If you will go with the AMD because they are cheaper, aim for a processor in the Ryzen series. However, an Intel Core-X series built for multitasking will also do fine. Also, you must choose a processor with at least 4 cores. For optimal performance, go for a processor with 8 cores.
Step #2: Motherboard
The motherboard is the next piece of hardware to get. The motherboard is a printed circuit board in a computer. The type of processor you choose will determine the motherboard you use. The function of the motherboard is that it serves as a backbone/connective point on which all components of the computer and external peripherals connect.
When choosing a motherboard, have its form factor at the back of your mind. The form factor will determine other components you can connect to the PC. For example, some motherboards support multiple graphics cards while some don't, some support DDR3 RAM sticks, some support DDR4, and so on.
Step #3: Graphics Card
You have two choices regarding the graphics cards on a streaming PC; an integrated graphics card or a dedicated graphics card. Since most processors have an integrated graphics card sufficient to handle all the graphics processes for a streaming PC, you may not need to add a dedicated graphics card to a streaming PC. But if you can afford to get one, it helps.
If you are going to get a graphics card, one with 2GB or 4GB of dedicated graphics memory will suffice and is quite affordable. It is an excellent mid-to-high range graphics card for streaming.
Step #4: RAM and Storage
For storage and RAM, you need to aim for something super-fast. One thing you want to ensure the PC does while streaming is lag. Hence, rather than the regular HDD storage, go for SSD storage. The higher the storage space, the better, but this will also mean spending more money. But 500GB of SSD storage should suffice.
You also need RAM with exceptional capability to handle the strenuous multitasking demands of live streaming. Hence, investing in 8GB or 16GB of RAM should suffice. But if you want to go high-end, then buy a 32GB RAM stick. Also, it is best to have a motherboard that supports DDR4 or DDR5 RAM sticks as they are faster.
Step #5: Power Supply
Another important thing worth considering when building a streaming PC is the power supply. It would be best if you had the right piece of power supply unit that would provide enough power to support all the little components in the PC build.
If you want to know the suitable power supply unit for your build, you need to consider the power needs of each component in the build. But most of the time, a power supply that supplies up to 1000 watts is often enough.
Step #6: PC Case
Most streaming PCs gamers use are often visible on the live feed. Hence, choosing a PC case that will capture the viewers' attention makes a lot of sense.
Most streaming PCs come with a tempered glass front and sides showing the internal components. And many PC cases of this kind support RGB LED to spark things up.
Step #7: Other Peripherals
There are several other peripherals you will also need to get, like the cooling fan, to help keep the PC at an optimal temperature. You will also need a capture card with an output and input port to help you broadcast in real-time. A soundcard is also essential, although most motherboards come integrated with one. However, getting one helps get some of the load off the CPU.
A great headphone and microphone are a must; it is cheaper and gives you a feel of surround sound. You should also invest in a webcam to help provide a more personal touch to your stream. Also, getting a great monitor, keyboard, and mouse is a must. And finally, a strong enough internet connection, be it Ethernet or wireless, provided it is fast enough, is good to go.
You don't need a high-end PC for streaming; what matters more is that its processor is powerful enough to handle the multitasking needs of live streaming.
Conclusion
In summary, you ought to carefully choose each piece of hardware you use to build a streaming PC. When choosing the hardware in a streaming PC, aim for one with an outstanding performance processor and not a high-capacity graphics card.
A powerful CPU, graphics card, or both will give you the most option for high-performance streaming. Although you also need a robust internet connection and a screen with a high frame rate to get the most out of the experience.