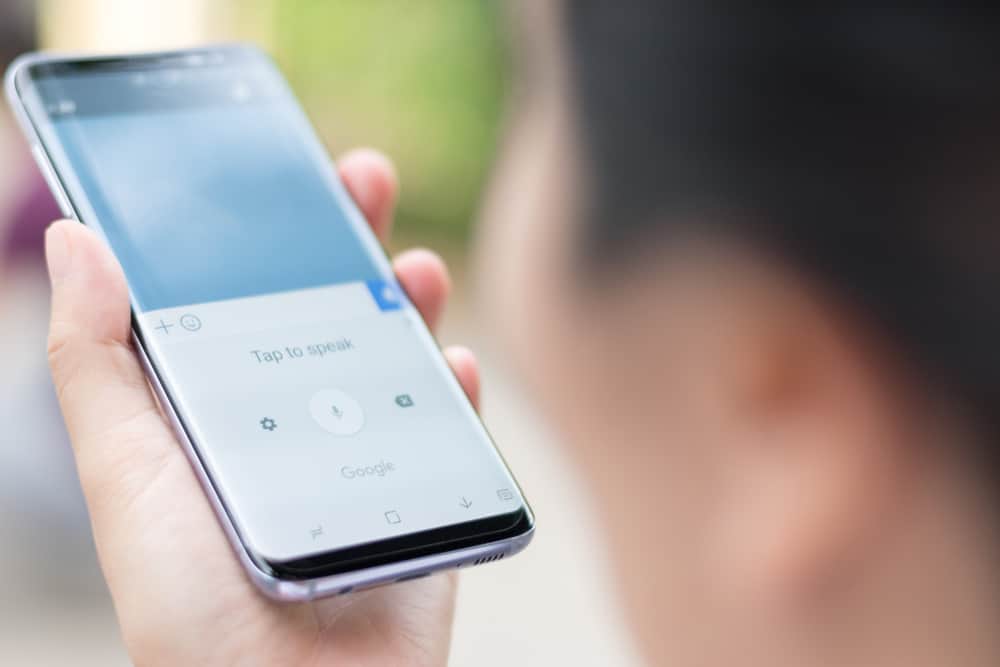 Google Voice Typing is a great way to speed up your communication, especially in a hurry. But there are times when it doesn't fully understand what you're saying, and it can be frustrating. Luckily, there's a quick fix – switching keyboards.
There is a way to change the default input method on your Android device to use a regular keyboard instead of Google Voice Typing. Simply navigate to settings and choose your preferred keyboard option from the input settings.
Despite its benefits, Google Voice Typing can sometimes be frustrating. Swapping over to a regular keyboard makes for a much more enjoyable experience for many users. You can easily type words without using the voice recognition feature.
In this article, we'll show you how to change the default keyboard of your Android device from Google Voice Typing to a regular typing keyboard. 
How To Change Google Voice Typing to Keyboard
If you've ever been frustrated with how Google Voice is typing your messages for you, you can change it back to a normal keyboard quickly and easily.
Here's how to change your Android's default keyboard.
Step #1: Open the Settings on Your Phone
If you want to change the default keyboard on your Android device, you'll first need to open the Settings app, which can be found in the app drawer or on your home screen.
On most Android devices, you can also open the settings by just swiping down from the top and clicking on the Settings icon in the notifications panel.
Step #2: Go to the "Language & Input" Option
Now you'll need to find the settings related to the keyboard and input options in the "Language & Input" section of Settings.
Typically, these options are found under "General Management" on Samsung devices and under "System", "Personal", or "Additional Settings" on other devices.
As these options are found in different places on different Android versions, you can also use the search button to locate them.
Step #3: Change the Default Keyboard
Look for the "Default Keyboard" or "Current Keyboard" option once in the "Language & Input" settings. In this case, it will be set to Google Voice Typing, and we'll need to change that.
Tap on it and change the default keyboard to "Gboard", "Samsung Keyboard", or any other keyboard you have already installed.
Once you've finished making the changes, you can close the settings and check the Messaging app to see your new default keyboard.
Step #4: Disable Voice Typing in Gboard (Optional)
If you choose, you can also disable voice typing for Gboard or any other keyboard you use so that the voice typing icon is removed from the keyboard.
In the keyboard settings, tap on Gboard to access its settings, and then look for the voice typing option and disable it.
That's all there is to it. From now on, all text input will be done using this keyboard instead of Google Voice Typing. 
With voice typing completely disabled, you can type using the regular keyboard without worrying about misinterpreting your words and mistyping them.
How To Install Additional Keyboards on Android
In some cases, if you try to change the default keyboard on your Android from Google Voice Typing to something else, you might see that the list of keyboards installed is empty.
To fix this, you will need to download and install additional keyboards from Google Play. 
Here's what you need to do.
Open Google Play on your Android.
Search for the keyboard you want to install (e.g., Gboard).
Click on "Install" to download and install the keyboard.
And that's it. You can select the keyboard you've downloaded using the keyboard options in the settings.
There are a variety of keyboards available for Android so that you can find the perfect one for your needs. Some popular Android keyboard apps include Gboard, Fleksy, and SwiftKey. 
So, if you prefer typing your messages rather than using the voice recognition features of Google Voice, you can easily switch keyboards by following our guide. 
Frequently Asked Questions
How do I turn off voice typing?
You can turn off voice typing by going to the keyboard settings and clicking on your keyboard. Just look for the options that say voice typing and turn it off.
Is Google Voice Typing free?
Yes, Google Voice Typing is a free text-to-speech tool by Google that allows you to say what you want to say, which is then automatically converted to text.
Is Google Voice Typing any good?
Comparing Google Voice Typing with other tools, it has an accuracy rate of up to 94%, which is considerably higher than other text-to-speech tools in the market.