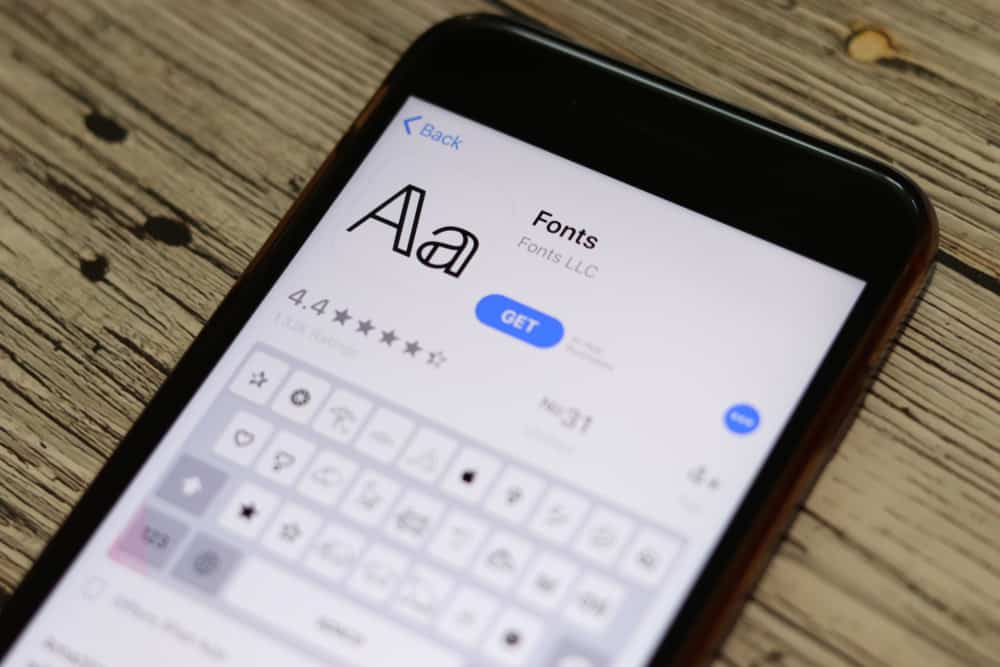 Are you wondering how you can change the font color of your iPhone? If yes, you're not alone, as this is a wish many people have to be able to customize their iPhones. When you change your iPhone font color, it reveals your unique personality and makes you stand out from the rest.
Luckily, you can change the font on your iPhone without breaking a sweat because the process is pretty straightforward. You also don't need to download any third-party or pay a penny. You can do it all from your iPhone's settings.
Let's get started and see the steps to follow to change your iPhone's font color.
How To Change the Font Color on iPhone
Here are the steps to follow when changing your iPhone's font colors:
Go to "Settings" and click on "General." 
Press on "Accessibility," and after that, tap on "Display Accommodations." 
Scroll to the "Text" section. 
Click In "Color Filters" to turn on the switch adjacent to "Colorblind." 
Press on the "Color Filter" option and switch it on and select "Filter Type Menu."  
Choose the filter you wish to apply on your iPhone with Grayscale, the default option. The other available options are Tint, Green/Red, Red/Green, and Blue/Yellow. 
How To Change Font Color of Your iPhone's Home Screen 
In the past, you couldn't customize the home screen of your iPhone. However, this isn't the case now, as the newest iOS update (iOS 14) makes this possible. Here are the steps you need to follow when doing these customizations:
First, you need to update the software of your iPhone if it isn't up-to-date to iOS 14. Go to "Settings" > "General" > "Software Update" and press on "Download" and eventually "Install." 
Choose the color theme you'd like to display on the home screen. 
Download a matching icon pack and wallpaper that blend in with the theme, and make sure they're saved in the camera roll. 
Download the Shortcut and Widgetsmith apps needed to change the lock screen color and other appearances of your iPhone. Using the Shortcuts app, you can create programmed tasks by asking Siri or automating tasks. Widgetsmith allows you to change the font, photo, and background color to your preferred choice. 
Clear the home screen to personalize it according to your preferences. Doing this is simple, and you need to press down on an app for the pop-up menu to show the option of removing it. You can delete the app altogether or move it to the library. 
Install a new wallpaper by heading to "Settings" and choosing your favorite wallpaper to download and save it in the camera roll. 
Use the Widgetsmith to design custom widgets. 
Change the icons on your iPhone's home screen using the "Shortcuts app."
Below, you can use an intensity slider to adjust your iPhone's font color on the home screen according to your preferences. In addition, there are other valuable accommodations you can find below the Display & Text Size, and these are:
Large Text: Tapping this option and switching on the Larger Accessibility Sizes enables you to set your favorite text size using the slider. 
Bold Text: It makes texts appear bold. 
On/Off Labels: The On/Off labels are added to particular screens. 
Button Shapes:  It gives buttons shape; for example, you'll see underlined below black buttons. 
Increase Contrast: It boosts color contrast of the background and foreground of apps. 
Reduce Transparency: It minimizes blurs and transparency on particular backgrounds.  
Reduce White Point: It restricts transparency and blurs on specific backgrounds.  
Differentiate Without Color: It substitutes items that require color to communicate information. 
Summary 
For many iPhone users, changing the font color is one of their desires to give them the ability to instill their personality into their phones. But this process can appear to be quite complicated and intimating, especially if you aren't tech-savvy.
Fortunately, this guide has detailed ways to change the font color on your iPhone without stressing yourself. This way, you'll be able to accomplish the much-needed customization you've eagerly hoped to incorporate into your smartphone.  
Frequently Asked Questions
How Can You Change Your iPhone's Text to Green? 
You can easily change the text color on your iPhone by going to "Settings" > "General" > "Accessibility" > "Display Accommodations" > "Invert Colors." After that, click on the "Green Invert" button to switch the text color on your iPhone to the color green. 
Why Are Texts Green Instead of Blue on My iPhone? 
The default color for texts on most phones, including the iPhone, is green and not blue. To change the color of these text messages, go to your iPhone's "Settings" and make the change there.