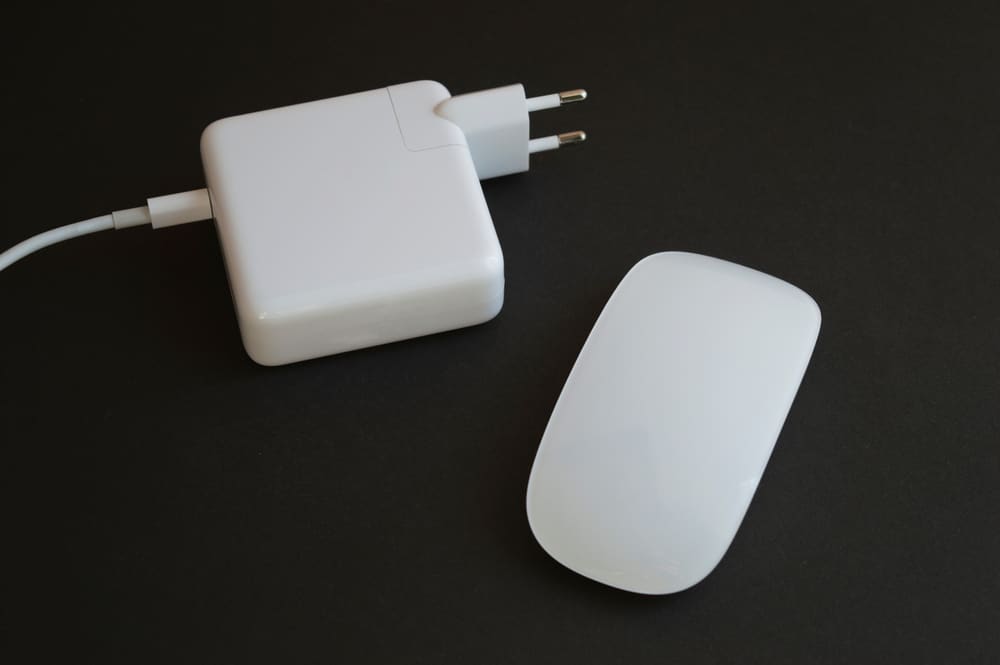 Magic Mouse 2, which Apple unveiled in 2015, elicited mixed reactions from users worldwide. The new design. The new design, especially the location of the charging port, is pretty annoying that makes you cannot use the mouse as it charges. However, Apple defended its product designers by saying you won't need to use the mouse while charging because the charging process only needs 2 minutes to power the mouse for nine straight hours.
But how do you charge the Apple Magic Mouse?
The process is straightforward, whereby you connect a lightning cable to the charging port at the back of the mouse and then connect the USB end to your computer or an AC power outlet in your home or office. This lightning cable is similar to the one you use to charge your iPhone; you can use your phone's USB charger to power your Magic Mouse.
We wrote this article to show you how to charge a magic mouse and cover other related issues.
How To Charge Your Mac's Magic Mouse
Unlike its Magic Mouse predecessor, Magic Mouse 2 has an inbuilt Li-ion battery that needs recharging. Follow these steps to charge your Magic Mouse 2:
Flip the mouse and locate the charging port at the bottom end of the backside.
Take a lightning cable and connect the charging end to the charging port.
Connect the USB end to your Mac. The mouse starts charging, and you should see the battery level increase.
You can also connect the USB end to an adapter and charge the mouse directly from an AC outlet. Here is how to do it:
Locate the charging port.
Connect the lightning cable to the charging port.
Attach the USB end to the adapter of your iPhone, then connect it to a power socket.
Turn on the socket, and your mouse should start charging.
There is a debate between tech experts on whether you should charge the Magic Mouse while switched off or not. The affirmative side says a device charges faster when its functions are off. However, Apple recommends the charging process of the mouse while switched on for the fastest battery performance. However, you may note that no matter the method you choose, you cannot use your mouse as it charges due to practicality.
How To Check The Power Left on Your Magic Mouse Battery
It's crucial to keep tabs on how much is left in your battery to avoid running out of power and interrupting productivity. Follow these steps to check how much battery power remains on your magic mouse:
Open the Apple menu on the top-left corner of your computer.
Scroll down the drop-down menu and select "System Preferences."
A new window will open then you can Click on your Magic Mouse.
Another window will open, and you can see the amount of power in your battery in the bottom-left corner.
A ten-minute charge of your magic mouse can give you a full day of use while charging the device for two minutes gives you enough power to last up to nine hours. While you can choose whether you want to power up the mouse with your Mac or direct power supply, charging through your computer takes longer than charging from an AC outlet.
Summary
The new design of Apple's Magic Mouse makes it hard to use while charging. It's crucial to keep tabs on how much power is remaining in your battery, and you can check that from your computer. If you need to recharge the magic mouse, use a lightning cable to charge it through your computer or from an AC outlet. We hope this guide was helpful.
Frequently Asked Questions
How do I know that my Magic Mouse is charging?
There are two ways to check whether your magic mouse is charging. The first method is by checking the battery percentage on your computers' status bar. When your Bluetooth is on, and the mouse is charging, you will see a "Mouse Battery Level" followed by the percentage on a grayed area on the Bluetooth menu.
Secondly, you can check the progress of your battery power on the mouse's main menu. Here are the steps to follow:
1. Open Apple's main menu.
2. Select "System Preferences."
3. Tap on the Magic Mouse to see the battery percentage and gauge.
Can I charge my Magic Mouse with my iPhone charger?
Yes. The lightning cable with the magic mouse resembles your iPhone or iPad charger and serves the same purpose.
How long does it take to charge a magic mouse fully?
To fully charge the Magic Mouse, you need to power it up for two hours. This power can last you up to two months. However, a two-minute charge when the power is low can last you up to nine hours.
Does Magic Mouse 2 light up while charging?
No. Unlike its predecessor, which lit up a green light while charging, Magic Mouse 2 does not have a glowing indicator.