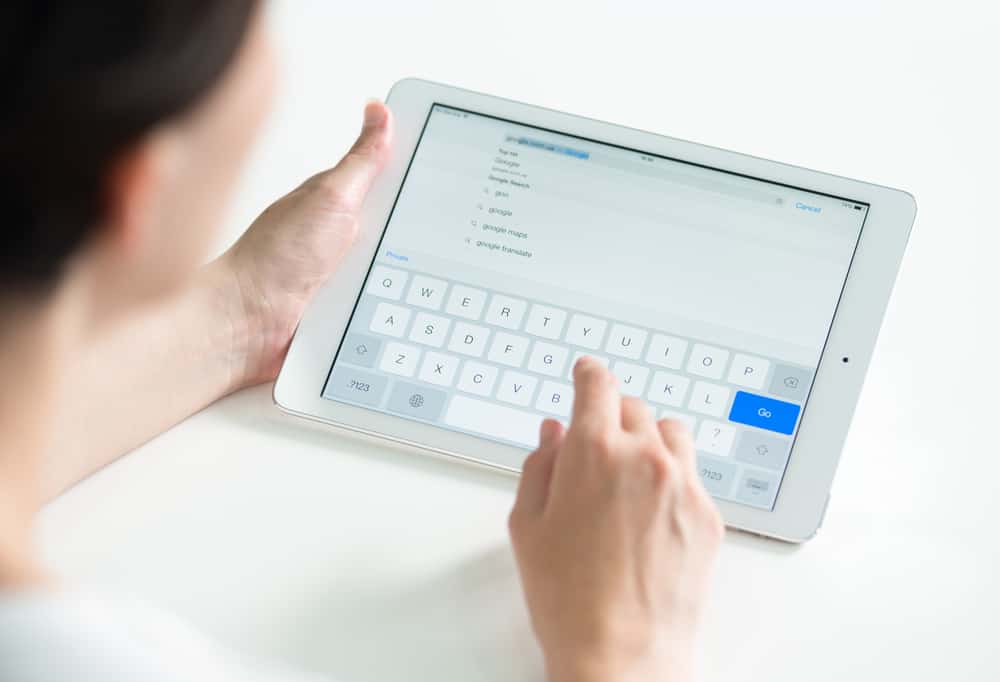 Cookies help users retain their data on a website for beneficial purposes like remembering their login credentials. However, sometimes you want to remove data access from websites that appear fishy. Scam websites use your information, like card details to make payments and become a threat to your privacy. So, how can you clear cookies on an iPad?
Clearing cookies on an iPad is an easy process. Whether you're using Safari or Google Chrome as your default browser, you can remove the cookies by heading to each app's settings. You can also prevent any website from collecting or removing cookies from a specific website. 
You can also clear your iPad's browsing history to remove all cookies and cache data collected on your iPad. It doesn't affect your browsing experience and provides you peace of mind if you don't trust a website.
This article will mention all the steps in clearing cookies from Safari and Google Chrome from your iPad so you can enjoy carefree browsing.
What Are Cookies?
Cookies are small files that are used by many websites to store your information. This information could be your banking details, emails, usernames, or passwords, so you won't have to re-enter them every time.
Websites can use this information to provide relevant content, keep you signed in, remember your preferences, and save you time. However, your data cannot be trusted with all websites, and if you find something off about a website, you should remove the cookies from that site. 
Clearing Cookies From Safari
On iOS devices like iPads, Safari is set as the default browser. You can easily remove the cookies from your Safari browser using the following steps.
Launch the Settings panel on your iPad.
Scroll down to find and tap on the "Safari" tab.
Hit the "Clear History and Website Data" option.
Click on "Clear", and you're done.
Clearing the history and website data removes every type of information that the websites may have collected, including cookies. 
Clearing Cookies From Chrome
Google Chrome is the browser of choice for many. Many Chrome features make the users hooked to it. Follow the steps below to clear all the cookies from your Chrome browser.
Launch Google Chrome on your iPad.
On the top right corner, hit the three dots to open a menu.
Click on "Settings".
Scroll down the settings menu to find the "Privacy" tab and click on it.
Click on "Clear Browsing Data".
A pop-up will appear, asking which data to be cleared. Select "Cookies and Site Data" and leave other options untouched.
Tap "Clear Browsing Data" on the bottom again. 
It will clear all the cookies from Chrome; however, your browsing history is not removed yet. You can repeat this process and check the "Clear History" box to remove it from your iPad. 
Clearing Cookies From Firefox
There are a lot of people who still prefer using Firefox as their default iPad browser. It is common for people who use Firefox on their Macs and PCs. Below are the steps to clear cookies from Firefox on an iPad.
Open Firefox on your iPad.
Click the three horizontal lines in the top right corner. A menu will pop up.
Click "Settings" at the bottom of the pop-up menu.
Scroll down and tap "Data Management".
There will be many toggles for different types of data. Turn on the toggle for "Cookies" and hit "Clear Private Data".
It will remove all the cookies, but your browsing history, like Chrome, will remain. Go through these steps again and turn on the toggle for "History". It will clear all the browsing data from your iPad.
The Bottom Line
Cookies help many websites to save your important browsing data. However, sometimes there are websites you don't fully trust. In that case, clearing cookies is the best option. You can clear cookies from their settings panel using Safari, Chrome, or Firefox as your iPad's default browser.
You can also remove cookies for individual websites, so your saved data is not lost for all sites. This article has listed the step-by-step method of clearing cookies from all browsers. We hope it has also helped you remove unwanted cookies from your iPad. 
Frequently Asked Questions
Is it safe to remove cookies from my iPad?
Removing cookies from your iPad's browser doesn't affect your experience. You might have to provide the saved details again, but it comes in handy if the website is not working properly or you don't trust the website. 
Can I remove cookies for a single website?
Yes, you can remove cookies for a single website on Safari. On your iPad, head to "Settings" > "Advanced" > "Website Data" > "Show all sites". All the websites will be listed here, and you can manually delete the cookies for each.