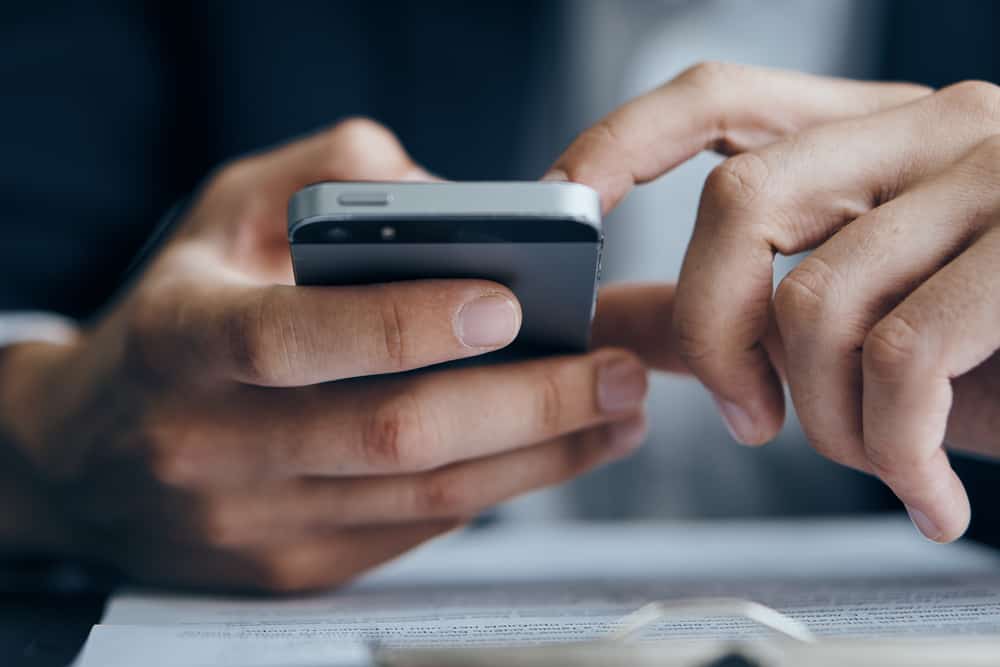 With the QuickType feature on iOS 8 and later, you can type an entire sentence with just a few taps. This feature lets your iPhone remember any word you type and intelligently suggest it when typing. However, if you often misspell a word, it will automatically learn and offer it as a suggestion. To stop this, you have to clear your keyboard suggestions history. Now, the question is, how do you clear your keyboard suggestion? 
Your iPhone's keyboard dictionary constantly learns new words from your consistent typing style. Suppose, for one reason or the other, the suggestions of your keyboard no longer suit your typing style. In that case, you can clear the keyboard history by going to your phone's Settings app and navigating to the "Reset Keyboard Dictionary" option to clear all keyboard suggestions. 
Unlike other devices, you cannot individually remove a learned word from an iPhone's keyboard's dictionary. So, to remove incorrect words your keyboard's dictionary has learned, you must clear your typing history.
This article explains how to clear your keyboard's dictionary and the better use of the suggestion feature on your iPhone. 
How Do You Clear My iPhone Keyboard Suggestions? 
On your iPhone's keyboard, its default setting is to learn from your typing style. While this feature is excellent and helps you type less, it sometimes goes wrong and hinders typing by suggesting incorrectly spelled words to replace correctly spelled ones. This issue can be very frustrating, especially when trying to type a critical text. 
There are two solutions to this problem: you can clear your keyboard suggestion or disable the suggestion bar. For this section, we will be looking at how to clear your iPhone's keyboard dictionary suggestion.   
Step #1: Open Settings 
Unlock your iPhone and open the Settings app from the home screen. If you can't find the Settings app on the home screen, swipe down and search for "Settings" in the search bar to find it. 
Step #2: Open the Keyboard Menu
In the Settings app, towards the bottom of the page, you will see the "General" option; tap it. Scroll down to the "Transfer or Reset iPhone" option in the "General" menu, and tap the "Reset" option to proceed. 
Step #3: Reset the Keyboard Dictionary 
Tap the "Reset Keyboard Dictionary" option on the window. This option will clear your typing history to default. When you tap on this option, it will ask to verify your identity by entering your passcode. Once you enter it correctly, you will get a prompt telling you this option will delete all your custom words. To proceed, click "Reset Dictionary".
After clearing your iPhone keyboard's dictionary history, it will slowly start learning and storing your new typing habit. If you want to stop your iPhone from learning your typing habit, turn off autocorrect and predictive text.
How To Disable The Suggestion Bar on Your iPhone Keyboard
Suppose you don't like the space being used by the suggestion bar. Or, if you have previously cleared your iPhone keyboard's dictionary before, but it keeps learning and suggesting those annoying words, you can fix this issue by disabling the suggestion bar. 
Sadly, you will have to do more typing by disabling or hiding the suggestion bar. Nevertheless, you can type more accurately with the suggestion bar out of the way. 
You can disable or hide the suggestion bar on your iPhone in two ways.
Method #1: Temporarily Disable the Suggestion Bar
While typing, if the suggestion bar becomes annoying, you can quickly turn it off from the keyboard app. If you need to re-activate it, you can easily slide up the white bar that will now be at the top of the keyboard after disabling it. 
Here's how to temporarily disable the suggestion bar on an iPhone keyboard.
Open any app that uses the keyboard on your iPhone, such as iMessage, Mail, or any social media app. 
Open a conversation and click the message body to activate the virtual keyboard. 
Start typing, and when a suggested work appears in the suggestion bar, tap and hold any of the words, dragging it down towards the keyboard. 
The predictive/suggestion bar will shrink with a white bar in the middle. 
Method #2: Permanently Disable the Suggestion Bar 
You can completely disable the suggestion bar on your keyboard if you want. By permanently disabling the suggestion bar, your iPhone will no longer bother you with the suggestion when you are using the on-screen keyboard. 
Here is how to permanently disable the suggestion bar on an iPhone keyboard.
Open the Settings app on your iPhone and navigate to the "General" option. 
In the "General" menu, scroll down and tap the "Keyboard" option. 
To disable the suggestion bar on the next screen, toggle the "Predictive Text" option to off. 
Deleting your iPhone keyboard's dictionary history is permanent and irreversible. If you don't want to delete every custom words your iPhone has ever learned, you can always consider temporarily or permanently disabling the suggestion bar.
What's the Difference Between Turning Off Auto-Correction and the Suggestion/Predictive Option? 
Turning off the auto-correction option on your iPhone means your iPhone will stop automatically inserting suggested words for you while typing. Turning off the suggestion option prevents your iPhone from learning new words or making suggestions as you type. For example, when you are going for a presentation and mirroring your iPhone, turning off the suggestion option could save you from potentially embarrassing predictions. 
Conclusion 
Clearing your keyboard suggestion restores your keyboard dictionary to default settings. You may want to do this for several reasons, but note that you can always turn off the suggestion option if you don't want to lose every custom saved word in your iPhone keyboard's dictionary. You also have the option to use text replacement to reteach your keyboard your preferred words to use manually. However, using the text replacement feature is labor-intensive.