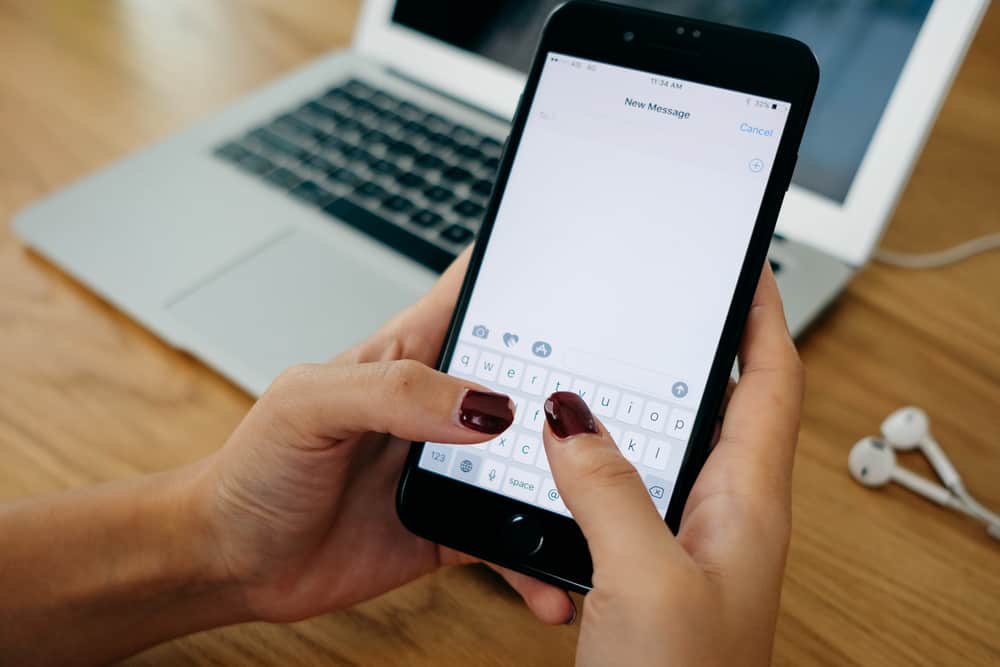 Are you frustrated with your iPhone's word suggestions while typing? Does the predictive text keep suggesting irrelevant words in a text conversation? No worries, we have found a solution to stop iPhone's keywords from interfering with your text messages.
To clear the suggested texts on your iPhone, you can reset the iPhone's keyboard dictionary by accessing reset settings. Go to Settings > "General" and scroll down to find "Reset Settings". Select the "Reset" option and tap on "Reset Keyword Dictionary" to clear all unwanted words instantly.
The predictive text on iPhone seems like a handy feature, but it can be a nightmare while having a casual conversation. It works great for formal emails, but it can ruin a chat if you're a fast typist.
This article will guide you with four effective methods to clear suggested words on iPhone. We will also discuss modifying your iPhone's keyboard to get the best typing experience.
Reasons Why iPhone Keeps Suggesting Words
iPhone's operating system offers numerous shortcuts to enhance user experience, including text suggestions from the keyboard for the following reasons.
Reason #1: Predictive Text Is Enabled
The predictive text feature on the iPhone suggests the next word by predicting the flow of a conversation. It refers to words you commonly type in a conversation, including slang words like "yaaas" or "YOLO". 
Reason #2: Autocorrect Is Enabled
The autocorrect feature on iPhone is supposed to assist your daily conversations and writing. It automatically corrects any spelling mistakes in words, but it may ruin your typing experience if you do not intend to use that term in a conversation.
Imagine typing "hello" and autocorrect converts it to "hell no".
Clearing Suggested Words on iPhone
Don't know how to clear suggested words on iPhone? Follow these 4 methods step-by-step to have a smooth typing experience.
Method #1: Reset iPhone Keyboard
The most straightforward way to stop the iPhone from suggesting irrelevant words is by resetting your keyboard. Follow these steps to resolve text suggestions by predictive text.
Go to Settings > "General" > "Transfer or Reset iPhone".
Select "Reset".
Click "Reset Keyboard Dictionary".

Tap on "Reset Dictionary" to confirm the reset.
The "Reset Keyboard Dictionary" option will also clear the names of persons or places you have used in a conversation. It will also remove any customized terms you use often.
Method #2: Edit Suggested Words
If you want to use your iPhone's keyboard to type formal documents and emails, you can easily edit any slang suggested by the predictive text. Follow these three easy steps to replace a specific suggested word with another term.
Go to Settings > "General" > "Keyboard" > "Text Replacement".
Now tap on the plus (+) icon in the screen's upper-right corner.
Add the correct spelling in the "Phrase" field and the suggested word in the "Shortcut" field.
You have successfully modified suggested words on your iPhone's Keyboard Dictionary. Now, predictive text will not provide you with the wrong suggestions.
Method #3: Download Another Keyboard
If you don't want to lose all the predictive text history, download a third-party keyboard from the Appstore to perform several typing modifications. 
These keyboards provide several options to delete predictive text individually and add personalized words. Follow these steps to set up a new keyboard on your iPhone.
Go to the App Store and download search for keyboards apps in the search field.
Scroll through several applications and download the one you like the most.
Go to Settings > "General" > "Keyboard" and look for the option to "Add New Keyboard".
Add the downloaded keyboard.
Tap on the third-party keyboard's name and select "Allow Full Access" to use it as default.
By downloading and using a new keyboard, you will not lose access to change back to a standard keyboard.
Method #4: Disable Predictive Text and Autocorrect
Follow this two-step process if you don't want any interruption from the iPhone keyboard while texting.
Go to Settings > "General" > "Keyboard" and scroll down to find "Predictive Text and Autocorrect".
Tap on the toggle buttons next to "Predictive Text" and "Autocorrect" to disable.

Summary
In this guide about how to clear suggested words on iPhone, we presented the five most straightforward and tested methods to ease your conversation experience. IOS has many hidden features that most users do not know.
By following our guidelines, we assure you won't experience any unwanted interruption from your software system while texting.
Frequently Asked Questions
Can I delete a specific word from iPhone's dictionary?
No, the default iPhone keyboard does not allow to deletion of a specific term or text. However, you can reset the dictionary to clear the suggested word history.