Cloning an application is extremely useful when you want to create multiple instances of the same application. This is primarily used when an application does not allow you to log in with multiple accounts simultaneously. This begs the question, how do you clone an application?
You can clone an application by downloading and installing an app cloner. After doing so, all you need to do is select the application, clone it, install the new APK, and you'd have successfully cloned it.
This article will cover exactly how you can clone an application, the advantages of doing so, and whether you can get banned from cloning an application.
Why Clone an Application?
Cloning an application allows you to open up multiple instances of one application. Now, why is that important? It allows you to use multiple accounts in the same application simultaneously.
But in what use case would you actually want to use multiple accounts? For starters, WhatsApp and Snapchat do not allow for multi-user logins. In essence, if you wanted to use multiple accounts, you'd have to log out of the one you are signed in to.
This isn't a big deal for applications like Snapchat, as all your data is stored in the cloud. But, for WhatsApp, you'll have to unpair your number from your phone to be able to switch accounts. This is where cloning comes in.
If an application is clonable, you can easily create multiple instances, each meant for an individual account. Besides that, there's no real advantage to cloning an application. So, you'll most likely see cloned applications being Gacha games or instant messaging applications that don't allow for multi-user logins.
Can You Clone an Application in iOS?
No, you cannot clone apps in iOS. This is because the operating system does not allow you to duplicate an application or access the file system to the level wherein you can duplicate two applications simultaneously.
As of yet, there seems to be no indication of whether iOS will allow duplication. And, we don't think there's a reason for Apple to allow users to be able to do so since cloning applications is important in a very niche use case.
How To Clone an Application on Android
Cloning as a premise is not really appreciated by Android. This is why you won't find an app cloner directly on the Google Play Store. No worries, though; there's quite a good amount of applications that clone your applications.
So, here's how you can clone an application on Android.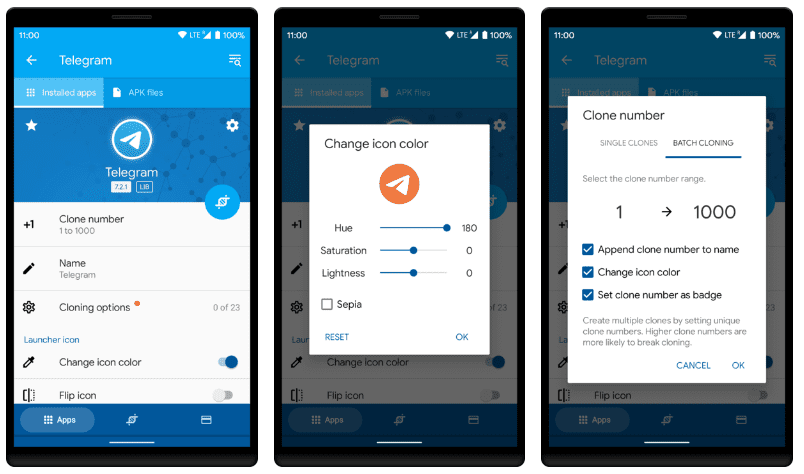 Download App Cloner.
Enable "Install from Unknown Sources" if prompted and install the APK.
Open the application and provide it with the permissions it needs.
Select the application you want to duplicate.
Change the application's name or icon to differentiate it from the original application.
Clone the application.
Depending on what application you end up cloning, you'll receive a prompt from the developer informing you of whether the application will further properly or not.
After the application has been cloned successfully and a new APK file has been made, you'll be asked to install the application.
Allow installation from unknown sources and install the application.
Open the app.
Depending on whether you've decided to clone the application data or not, you will either be logged into the application already or will instead be presented with a login/signup screen. Regardless, you can always log out of the application if you are logged in.
After doing so, you can use multiple instances of the application at the same time. Notifications of cloned instances operate independently. You'll receive notifications from the cloned application the way you would any other application with the name and icon you ended up using being displayed.
Duplicating Applications on OnePlus
Some Android manufacturers like OnePlus have embraced the premise of duplicating applications and have even introduced their own solutions to cloning an application without using third-party applications.
Since these are endorsed and created by the makers of the ROM/phone themselves, these are a much more stable way to clone an application. So, if you really need the duplication/cloning facility on your Android, we recommend purchasing either a Samsung, Xiaomi, or OnePlus.
This is because all three manufacturers have their own flavor of cloning applications built into their custom ROMs. So, you'll be getting a great experience right out of the box without having to fiddle around much.
With that said, OnePlus's incorporation of application cloning is with a feature called Parallel Space; here's how you can use it.
Open the Settings application on your OnePlus.
Tap on "Utilities" and scroll down to "Parallel Apps".
Select an application.
Switch the toggle, and you'll be able to see the cloned version of the application in your App Drawer.
If you were curious where these applications are stored, they're in the Parallel Apps Storage under your root storage. Contrary to popular belief, cloned application data is not stored beside the original application. 
Can I Get Banned for Cloning Applications?
No, you cannot get banned for cloning applications. This is because there's no way for a developer to find out if the application you are using is cloned or not. It operates as a completely independent instance with no real link to the other application.
While you do share the same IP, that's where the similarities end. So, you can clone applications, whether games or instant messaging applications, all you want without fear of getting caught or being banned. Ultimately, cloning an application is akin to getting a new phone and installing the application there.
Conclusion
Cloning applications remains a common procedure if you have multiple phone numbers or want to log in to multiple accounts at once. With that said, the entire ordeal is quite easy. However, not every application might be cloneable.