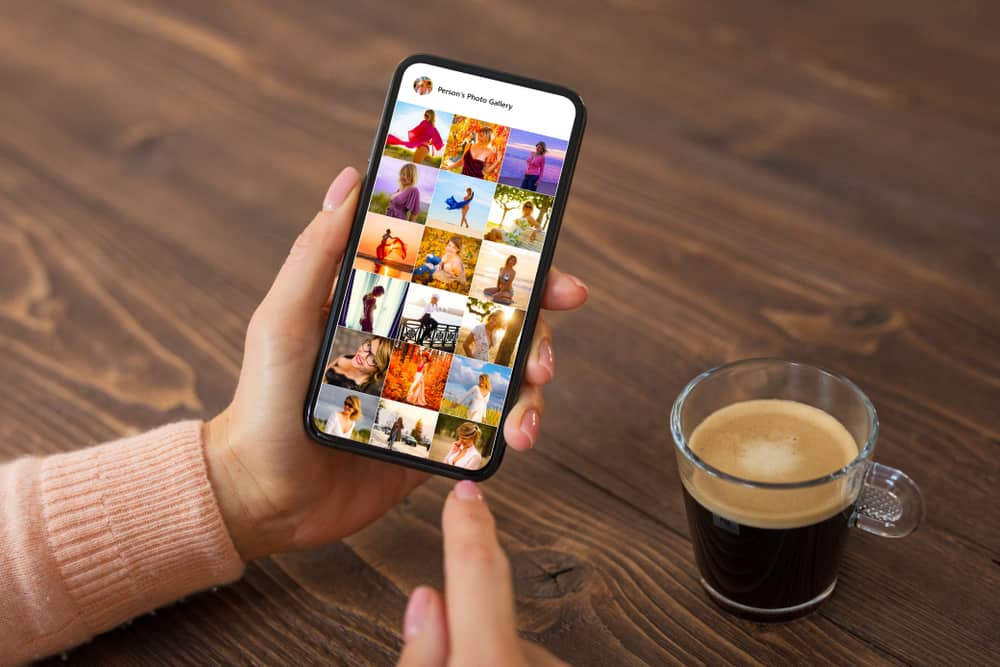 iPhone storage spaces are pretty low. Therefore, you'll often find a nagging "Storage Full" warning on your screen. One way to move through it is by compressing your photos on your iPhone. Here's how you can do just that.
You can follow any of these methods to compress your photos on the iPhone.
• Use a compressed format.
• Take screenshots.
• Using a photo compression application.
• Using WhatsApp.
This article will cover exactly how you can compress photos on your iPhone and some tips and tricks on making the most out of compression.
What Does Compressing Photos Do?
The primary purpose of compressing photos on an iPhone is to save space. iPhones at their base version only have 128 GBs of storage. And older iPhones may even go as low as 32-64 GB. For modern-day high-resolution photos, that's easy for a camera to glob through in a year.
Compression takes away redundant, extraneous data and squeezes the file size of an image such that less information produces the same image, more or less. Depending on the quality of the compression, you'll be able to get a lossless, original copy right out of it.
Method #1: Use a Compressed Format
While technically not the same as compressing a file, if your primary intention is to reduce the file size of your images, this feature is quite helpful. One disadvantage of using a different file format is that it isn't as widely compatible as JPEG, the alternative format.
From what we've seen, you can expect a file size compression of about 20-50% depending on the image while not losing any quality.
Here's how you can compress photos on your iPhone from the get-go.
Open the Settings application on your iPhone.
Head to "Camera" > "Formats".
Once there, select "High Efficiency".
If you wish to view the photos on your computer, you'll need to download a HEIF viewer or convert them back to JPEG.
Method #2: Take Screenshots
Screenshots occupy a decreased amount of space compared to your original photos. However, you'll lose features like Live Photos, portrait mode adjustment, and metadata once you take a screenshot.
Still, you'll end up with a much more compressed photo than the original. From what we've seen, this compression method can reduce file sizes by up to 80%! Here's how.
Press the lock and volume up buttons on your iPhone at the same time.
You'll notice a preview window at the bottom-right corner of your screen. Tap the preview window, and crop the image accordingly.
Delete the original photo from your library.
Method #3: Using a Photo Compression Application
A photo compression application does exactly what you'd expect it to, compress your photos to a point where they consume less space. The primary advantage of an application is that you gain the ability to fine-tune your compression.
For instance, say you wanted to keep more of the quality while not caring so much about the actual compression rate; you can do so. On the other hand, if you only wanted the photo to be tiny in size but didn't care about the fine text, you can do that as well.
Unlike the two methods we've mentioned above, what's most convenient is that you can compress uncompressed photos instantly in larger batches.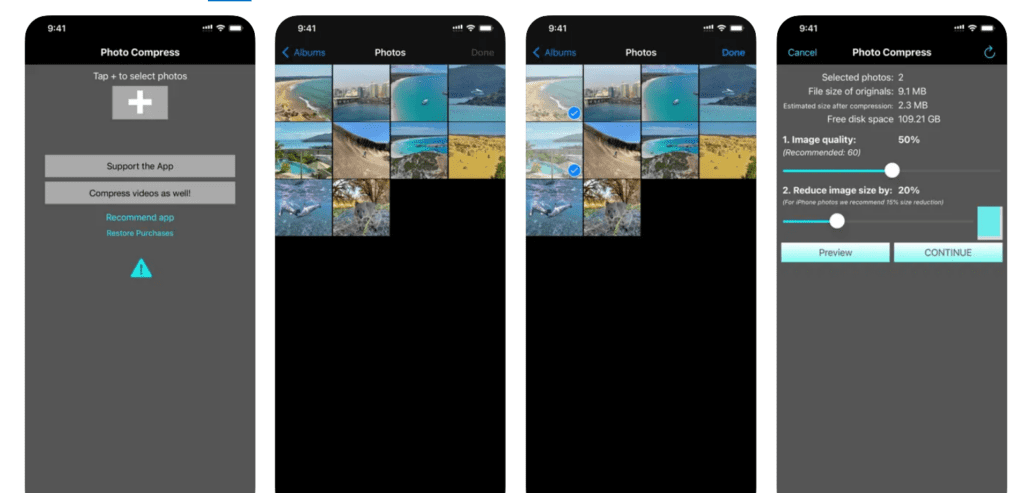 For this example, we'll be using the Photo Compress application. However, you can move on to the App Store and find an application that better suits your needs.
Open the Photo Compress application.
Tap the plus (+) icon and add all the photos you wish to compress.
You'll be asked for permission to access your photos; allow them.
Select the images and tap "Done".
You'll now be taken to a screen where you can fine-tune your compression. For optimum results, we recommend the following compression patterns.

Image Quality: 55%
Reduce Image Size By: 15-20%

Tap "Continue".
From what we've seen, reducing quality below 55% leads to a massive decline in sharpness that is very noticeable. Therefore, we recommend not reducing your image quality beyond that point.
As soon as you compress your photos, just like screenshots, you'll immediately lose some creature comforts such as Live Photos and portrait adjustment. While you can use your original photos and make changes if needed, that certainly defeats the purpose of compression in the first place.
Method #4: Using WhatsApp
WhatsApp? We know what you are thinking. How does an instant-messaging application help compress photos? Well, simple. If you haven't found out already, WhatsApp sends compressed photos over the internet.
Therefore, if you aren't in the mood to download anything (or also want to compress video), the quickest and easiest way to compress photos is to just send that particular image to a friend or yourself.
After doing so, tap the photo, select the share icon, and tap "Save Photo". Your iPhone will now store a compressed version of the image. You can even batch-compress multiple photos by sending them all at once and downloading them in one go.
Do note, though, that WhatsApp applies an extremely heavy compression algorithm. So, you'll lose much of the quality you might have wanted in the process. Therefore, before you go haywire and delete all your original photos – take a quick look at the image quality.
Conclusion
Compressing your photos on an iPhone is essential if you wish to free up some storage space. Thankfully, you should be good to go with the methods we've mentioned above!