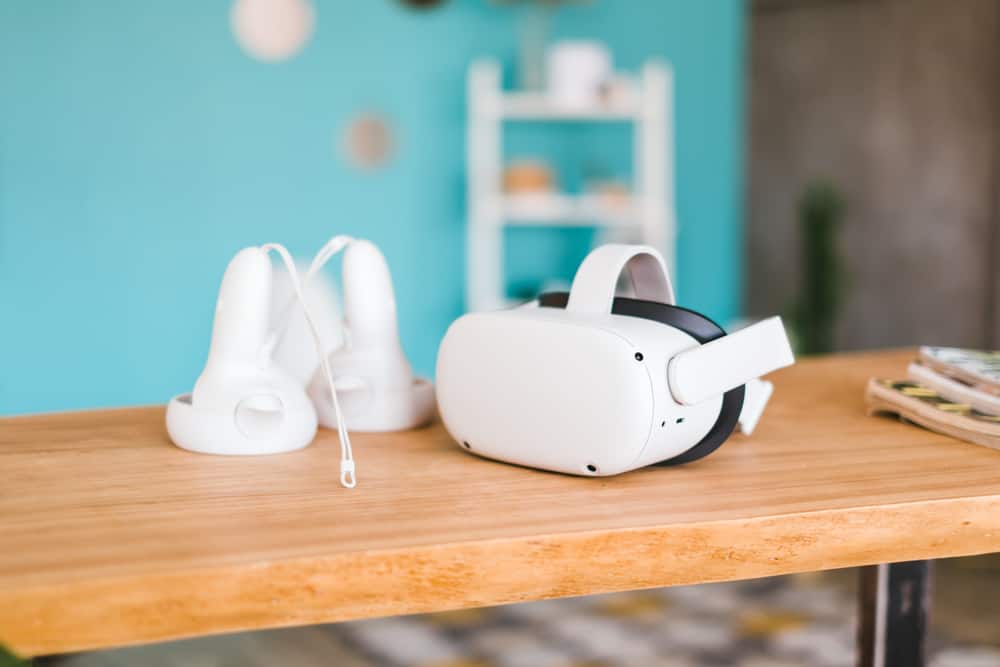 Oculus Quest 2 is a highly advanced virtual reality headset that allows you to explore the fascinating world of awe-inspiring games and non-stop fun and entertainment. If you want to enjoy seamless gameplay without worrying about wires, Airpods are the perfect solution.
You can connect AirPods to Oculus Quest 2 via the Bluetooth pairing option under the Experimental Features in Settings. To further improve the audio, you can use an external Bluetooth transmitter. 
Oculus Quest 2 has not made an official statement regarding compatibility with Bluetooth headphones; however, there are ways to pair the two. We'll share why you need to connect AirPods to Oculus Quest 2 and guide you on how to do it with our step-by-step instructions.
Why Should I Connect AirPods to Oculus Quest 2?
There are several reasons why many people prefer to use AirPods to connect to Oculus Quest 2 for audio output. Some of these reasons are the following.
They are lightweight and easy to use.
Portable and Wireless.
There is no need to worry about cables and wires getting tangled.
Decent battery life.
Connecting AirPods to Oculus Quest 2
It is possible to connect AirPods to Oculus Quest 2, but it will take some effort to get the desired audio results. With our step-by-step instructions, the slightly complicated process of connecting the two will become easy for you.
We have already discussed the reasons for connecting AirPods to Oculus Quest 2. Now let's go through the methods to connect the two devices.
Method #1: Connecting via Bluetooth
Oculus Quest 2 supports wired 3.5mm headphones and USB-C headphones. This does not mean that wireless earbuds such as AirPods can't connect to your Oculus Quest 2. Follow these steps to connect them via Bluetooth.
Step #1: Setting Up Devices
In the first step, you need to set up both devices.
First, charge your AirPods, and don't remove them from the case yet. Next, press and hold the small circular pairing button located on the back of the AirPods case until the light on the front starts to flash. Now turn on your Oculus Quest 2 VR headset and wear it.
Step #2: Connecting Quest 2 to AirPods
Next, you'll access Oculus Quest 2 Settings to configure Bluetooth.
After switching on the headset, click on the "Settings" icon. Next, select the "Experimental Features" option from the sidebar. Now find the "Bluetooth Pairing" option under Experimental Features and click on the "Pair" button to its right.
Wait for 30 to 60 seconds till the "Ready to Pair" option appears, and select the "Pair New Device" option from the list of devices. Finally, choose your AirPods to complete the pairing process and enjoy wirelessly listening to your favorite music, shows, and other videos.
Using AirPods with the Oculus Quest 2 will have its drawbacks, such as audio lags and frame drops on fast-paced games, mainly due to the limitations in general in the Bluetooth settings of the Oculus Quest 2.
Method #2: Using Bluetooth Transmitter
To resolve the general Bluetooth pairing limitations between your AirPods and Oculus Quest 2 and for a better audio experience, you can use an external Bluetooth transmitter.
Here is the easiest method of setting up the Bluetooth transmitter:
Plug the Bluetooth transmitter into the 5mm audio jack of Oculus Quest 2.
Turn on your Oculus Quest 2 and head to Settings > Experimental Features.
Find the "Bluetooth Pairing" option to view a list of devices connected to your headset.
Tap the name of your Bluetooth transmitter to connect it with your AirPods.
Wait for the pairing process to complete; the results will be much better than the built-in Bluetooth of the Oculus Quest 2.
To have a fully immersive VR experience, your transmitter should support at least Bluetooth 4.2, and it should have a range of 10 m.
Summary
In this guide about connecting AirPods to Oculus Quest 2, we shared the reasons to use a wireless connection and discussed Bluetooth pairing and a Bluetooth transmitter to achieve this task.
Hopefully, this guide has been helpful for you, and you are no longer stuck in between wires while listening to your favorite music or show. Thank you for reading!/
Frequently Asked Questions
Can AirPods connect to non-Apple devices?
Yes, AirPods can connect to any Bluetooth-enabled device that supports headphones. Although they are designed to pair with Apple devices, you can connect them to any other device by turning on Bluetooth and selecting your Apple AirPods from the device list.
Why are my AirPods not connecting to my PC?
If you cannot connect AirPods to your PC, it could be due to a temporary glitch in the PC Bluetooth settings. To fix this, you can unpair your AirPods from your PC and then re-pair them. If this doesn't work, toggle Bluetooth off and on on your PC to fix the glitch.