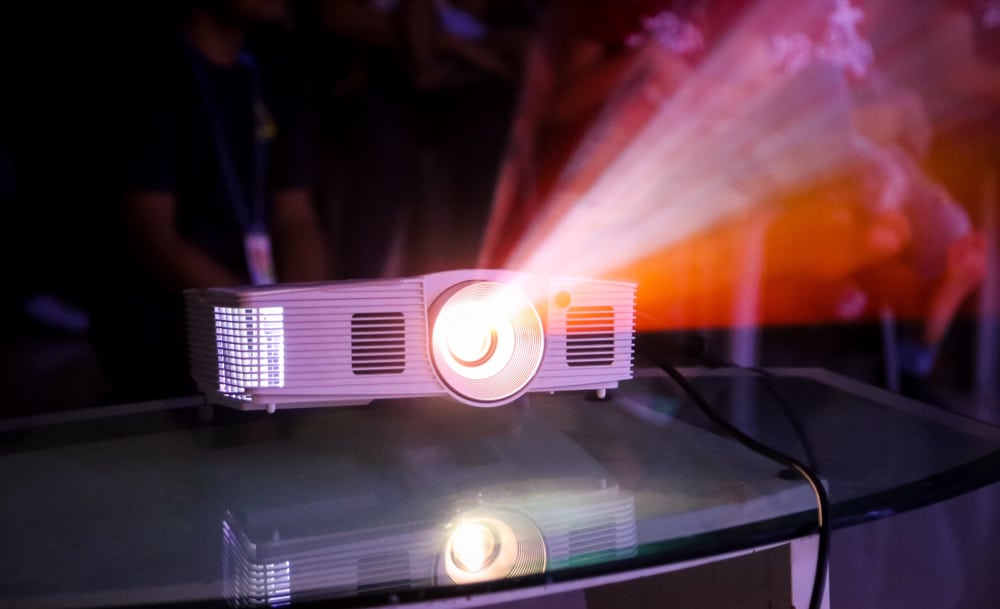 Using an iPad with a projector is a good option if you're looking to project content onto a large screen, whether at a meeting or during a presentation. This setup allows you to connect your iPad and project it onto a larger screen, such as a wall or window.
The physical connection between the iPad and projector can be made through the USB-C port or the HDMI or VGA port on the projector using adapters. With Apple TV connected to the projector, it can also be done wirelessly.
This is great because it allows you to easily project an image or video on any surface without needing additional equipment. It's also helpful if you're trying to get your work noticed in a crowded room or if you're using it at home and want everyone to be able to see what you're doing.
In this article, we'll explore all the different ways to connect your iPad to a projector, allowing you to view its content on a large screen while still interacting with it using the touch screen.
Method #1: Connect an iPad to a Projector Using an HDMI Adapter
You can use a few different methods when you want to use an iPad with a projector. One way is to use an HDMI adapter to connect your iPad to the HDMI port on the projector.
Since iPads don't have an HDMI port, you'll need a lightning cable to an HDMI adapter. This can be purchased quite inexpensively online or from an electronics store.
Here's what you need to do.
Connect the HDMI adapter to your iPad.
Use an HDMI cable and plug one end of it into the adapter.
Plug the other end of the HDMI cable into the HDMI port on your projector.
Your iPad and projector are ready to go! You'll now be able to view your content on the big screen!
HDMI connectivity means that the audio will come from the projector instead of the iPad, so if you want it to come from the iPad itself, you'll need to connect via another method.
Method #2: Connect an iPad to a Projector Using a VGA Adapter
If you don't want to use HDMI, you can connect your iPad to the projector's VGA port using a VGA adapter and cable instead of the HDMI adapter.
HDMI and VGA differ only in that with VGA, the sound will come from the iPad instead of the projector. This VGA to the lightning port adapter is readily available online and in stores.
The two can be connected in the following way.
Connect the VGA adapter to your iPad.
Plug one end of the VGA cable into the adapter connected to your iPad.
Plug the other end of the cable into the VGA port on your projector.
That's it. You can now project content from your iPad onto the large screen! If your projector does not detect the VGA input, try changing the source or restarting it.
Method #3: Connect an iPad to a Projector Using a USB-C Cable
In addition to using different adapters to connect the iPad to a projector, another method that doesn't require special adapters is using the USB-C port.
You'll need a projector with a USB-C port, followed by a USB-C to USB-C cable for iPads with a USB-C port. For iPads without a USB-C port, you'll need a USB-C to Lightning cable.
To do so, follow these steps.
Connect one end of the cable to the USB-C port on your projector.
Connect the other end of the cable to your iPad
Once that is done, you will be able to see the iPad's screen projected without the need for an adapter.
Method #4: Connect an iPad to a Projector Wirelessly Using Apple TV
In all the methods we have examined above, you need a cable and adapter to connect to a projector. But what if you wanted to connect wirelessly?
This requires an Apple TV connected via HDMI to the projector. For this to work, the Apple TV and iPad should be connected to the same Wi-Fi network.
You will then need to do the following.
Connect the Apple TV to the projector using an HDMI cable.
Power on the Apple TV and the projector.
Swipe down on the top-right corner of your iPad to open the Control Center.
Click "Screen Mirroring"; tap on Apple TV from the list.
By doing this, you can mirror all the contents of your iPad's screen to the projector using Apple TV wirelessly.
Conclusion
If you've never connected an iPad to a projector before, now might be a great time to give it a try — after all, who doesn't love watching movies or working on documents using big-screen quality?