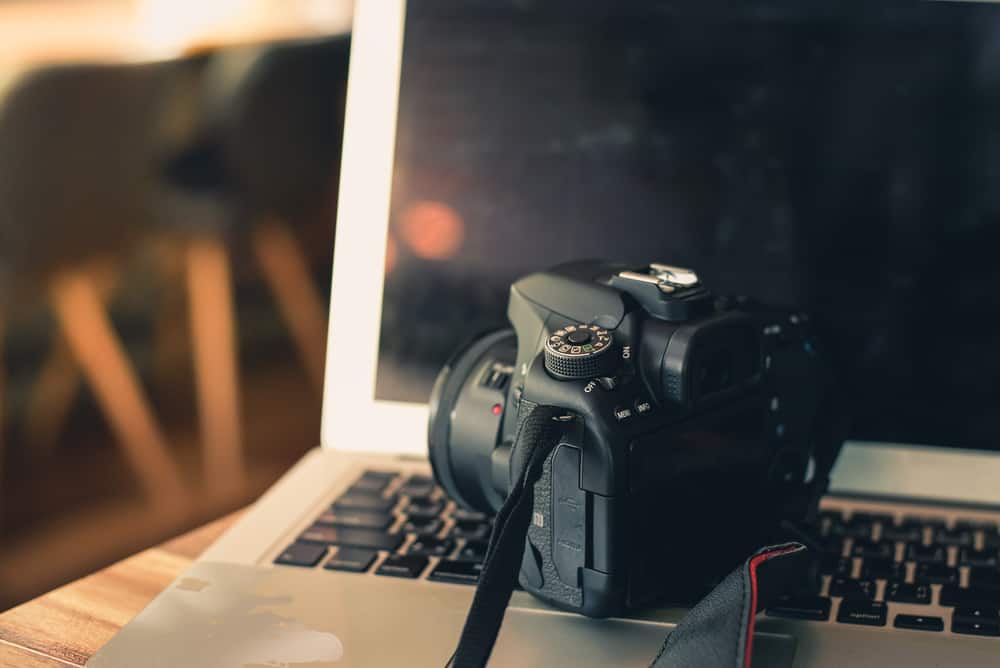 Canon cameras are one of the best digital cameras that promise to take high-quality pictures. But after freeing the photographer in you, whether you're a professional or amateur user, you'll need to transfer the photos to your computer. This way, you get to free up space in your camera and get a better look at the pictures you've taken from the bigger computer screen. 
Luckily, this isn't complicated and is something anyone can do easily. There are three different approaches you can follow, and these include:

– Using a USB cable.
– Using an SD card. 
– Using WiFi.
By using any of these methods, you'll be able to effortlessly transfer your pictures from your Canon camera to your computer. This consequently frees up space for you to take more photos using your Canon camera. 
Method #1: Using a USB Cable
Like most digital cameras today, Canon cameras incorporate a USB port. This makes USB connectivity a simple and ideal way of connecting your Canon camera to your computer. It's also the quickest way to transfer pictures from your camera to your computer. You'll need a USB cable to be able to do this transfer. 
Luckily, you don't need to buy a USB cable because you get a USB cable with many Canon cameras after buying one. When uploading pictures from your Canon camera and to your computer via the USB cable, here are the steps to follow:
Connect the USB cable's correct end to the USB port of your Canon camera. 
Plug in the USB cable's appropriate end to your computer tower or on your laptop's side. 
Switch on your Canon camera and wait to see prompts on your computer's screen. 
Follow the instructions on your PC's screen to successfully upload the pictures into your computer. This transfer of pictures from your digital camera to your computer is identical to that you'd follow when moving files to an external storage device. 
You should connect your Canon camera to a power source, especially if the transfer is expected to take a long time. 
Method #2: Using an SD Card
You can also connect your Canon camera to your computer using your SD card. This method is ideal if you usually take lots of digital pictures after each photography session. Storing these photos on your SD card offers you an excellent backup for all these files. 
If you want to connect your Canon camera and computer using an SD card, follow these steps:
Confirm that your PC has a slot where you can insert your SD card. 
Switch off your Canon camera. 
Remove the SD card from your digital camera by gently pushing the SD card release button or pulling it out. 
Insert your SD card inside the computer's SD card slot and wait for a few seconds for the SD file to show on the screen. 
Save these pictures on your SD card on your PC. 
If there's no SD card slot on your computer, don't worry. You can buy an adaptor plug that fits in the USB port. Therefore, you can transfer pictures and videos from your Canon camera's SD card onto your computer. 
After you're done transferring all the files on your SD card and saving them on your PC, you can format it to create room for other pictures you'll take later. 
Method #3: Connecting Your Canon Camera Through WiFi
Another equally effective way of transferring pictures or video from your Canon camera and to your computer is through WiFi. This method is relatively new and can only work if your Canon camera has wireless capabilities, with the Canon Powershot S110 a good example. 
If your Canon camera can allow for wireless transfer of pictures to your computer, you need to follow these steps: 
Find a

dependable WiFi source

through which you'll transfer the pictures to your computer. 

Install the Canon driver application on your PC by following the wireless manual that comes together with a Canon camera. 
Switch on your Canon camera and turn on the Wireless Canon camera transmission. 
Give your PC a few minutes to identify your Canon camera's WiFi signals and open the corresponding picture folder on your computer screen. 
Initiate the transfer of pictures to a folder on your PC. 
Summary 
After testing out your photography skills using the Canon camera, there'll come the point you want to upload the pictures onto your computer. This might appear to be complicated at first, but you'll be glad to know that doing this is fairly straightforward.  
This blog post has detailed the various ways to connect your Canon camera to your computer. With this, you can connect your computer to the Canon camera without any challenges.