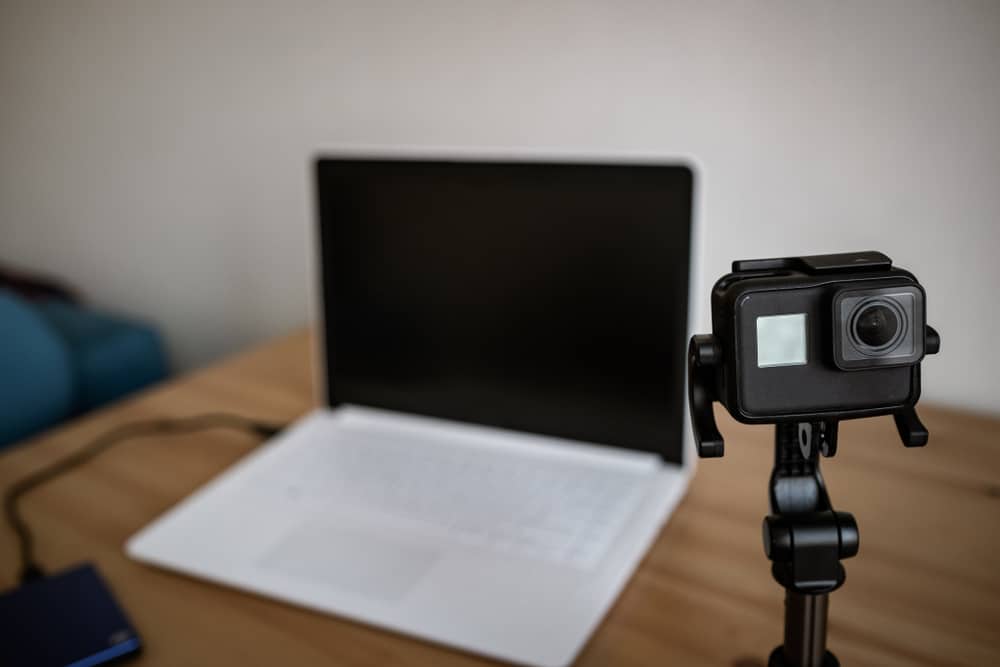 GoPro can be your best travel partner by capturing everlasting moments of life. If you're planning to go on a trip and capture life, you may want to know how to transfer files to your computer.
You can connect your GoPro to your computer using a Micro USB Cable or an SD card to transfer files.
This article will guide you on ways to connect your GoPro to your computer and transfer files to edit and use them.
Method #1: Connect GoPro Using A Micro USB Cable
A micro USB cable is the best way to connect GoPro to your computer as it minimizes data loss and guarantees the fastest speed.
Here's how you can connect your GoPro using a micro USB cable:
Turn on your GoPro by pressing the "Power" button on top and wait until a red LED indicator turns on.
Locate the "USB" port on your GoPro. In most models, it is situated on one side.
Connect one end of the USB cable on your GoPro and one end to your computer.
If your GoPro recognizes your USB connection, it should go on USB mode. A symbol will appear on your GoPro's screen.
Go to "This PC" in Windows, locate your GoPro in the available drive, and open it.
In Mac OS, press the "Camera" icon that will appear on the screen.
For Hero 7 and earlier models of GoPro, Quick for Windows and Mac will open.
Method #2: Connect GoPro Using An SD Card
An SD card allows you to store more files by removing and inserting one. This way, you can keep on capturing beautiful moments.
Not every camera contains an extra storage port, so if your camera doesn't have it, use a USB cable to connect.
After capturing photos and videos, eject the "SD" card from your GoPro.
Connect an adapter or "SD" card reader to your computer.
Now insert your "SD" card into the adapter or card reader.
If your computer successfully reads your "SD" card, it will appear as a drive on Windows.
In Mac, an "Image" icon will appear on the screen.
You can access the GoPro files on the new drive.
Method #3: Connect GoPro Via WiFi
It is better to have a USB cable to connect your GoPro or an SD card reader. But what if you don't have both physical mediums?
How can you connect your GoPro via WiFi?
GoPro is capable of creating WiFi hotspots to connect with external devices. You can control your GoPro, import media, and stream live content.
Here's how you can use the "Keenai" app to connect your GoPro to your computer:
First, download the "Keenai" app.
After launching the app, sign up and create a new account.
Now log in to the new account.
Go to the menu, and press the option "WiFi device/card".
Now, choose "GoPro" under the manufacturer field.
Choose a "GoPro Network Connection" and insert your "WPA2" passcode.
Now, you can choose to connect to set up a WiFi camera for windows.
By doing this, your GoPro can transfer files to your computer.
Troubleshooting
You may encounter problems if you're trying to connect your GoPro to your computer. For transferring and using those captured candid moments, you'll need to solve that problem.
Follow this guide to solve any common problem when dealing with a GoPro:
First of all, ensure you have set up the correct USB setting. Select the "Preferences" option and choose the "USB connection" option. In this option, select "MTP" in case you want to transfer files.
Restart your GoPro by turning it off and on again.
Check all your connections as you may have a loose connection on one end.
Inspect your USB cable by replacing it. You may be using a faulty one.
See if your USB ports are working by trying another one.
If none of these methods worked, try to restart your camera and computer.
Conclusion
These are some ways to establish a connection between your computer and GoPro. But the best way to connect your GoPro is using a USB cable.
Still, you can benefit from using an external SD card or a good WiFi connection. So take some good pictures and share them with your loved ones.
Frequently Asked Questions
Why is my GoPro not connecting with my computer?
If your computer cannot establish the connection between GoPro, try different troubleshooting methods to make it work. 
How do I connect my GoPro to my computer wirelessly?
The Keenai app can connect your GoPro to your computer wirelessly.