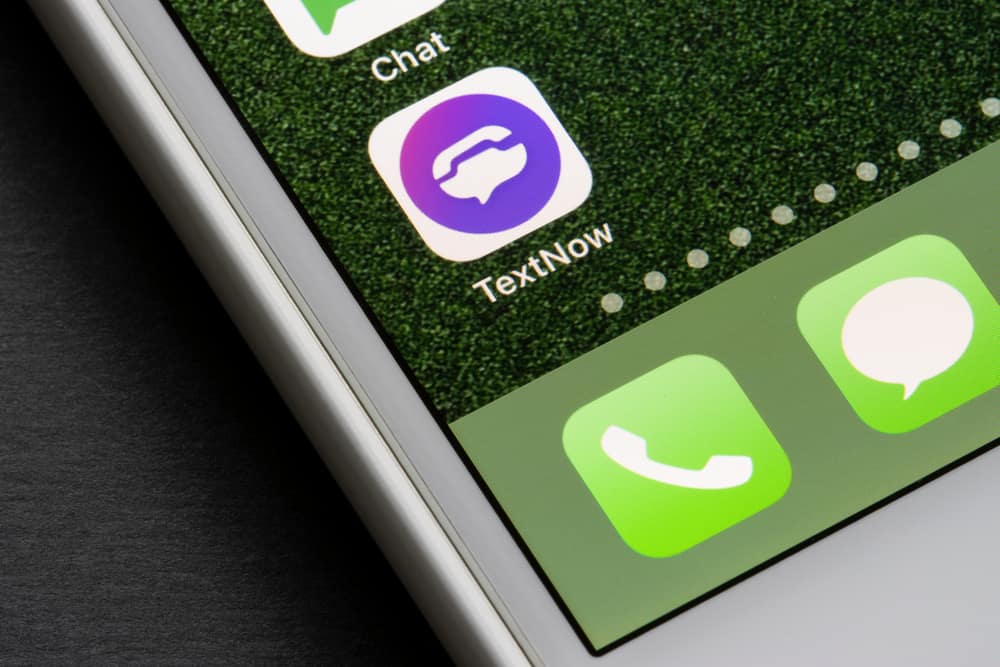 TextNow is a popular smartphone app that allows you to make calls and chat over the internet without extra costs on your phone bill.
What's unique about the TextNow Service is that it gives your WiFi-connected device a virtual phone number that can be reached through the internet, even if you're in a place with no network coverage, as long as you're connected to Wifi.
There is no clear way to delete a TextNow account; hence, removing the account can be tedious. However, you can still circumvent this problem by removing your personal information from the app and deactivating it. 
Today, we'll walk you through a brief guide that shows you how to discontinue a TextNow account, so without further ado, let's dive right in!
Can You Permanently Delete a TextNow Account?
Unfortunately, TextNow doesn't permanently delete your account and won't provide a clear "Delete My Account" button in any of its settings.
The company behind the app claims that they cannot delete the accounts created on their database for some undisclosed legal reasons.
However, that doesn't mean that you can't opt-out of the service if you want, as you can still deactivate your account and remove your information on your own, which is practically the same thing as deleting your account.
Step by Step Guide to Delete TextNow Account
As previously mentioned, there isn't a one-click solution to magically and permanently delete your TextNow account.
However, there's an easy workaround that will provide the same effect. Follow this step by step guide to get the job done:
Step #1: Log in to Your TextNow Account
The first step is to log in to your TextNow account through your smartphone or your personal computer, as both of them can use the same steps. On computers, you can click here to sign in to your account.
Step #2: Cancel Any Paid Subscriptions to TextNow Services
If you're using a free account without subscribing to any paid plans, you can skip this step and head directly to the next one.
Now that you've accessed your TextNow homepage check the "Phone and Plans" as well as the "Manage Subscriptions" and cancel any plans that you're subscribed to. This will stop any recurring charges and allow you to deactivate your account.
Step #3: Remove Your Personal Information
Click on the gear symbol on the left to open the "Settings" menu. Alternatively, you can click on the three dots in the top left corner of your phone, then choose "Settings" to access the menu.
After getting the settings menu, click on the "Account" tab to access your account information.
There you'll find your first and last name in addition to the email address that you've linked to the account.
Since you can't delete that information, the next best thing to do is to change them to any irrelevant names and emails.
Many people prefer to type in "Delete My Account" as their first name and "Deletemyaccount@textnow.com" as an email, but you can type in anything you like once you're done, click "Save."
Step #4: Log Out of All Sessions to De-activate
Lastly, head to the bottom of the Settings and choose "Log Out Of All Devices," and delete the TextNow app from your devices.
In a few days of inactivity, your account should be deactivated, and your assigned phone number will be recycled.
Can You Register to TextNow Again After Deleting Your account?
TextNow is designed so that it's pretty easy to sign up for the first time. All you have to do to register your account is to add your first and last name in addition to your email address.
Once you deactivate your account and opt-out of TextNow services, the phone number may be recycled and assigned to new users.
However, your email address won't be removed from the system. In other words, you can always reactivate your account by logging in to TextNow. However, you may not be assigned the same phone number you used to have if it's already been taken.
Final Thoughts
With that said, you now have a complete guide that shows you how to delete a TextNow account, as well as all the necessary steps to get it done.
While TextNow is yet to provide a convenient way to terminate your account, you can still cancel your account in various ways to ensure that you're no longer associated with the app.
Yet, you should keep in mind that deleting your account doesn't retire the virtual phone number used, as it can still be recycled after a while.