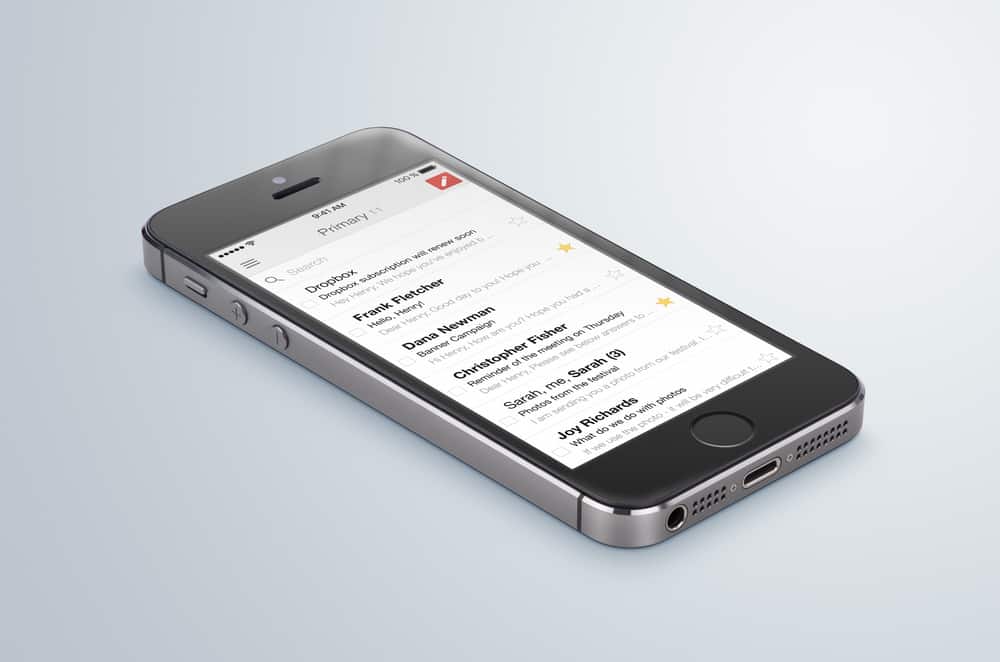 Too many emails on your iPhone's "Junk" folder can be annoying.
First, the emails can take up a considerable amount of your iCloud storage space if you leave them to pile up. Secondly, most of these emails are promotional messages and spam and can make your mailboxes appear disorganized and impact your overall usability of the Email app. Deleting your junk mail regularly also ensures that you don't miss seeing an email that requires your attention. 
Deleting all junk mail on your iPhone is straightforward, and you can do it in a minute. Open the Email app to get started. Choose the "Junk" folder, hit the "Edit" button, and tap "Select All". Finally, select the "Delete" button, and you're done!
We've explained this step-by-step below to help you understand it better. Read on and learn how to delete junk mail on your iPhone like a pro! 
Steps To Delete All Junk Mail on iPhone
All unwanted incoming emails are automatically sent to the "Junk" folder. That ensures that your Inbox stays free of promotional-based messages and spam that can cause unnecessary clutter. However, if you don't take action, hundreds or thousands of emails can quickly pile up in your "Junk" mailbox. 
Unless there are one or more specific emails you don't want to lose, deleting all your Junk emails is essential for the space, organization, and even better usability of your iPhone's Email app. 
So, here are the steps to delete all junk on your iPhone.
Step #1: Open Your Email
Look for the Email app on your iPhone's home screen and tap to open it. Ignore this step if you're already there. 
Step #2: Go to the Junk Folder
Under "Mailboxes", you have several folders: "Inbox", "Draft", "Sent", "Junk", "Trash", and "Archive". Select the "Junk" folder to access all the emails contained there. 
Step #3: Select Emails
Tap on the "Edit" button at the top-right of the screen. Once you hit this button, you'll have two options: "Cancel" or "Select All" on the left. Since you want to delete all, choose the "Select All" option. 
Step #4: Delete Emails
After selecting all the emails in this Mailbox, you'll have three options at the bottom of the screen: "Mark", "Move", and "Delete" at the right. Tap on the "Delete" option. Hit the red "Delete All" button to confirm that you want to delete all mails. 
When you delete the emails from the "Junk" folder, they automatically move to the "Trash" folder. So, you need to also go to the folder and delete them. Follow steps 3-4 above to get rid of the emails altogether.
Conclusion
It's pretty easy to delete all junk mail on your iOS device. We've discussed four simple steps in our article above. As you've noticed, it's an action that will take a minute of your time. 
Just open the Email app and go to the "Junk" folder. Next, tap on the "Edit" button at the top, click "Select All", and choose the "Delete" option at the bottom of the screen. It's as easy and quick as that!
We've learned that once we clear the "Junk" folder, all emails automatically go to the "Trash". You must also go to this folder and delete the emails if you want to remove them altogether.  
Frequently Asked Questions
Should I delete all my junk mail?
Yes. It's good to empty your junk mail folder every day if possible. This routine allows you to go through the junk emails and see any that might need your attention. Deleting your junk also gives your mailboxes a sense of organization and better usability of your Email app. It also saves your iCloud storage space. 
How can I delete all emails on my iPhone iOS 14?
You can't delete all emails on your iPhone with a single click. You'll need to work around that while in edit mode; select the first email on the list, and press and hold the "Move" button to select all the emails. From there, you can freely move them to the trash. 
Can I find an app to help delete emails?
Yes. Many third-party apps on the App Store can help you clean mails and spam on your iOS device. A good example is the Clean Email, and you can also try Cleanfox. These apps will offer a quick and efficient way of decluttering your mailboxes with just a few clicks. 
How can I clear multiple emails in Outlook on my iPhone?
Go to the "Message" list; tap and hold one of the first emails you want to delete. Lift your finger and tap the other emails. Choose the "Delete" option to clear.