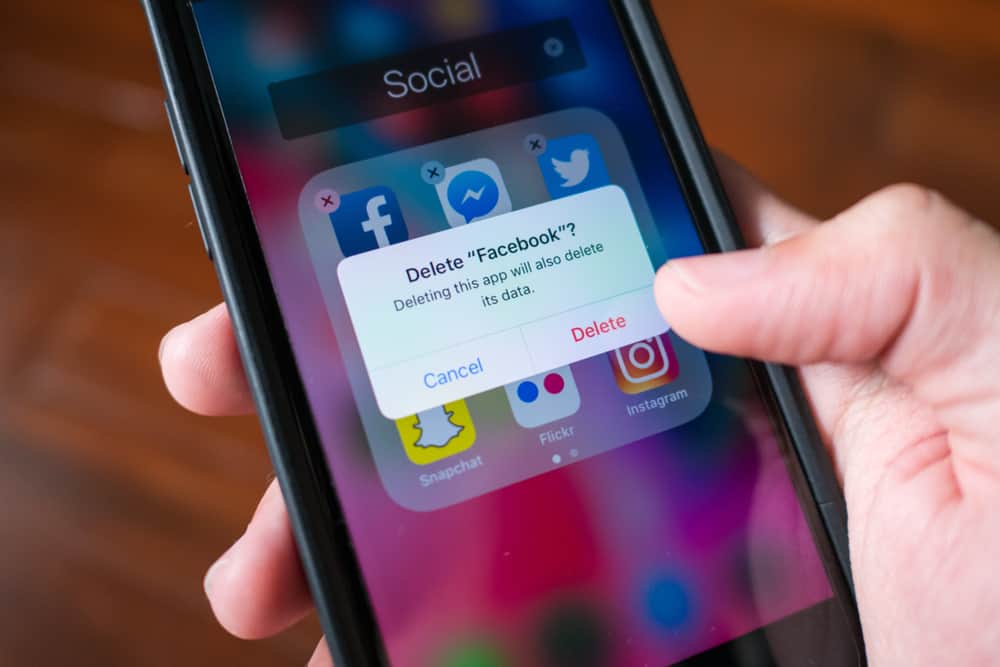 Most people would agree that apps currently dominate our day-to-day lives. Today, developers scrutinize every aspect of ordinary life to build an app that eases a specific problem or creates a particular convenience. While we are grateful for the convenience of various apps, some applications can be more problematic than helpful.
In today's world, where personal data is precious, it is critical to know which to share information with and, more importantly, how to clear app data when you need to. You might want to delete app data because you don't need it or the app keeps sharing annoying ads. Whatever your reason, you'll be happy to learn that deleting app data is pretty simple.
To delete data from an app, go to your phone's settings, scroll to the "Apps" tab and click on it. Use the search bar to find the specific app whose data you want to delete. Click on it, then go to "Storage" > "Clear Data" > "Ok".
To learn more about the significance of deleting app data and the exact steps, read this article to the end.
Overview of Deleting Data From an App
Before deleting an app, you may be curious why apps store data. Apps store data because it helps speed up the performance and respond quickly to requests. Some apps also request personal data like contact information and emails for security reasons and personalize your app experience.
For example, if you use Netflix on your phone, the app stores data about your watch list so its algorithm can make movie suggestions according to your preferences. Deleting these data will reset the app as if you were a new user.
Even though most apps store data for a better user experience, some collect data and share it with third parties without your knowledge. This breach of privacy may result in targeted ads, unknown callers, and messages. Even if deleting app data can help protect personal information, it's not the only reason to delete app data.
You can delete app data to reset the app if it's malfunctioning or frees up more storage for your device.
Next, we delve into the exact steps to delete data from an app.
Steps to Delete Data From an App
Deleting data from an app may differ from iPhone to Android. We'll begin with how to delete data from an app on an iPhone.
Use the steps below to delete app data on iPhone:
Go to your iPhone's "Settings".
On the "Settings" menu, Tap on your Apple ID.
Click on "iCloud".
Next, tap on "Manage Settings". A list of apps with backup storage on your iCloud will appear.
Click on the specific app whose data you want to delete.
The app's storage space and data will appear next to the app's name.
Next, you'll see a "Delete Data" option below the storage and data information.
Click on "Delete" to delete the entire app's data from your iCloud.
You can also delete data from an app by deleting the app entirely. If you still want to use the app, you can reinstall it later. Remember that deleting an app completely to get rid of its data will not work for pre-installed apps that come with the phone.
To delete an app, and consequently, its data from an iPhone:
Open the "Settings" app.
Click on the "General" tab.
Tap on the "iPhone Storage" option.
Wait a few seconds for storage and data information to appear next to each app.
Scroll to the app you want to delete.
Click on the app. Two options will appear. "Offload App" or "Delete App".
Click on "Delete App" to remove the app and its data from your phone.
If you use an Android phone, the steps to deleting data from an app may differ slightly from an iPhone's. Use the steps below to delete data from an app on an Android phone:
Go to your phone's "Settings".
On the "Settings" menu, click on "Application Manager", "Apps", or "Apps and Notifications" depending on the type of Android phone you are using.
Next, click on "App info".
Scroll to the app whose data you want to delete.
Click on the name of the app and then select "Storage".
You may receive a "Clear Data" or "Clear Cache" option depending on your phone. Some apps, for example, browser apps, will have a "Manage Data" option. Some browser apps will also have a delete passwords or bookmarks option. Select the "Clear Data" option to clear your entire data from an app.
Why You Should Delete Data From Your Apps Regularly
Here are some reasons why clearing app data regularly is beneficial:
Deleting app data helps manage your phone's storage, which is essential for smooth OS functioning.
Stored app data is susceptible to bugs that corrupt the files and result in app performance issues.
Stored app data can also compromise your personal information. For example, suppose you don't delete your browser history and cached data regularly. In that case, an unauthorized third party can access this information and use it to access sensitive data like account details and passwords.
Clearing app data by deleting the app entirely allows you to reinstall the app and get the app's latest features and updates.
Summary
As you've learned from this article, deleting data from an app only takes a few simple steps. Remember that you can delete data by uninstalling the app for pre-installed apps. You can only clear data by managing storage space.
Additionally, clearing app data regularly is significant in maintaining the privacy of your information and improving an app's overall performance.