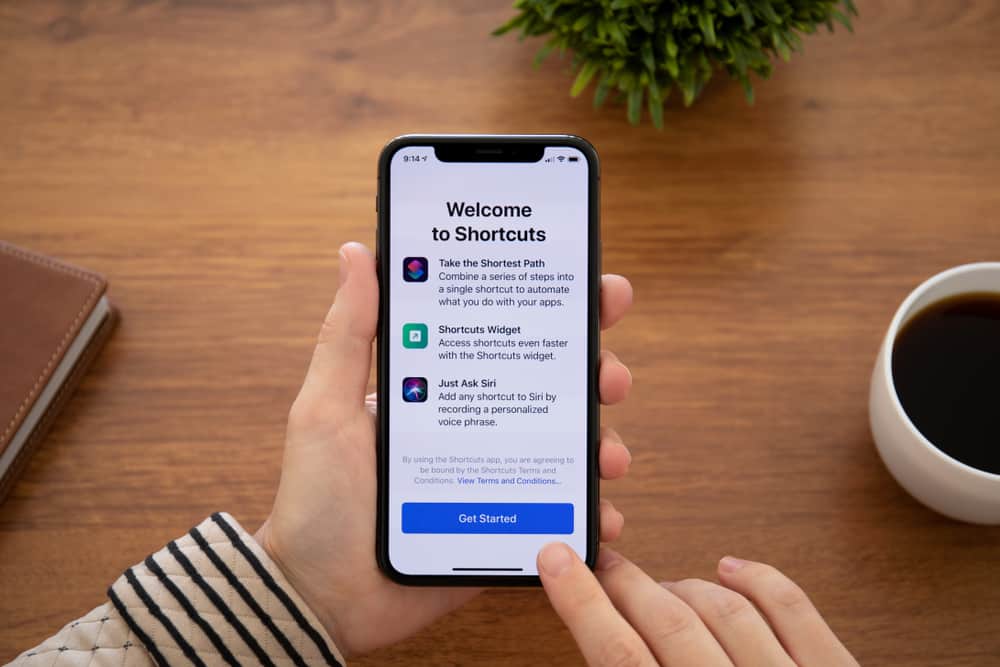 If you are an iPhone user and love keeping shortcuts for all the apps, you will eventually need to know how you can get rid of them.
You can delete shortcuts on your iPhone by installing the Shortcuts app and removing the app shortcuts under the My Shortcuts option. It is also possible to remove shortcuts directly from your iPhone's Home Screen.
We have come up with a comprehensive guide on what is meant by iPhone shortcuts and how you can remove them. We have also looked into rearranging them on your home screen.
What Are iPhone Shortcuts?
The shortcut is a new feature in iOS that allows you to automate particular tasks on their iOS devices, which can later be triggered with a single tap or voice command.
Using these shortcuts, you can automate a wide range of things, move text from one place to another, and perform multiple other tasks.
Shortcuts also work on voice commands; for instance, you can say a simple phrase, "Hey Siri, good night," and it will switch your device to "Do Not Disturb" mode, turn the brightness down, switch off background apps, etc.
Furthermore, shortcuts provide iOS users with a quick method to get their tasks done using the relevant apps with just a single tap. However, you may want to remove this feature as it can crowd your home screen.
Deleting Shortcuts on iPhone
You don't need to be a tech enthusiast to avoid shortcuts on your iPhone. However, this step-to-step guide will save your time and assist you throughout the process.
Now that you know what iPhone shortcuts are, it's time to dive into the three ways to delete shortcuts on iPhone.
Method #1: Using the Shortcuts App
One of the simplest methods to remove shortcuts on the iPhone is the shortcuts app. For this, you need to follow the steps below:
First, open the "Shortcuts" app from your iPhone's home screen.
Find "My Shortcuts" and tap to open it.
Under "My Shortcuts," tap "Select" in the top-right corner.
Next, choose all the shortcuts you want to get rid of.
Now, select "Delete" in the bottom-right corner, confirm to remove shortcuts, and see if the shortcuts are deleted or not.

You can also select and hold shortcuts in the "My Shortcuts" section and choose "Delete."
Method #2: Deleting From Home Screen
Deleting the shortcuts from the Shortcuts app wouldn't remove them if they are bookmarked on the home screen. Here are the steps to follow for that:
Tap on the shortcut and long-press and hold it until you see a drop-down menu.
Next, tap the "Delete Bookmark" option.
Now, confirm to remove the shortcut.

Method #3: Disabling Siri Suggestions on iPhone
Siri automatically suggests shortcuts based on your regular activities and daily apps. But if you aren't interested in receiving Siri suggestions, you can turn them off by following the steps below:
Unlock your iPhone and open the "Settings" from the home screen.
Next, select "Siri & Search."
Scroll through the Siri suggestions part and use toggle buttons to select the "In Search," "On the Lock Screen," and "Lookup" options.
Now, tap all three green buttons to turn off the Siri suggestion.

Rearranging Your Shortcuts
Rearranging the shortcuts on the iOS device is one method to customize your home screen. This approach works pretty well for the people who prefer a clean interface and hate mess. Here is how you can arrange shortcuts on your iPhone by following these simple steps:
Launch the "Shortcuts" app.
Choose "Edit" from the top-left corner of the application.
Tap on the shortcut you want to shift and take it to its new position.
Once all your shortcuts reach their destined position, tap "Done."
Summary
In this guide on deleting shortcuts on an iPhone, we have explored these shortcuts and looked into three methods to get rid of them. We have also looked into rearranging them to give a cleaner look to your home screen.
We hope that one of these methods has worked for you, and now you can successfully remove shortcuts on your iOS device and enjoy a hassle-free experience. Happy browsing!
Frequently Asked Questions
Does using shortcuts on an iPhone drain the battery?
Using shortcuts on an iPhone does have a more considerable impact on the battery, but it is so negligible that only the users with a keen eye for iPhone's battery usage can notice that. Nonetheless, shortcuts make life much easier, so compromising a bit on a battery isn't a big deal.
How to get rid of Shortcut Banners?
It's pretty straightforward to get rid of shortcut banners. Here are the steps you need to follow for this:
1) First, navigate to Settings > Screen time > Check All Activity.
2) Next, scroll down and find "Shortcuts" in the "Notification" section.
3) Tap on the shortcuts options and turn off the notifications.