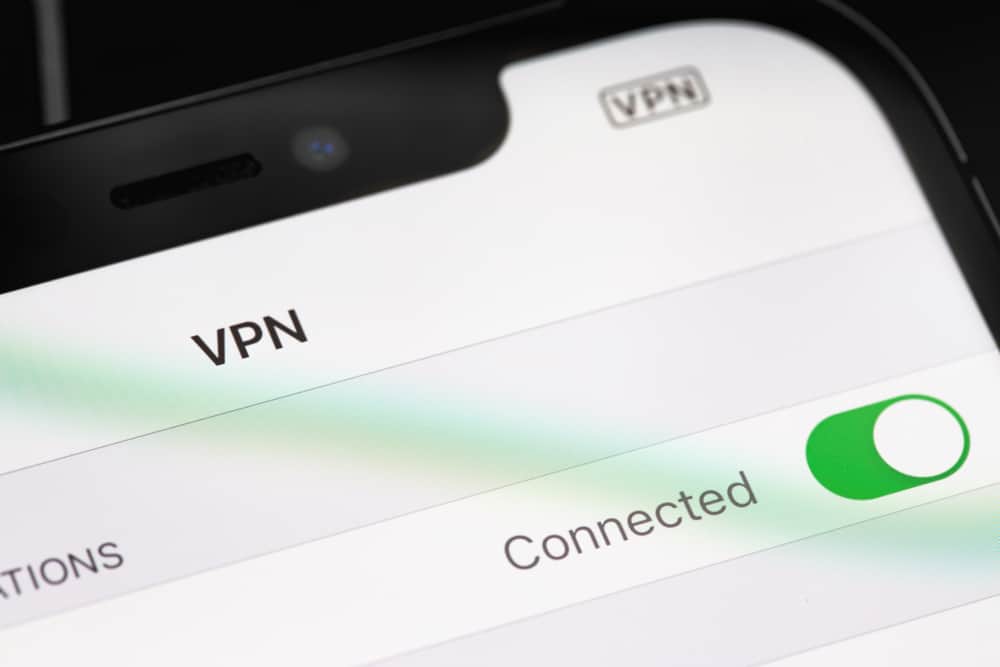 Many people use VPN services to secure their connection from potential threats. Without a VPN, the government and your internet service provider can track your browsing activity. You're more likely to get hacked too. 
You may have used a VPN service and may not like it. It could be that you want to change service or just don't feel the need for it. And now, you want to delete it permanently. So, how will you remove VPN from your iPhone?
You can remove VPN by deleting its app, or you need to go to Settings. Tap "VPN Configuration". Select "Delete Profile" to terminate the VPN configuration from your iPhone. 
In this article, let's look at both methods to permanently delete VPNs from your iPhone.
Method #1: Delete VPN By Uninstalling Its App
As the global village is advancing, so is the VPN software. Newer VPN apps provide more security and privacy to the user. 
Today's latest VPNs are installed as apps on the Apple iOS store. These apps install the VPN automatically when you install the app and give permission. 
To delete this VPN, you need to follow these steps.
Touch and hold the VPN app. A box with three options will appear.

Select the "Remove App" option.
Tap "Delete App" and press "Delete" again to confirm. Your VPN will be deleted from your iPhone. 
Method #2: Delete VPN By Deleting Its Profile
What should you do if you haven't installed VPN software that automatically deletes VPN configuration from your iPhone?
Many old VPN software installs a VPN configuration profile. This VPN configuration stays on your device even when uninstalling the app on your iPhone. You can use these VPN configuration settings to use VPN service anytime.
iPhone also allows you to insert a VPN configuration manually. These settings come in handy for tech geeks. 
In both cases, you'll need to remove the VPN configuration manually. Follow these steps to remove your VPN by deleting its profile.
On your iPhone, launch the Settings app.
Select "General" > "Profile" > "VPN".
Tap the "VPN Configuration" option.
Choose the profile you intend to delete.
Press the red "Delete Profile" button to remove the VPN configuration from your iPhone altogether.
If your VPN is not using a VPN configuration profile, the "Profile Cell" can be missing. This method only works for VPNs that use a configuration profile.
It should not come back if you've turned off the VPN settings. In case it comes back, try a reset. You'll need to simultaneously hold down the "on" and power buttons to turn off the iPhone. Ignore the off slider that appeared on the screen. After shutting down the iPhone, press the "on" button if it doesn't restart on its own. Sometimes, you might need to double-click the home button and close all apps before resetting.
Finally, you've successfully deleted the VPN from your iPhone, and you don't have to worry about it again. 
Conclusion
Even though VPN services are excellent for a safer internet, they can also hinder your browsing experience. Some VPN software prevents you from accessing and loading a website or accessing the internet altogether.  
In these cases, you should delete your VPN configuration if you don't have any use for it. 
Frequently Asked Questions
Yes, you can delete a VPN both on Android and iOS. Most VPNs operate through apps. VPN will be deleted when you delete the app from your device. You can manually remove a VPN profile from your device if it remains.
If you're attempting to delete a VPN from your device while running in the background, you can't remove it. First, you need to terminate the app. Then, uninstall the VPN app from your device. If it remains, try removing it manually in the VPN configuration settings. Try to restart your device if you're facing trouble removing it.
How do I remove VPN and Device Manager from my iPhone?
To delete VPN and Device Manager both from your iPhone, go to Settings and select "General". Scroll to the bottom and press "Profiles". Delete the profiles associated with it here.
What happens if I turn off VPN?
When you turn off the VPN on your iPhone, its security and privacy features will cease to work. You'll be prone to data theft, phishing, and hacking. 
How do I remove VPN from Windows 10?
To remove VPN on Windows 10, you need to access Settings. Now, select "Network" > "Internet" > "VPN Link". Choose the "VPN Configuration" option and press "Remove" to delete it.