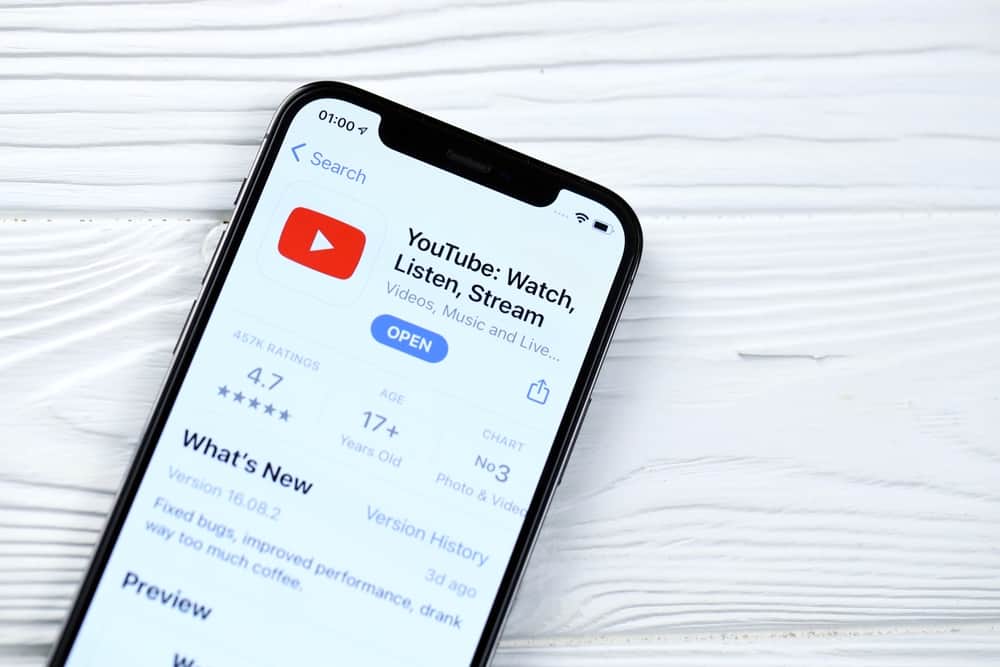 YouTube is one of the most widely used video streaming apps, with over 2.6 billion active users worldwide. You can access YouTube on various devices to watch videos, but multiple reasons eventually make some people want to get rid of it.
You can delete the YouTube app on your Android device by accessing the Apps section under Settings. You can restrict the YouTube app on an iOS device. On a Windows PC, uninstall the app from the Control panel, while Mac users can delete YouTube under the Applications folder. 
We took the time to compile an easy guide on why you need to remove the YouTube app from your device and how you can do it with simple step-by-step methods.
Reasons For Deleting YouTube App
There can be multiple reasons for getting rid of the YouTube app. Some of them are as follows:
You want to free up your phone space.
YouTube ads are troublesome.
Other video streaming sites like Netflix, Amazon Prime, etc., interest you more.
The app freezes unnecessarily, hindering the watching experience.
Deleting YouTube App on Different Devices
Deleting the YouTube app on any device is a very simple process. Our step-to-step troubleshooting steps will save you a lot of time and allow you to do this task without much difficulty.
We'll also discuss how you can get YouTube back on your device after uninstalling it. So without any delay, here are the five methods to remove YouTube from different devices, including Android, iOS, PCs, and Google Chrome.
Method #1: Deleting YouTube on Android Device
If you don't want YouTube on your Android device anymore, you can easily uninstall it and make space for new apps. Here is what you need to follow to remove this app:
On your cell phone, find "Settings."
Next, go to "Applications" and tap on "App Manager."
From the list of apps before you, scroll down and see "YouTube."
Tap "Uninstall and Confirm" to delete the app.

To stop the YouTube app icon from appearing on your home screen, locate the app, long-press it, and hold it for at least 3 seconds until a popup bar appears. From the bar, choose "Remove," and you will successfully get rid of the YouTube app icon.
Method #2: Deleting YouTube on iPhone and iPad
On iOS devices, users often complain that they can't run any video on their Safari tab because of YouTube on their device. If you face the same problem, uninstall the app on your iOS device in the following way.
First, launch "Settings" on your iOS device.
Navigate to General > Restrictions and select Enable Restrictions.

Next, set a restriction passcode if required.
Now, scroll down, find YouTube and switch it off.
Method #3: Deleting YouTube App on Windows PC
If you want to free up some space on your PC and give it a clean look, deleting unnecessary apps is best. Here is how you can remove YouTube from your Windows PC.
Go to the "Start" menu and click on the "Control Panel."
Scroll through the programs and apps installed on your PC.
Find "YouTube" and right-click on it to see a window popping up.
Now, click on "Uninstall a Program" and "Confirm."
Method #4: Deleting YouTube App on Mac
Deleting an unnecessary app from your MacBook makes a lot of space for other apps. The following steps will help you remove YouTube from your Mac without much trouble.
Go to the "Applications" folder, find "Launchpad," and click to open it.
If you can't find the app in Launchpad, type its name in the search bar.
Next, click the app and hold it till it starts jiggling.
Now, click the "Delete" button next to the app and "Confirm."
Method #5: Deleting YouTube App on Google Chrome
Several people hate seeing YouTube videos, even on Google Chrome. Follow these steps to remove the app on Chrome:
Open "Google Chrome."
On the main screen, you will find Chrome's app menu.
Find "YouTube" from the menu and right-click on it.
Next, click on "Remove From Chrome."

Finally, confirm the popup message by choosing "Remove."
How To Get YouTube Back on Android
Not everyone loves watching videos of adorable cats and several minutes of gameplay, so it's okay if you want to uninstall it. However, if you ever change your mind, here's how you can get your YouTube app back.
First, tap on the "Google Play Store" icon on your Android device.
Next, type "YouTube" into the search bar on the top.
Select "YouTube" from the apps list appearing before you.
Now, tap "Install," and you will get YouTube back in a few seconds.
Summary
In this article about deleting the YouTube app, we have explored multiple reasons that compel users to uninstall this video streaming app and discussed five methods to get rid of it on different devices and Google Chrome. We have also gone through easy steps to get the app back on your device.
Hopefully, one of these methods has worked for you, and now you can successfully delete the YouTube app and enjoy a lot of free space. Keep on removing unnecessary apps and save your devices from caches and junk.