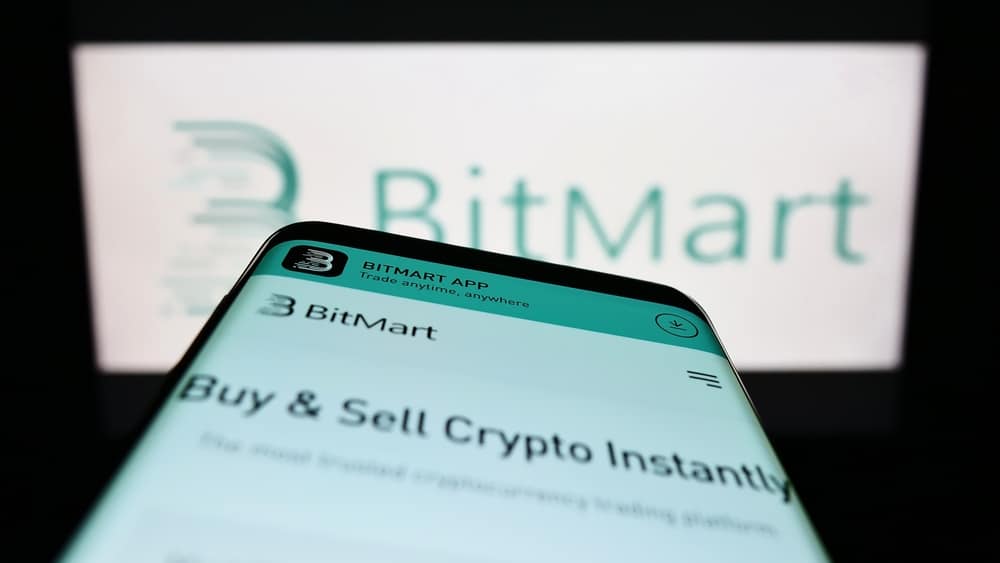 The demand for cryptocurrency surged in the last few years due to waning trust among people in the centralized monetary system. Instead, the decentralized monetary system is more stable because it doesn't suffer from government interference. This shift in preference among investors has necessitated the need for a cryptocurrency exchange platform such as BitMart.
If you're leaning towards investing in cryptocurrency through the BitMart crypto-exchange platform, the question of how you can deposit must have come to mind. Fortunately, the steps are easy to follow thanks to the user-friendly BitMart interface, including the following.
1. Go to the official BitMart site, www.bitmart.com.
2. Create an account with BitMart if you don't have one, or log in through the website if you already have an existing account. 
3. Go to the top right corner and click "Deposit". 
4. Select the cryptocurrency you wish to deposit by picking one from the list of options. 
As you can see, depositing money into the BitMart app shouldn't be much hassle as the steps are pretty straightforward. Keep reading if you want a comprehensive step-by-step guide on how you can deposit money into your BitMart app. In addition, we'll cover a few frequently asked questions associated with the BitMart app often asked by people who use this crypto exchange platform. Without further ado, let's get started.
Steps To Follow When Depositing Money Into BitMart
You can't directly deposit your USD currency into your BitMart account from your bank account. Instead, you'll be required to buy cryptocurrency assets using your money and consequently trade these to BitMart. Some third-party applications through which you can purchase crypto assets include Simplex and MoonPay.
After that, follow these steps below to deposit money into your BitMart app.
Launch your BitMart app or download and install it if you don't have it on your smartphone.
Sign up to create your account and proceed to log in if you already have a BitMart account.
Tap on the "Assets" tab you'll see on the bottom section of your screen.
Click on the search bar and enter the name of the coin you wish to buy from the list of options. For instance, entering "BTC" will show Bitcoin, and "ETH" will display Ethereum.
Tap on "Copy", and copy this deposit address that you'll paste to the withdrawal address field on the external platform wallet or platform. Alternatively, you can deposit money by scanning the QR code.
You should be exceptionally careful to read the deposit address because all coin has a unique deposit address. Otherwise, a small error might make your deposit not successful. But what happens if you make a mistake and send an incorrect coin to your BitMart coin address? This can be an issue because there's no coin/token recovery service.
Steps To Recover Incorrectly Deposited Coins or Tokens
If you lose a substantial sum of money by incorrectly depositing coins/tokens, BitMart solely out of its direction may help you recover your coins or tokens. The entire process is time-consuming and leads to significant risk and cost.
That said, BitMart can still help recover your coins, but you'll need to provide the following details.
Your BitMart account email.
The coin name.
The amount you wish to transfer.
Transaction screenshot and txid (vital).
Deposit address.
After providing these details, it's up to the BitMart team to decide if they'll help recover the lost coins, a process that, on average, takes two weeks. But for the BitMart team to retrieve the wrong coins, they'll need to upgrade or install the export/import private keys and wallet software, to name a few. The staff doing all this must be accredited under strict security audits.
Summary
The BitMart crypto exchange developed by Sheldon Xia is an excellent platform through which you can invest in numerous cryptocurrencies. This crypto exchange's popularity is due to its user-friendly interface and presence in 180 countries, including China, the USA, and South Korea.
Curious users often ask how to deposit money into this cryptocurrency exchange. You can't directly invest money into BitMart from your bank account. But worry not if you don't know what needs to be done, as this guide has detailed the steps you should follow when depositing money into your BitMart app.
Frequently Asked Questions
BitMart is 100% legitimate and was launched in 2017. You shouldn't have any concerns about losing money through this platform. This is because it's regulated by the Financial Crimes Enforcement Network in the United States of America. 
How long does it take to deposit money in BitMart?
The process of depositing money to BitMart varies from one cryptocurrency to another, usually from an hour to a maximum of 24 hours. For Ethereum, the processing takes about an hour, while for Bitcoin, it only lasts approximately 10 minutes. In contrast, the processing for USDT deposits is usually instantaneous.