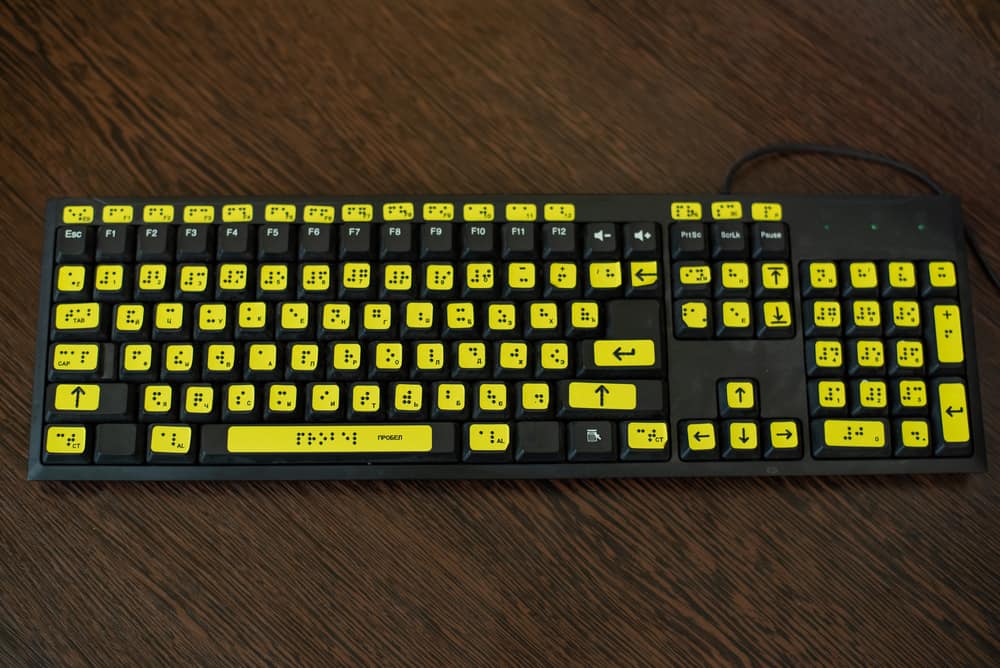 It feels very annoying clicking a key on your computer's keyboard only to realize you've clicked on the wrong Windows key. To avoid such incidences, you might be considering disabling this key altogether. This thought might also cross your mind if you find a particular key on your keyboard not functional.
There are several practical approaches you can follow to disable a key on your Windows keyboard, including the following.
• Use Microsoft PowerToys.
• Use AutoHotkey.
• Use the KeyTweak app.
Following these methods, you can easily and quickly disable a Windows key on your keyboard without breaking a sweat. Read on for a more in-depth look at the steps to follow during each of these approaches to disable a key on your Windows keyboard.
Method #1: Use Microsoft PowerToys
Microsoft first incorporated the Microsoft PowerToys system utility package with the launch of Windows 10. This system utility package got introduced with the sole role of helping users with most aspects when working on Windows, including the Keyboard Manager.
Follow these steps to disable a key on your keyboard using Microsoft PowerToys.
Download and install the Microsoft PowerToys onto your computer.
Launch PowerToys and tap "Settings". You'll be directed to the primary application interface.
Tap "Keyboard Manager" from the list of available options on the left.
Confirm the "Keyboard Manager" is enabled.
Tap the Remap key below the "Remap Keyboard" option.
On the newly opened window, tap the plus (+) icon to disable the key from working. Because PowerToys is used for remapping a key, you'll get the option to choose a key and subsequent output to which you want to remap the key's functionality.
Tap "OK" to save the settings and verify the warning message on your computer's screen to disable the selected key's functionality.
Method #2: Use AutoHotkey
AutoHotkey refers to the free scripting language in Windows 10 that automates repetitive tasks. In addition, you can use AutoHotkey to disable a specific keyboard on your Windows computer by following these steps.
Download and install AutoHotkey on your computer. You shouldn't worry about viruses because this open-source program is legitimate and safe.
Know the reference name of the different keys on your keyboard. For example, you can assign the reference name "C" to Caps Lock.
Launch the text editor, enter the key's reference, and subsequently type ::return (Take note: these are two colons).
A reference link from the link above will appear. For instance, you can choose to disable the Shift key.
Use the ".ahk" extension to save the script somewhere you can easily access it.
Double-click on the newly created script.
Doing this will open the AutoHotkey script, and the selected key will have been disabled. Should you want to use the disable key in the future, go to the system tray to stop the AutoHotkey script. You can do this by right-clicking on the taskbar icon H and choosing "Suspend Hotkeys".
However, the AutoHotkey open-source utility only enables you to automate specific keys such as letters, numbers, and general keys or symbols such as Enter, CapsLock, and Tab, to name a few. You can also use it to automate Cursor Control Keys such as Insert, PgUp, Delete, and PgDn, among others.
Method #3: Use the KeyTweak App
Another way to disable a specific Windows key on your computer keyboard is by using the KeyTweak app, which is free to download. This app is available for all Windows versions (i.e., Windows 11, Windows 10, Windows 8, and Windows 7). Here are the steps you need to follow when using this tool to disable a specific key on the Windows keyboard.
Download and install the KeyTweak app.
Choose the key you wish to disable.
Click "Disable Key" under the "Keyboard Controls" section.
Tap "Apply".
But for these changes to take effect, you'll need to restart your computer. After doing this, you'll see that the particular keys have been disabled. In addition to disabling a key, you can use the KeyTweak app to readjust your settings and remap the keyboard keys, among a few other functions.
If you in the future wish to enable to disabled key, launch the KeyTweak app and tap "Restore All Defaults". Consequently, restart your PC, and the keys after that will be enabled, and you can start using them again.
Summary
Constantly clicking the wrong key on your keyboard, besides being frustrating, ends up wasting a lot of your precious time, thus lowering your overall productivity. Because of this, it's best to disable this key on your keyboard and save yourself the stress and hassle while working.
This comprehensive blog post has outlined how you can disable the key on your keyboard. You can follow any of these methods mentioned above to disable the key on your computer. As a result, using your computer will feel a lot more exciting to use and equally make you productive.