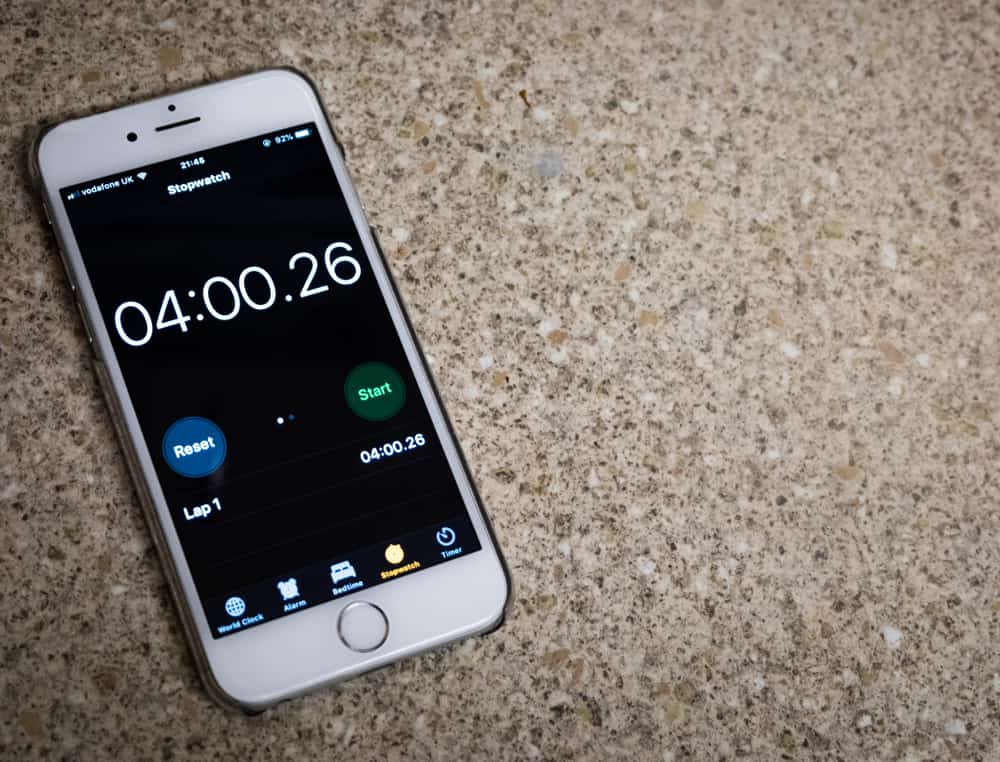 It happens to all of us that we often forget an important occasion. A simple reminder is sometimes not enough, and we need a countdown that reminds us how much time is left for the event every day. Android phones have a lot of different options for setting a countdown; however, what options do we have for iPhones?
There isn't a native countdown setting feature in iOS. You must download a countdown application from the App Store for this purpose. You can make a countdown widget and put it on your home screen. It will constantly inform you about the time left for your important event or occasion. You can use the stopwatch on your iPhone to set a countdown for a short period. 
Setting up a countdown widget on the home screen is a straightforward process. This article will help you learn each step to do a countdown on your iPhone so you will not miss that important moment of your life. 
Method #1: Using the Countdown Widget Maker App
The App Store is filled with numerous countdown widget-making apps. Most of them do a similar job, but if you want the best experience with full customizability, we recommend downloading the Countdown Widget Maker app. 
Widgets were introduced with iOS 14. If your iPhone runs an older version of iOS, you won't be able to create widgets on your home screen.
This app is free to install, but you must make a one-time $4 payment to access all the customization features. The free version works well, too, with just the basic options. It also lets you try two custom widgets without making the payment. Follow these steps to add a countdown widget to your home screen.
Search and install the Countdown Widget Maker on your iPhone.
Launch the application.
A grey interface will greet you. Tap on the date and time option to adjust it according to your event.
Once the time is set, you will need to name your widget.
If you want to customize the widget, plenty of options are available, and you can play around with each to get the desired outcome.
After you're done, save the widget.
Now that you have created the widget, it's time to set it up on your iPhone's home screen.
Head to your iPhone's Home screen.
Long press on an empty spot.
Click on the "+" at the top to access the widgets menu.
Select the Countdown Widget Maker app and add the widget of your desired size.
Click on the widget. It will reveal all the names of widgets you have made so far.
Tap on any particular widget name to add it to your home screen.
The widget will keep reminding you of the remaining time and notify you regularly.
Method #2: Using Your iPhone's Clock App
Sometimes, you might need a countdown for short internals, like during baking or if you're waiting for your favorite TV show's episode. In that case, you can use the "Timer" feature in your iPhone's clock app.
Launch the Clock app on your iPhone.
In the bottom right corner, press the "Timer" option. A timer menu will pop up.
Select the hours and minutes by scrolling the timer wheel on your screen. 
There's also an option labeled "When Timer Ends". Select this option to choose a ringtone that will play to remind you that the countdown has ended.
You can also set a timer and even a reminder by activating Siri. She will ask you for all the timing details and set up your timer or reminder.
The Bottom Line
Creating a countdown on an iPhone is very easy. iOS doesn't have a native countdown app; however, you can install a third-party application like the Countdown Widget maker from the App Store to create a countdown widget.
It comes with many customization features, and you can set a countdown for any occasion you want. Just make sure your iPhone is running iOS 14 or higher. For shorter countdowns, you can use the Timer feature in the Clock app of your iPhone. 
Frequently Asked Questions
Can I use the countdown widget for a distant event?
Countdowns are meant to be for events in the near future. You don't have to worry if the occasion you're counting down for is far away. Countdown will show up all the days, hours, and minutes left until the distant big day.
Can I set a countdown as my wallpaper?
iOS doesn't have a feature to set your countdown as wallpaper. However, specific applications on the App Store allow you to play around with the widgets and even set them up as your home screen wallpapers.