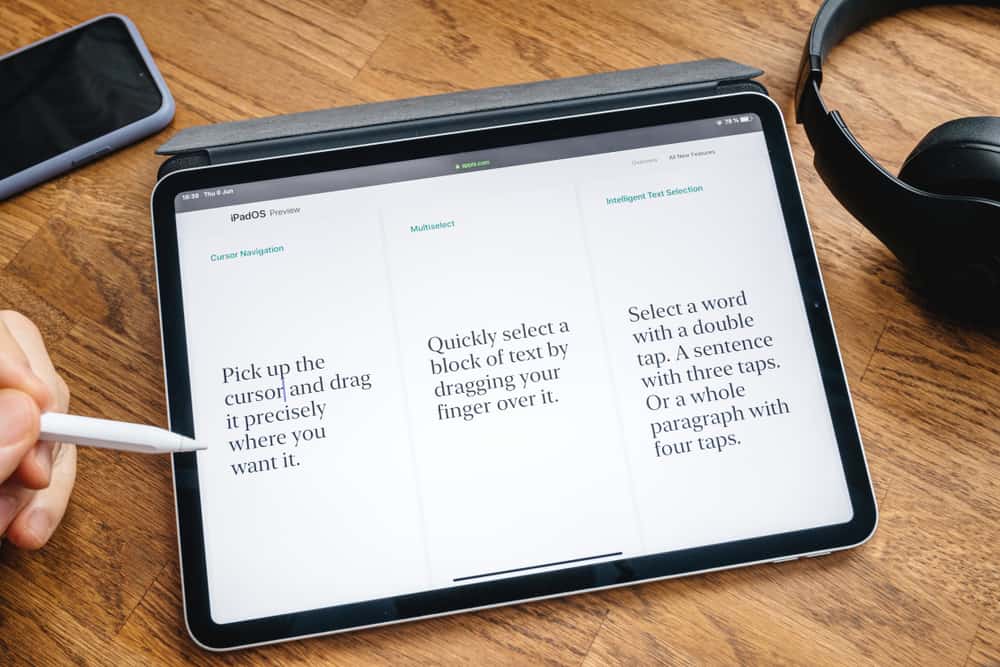 Font sizes and styles are a significant part of designing, and recently Apple has launched its devices with the ability to use custom fonts.
It is possible to download fonts on iPad using a third-party app such as iFont. You can either use the fonts in the app's font library or use the app to download fonts from the web.
We have compiled an extensive guide on why you need to download fonts on your iOS device, some methods to get them, and how you can use them on your iPad.
Why Download Fonts on iPad?
There can be numerous reasons for getting some fonts on your device because who doesn't love customizing their device? Here are some considerations that compel you to install fonts on your iPad.
Fonts allow you to design images.
Increase in customization options.
Make editing more accessible and diverse.
Configurable typing options.
Downloading Fonts on iPad
Downloading fonts on the iPad is a super easy task. Our step-to-step guide will save you a lot of time by helping you through all the steps involved in the process.
So without further ado, let's reveal the two simple methods to download fonts on iPad.
Method #1: Using an App
One of the easiest methods to get custom fonts on your iOS device is downloading them using third-party apps. To do this:
First, find App Store from your Home Screen.
Next, type "Fonts for iPad" in the search bar and tap on the app you want to download.
Browse through the app and find the font you like for your iPad; after seeing the font, tap "Install" and wait till the download completes.
Confirm the font installation by navigating to "Settings" > "General" > "Fonts".
Method #2: Using an App to Browser the Web
Although most apps provide you with a wide range of pre-installed fonts, others require you to find fonts on the web and install them.
Step #1: Finding and Downloading Fonts
Browse the web in your font app and choose the font you wish to download to the app. Once you get the font in the application, you need to install it on your device.
For example, for installing the font on the iFont app, you need a configuration profile which is a preference file that allows added features on your iOS device.

After successfully downloading the font from the web and importing it to the iFont app, move to the installer tab found at the bottom. Now, select the font you have downloaded.
Step #2: Installing Fonts
After selecting the downloaded fonts, follow the provided instructions and get the configuration profile. Now, navigate to "Settings" > "General" > "Profiles" and choose the font profile's name.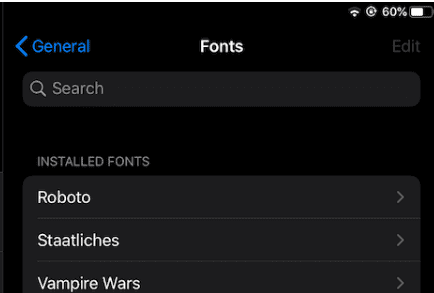 Next, tap "Install" and type in your password if prompted, choose to install again. Once the installation is complete, you can use the font.
We have used iFont here, but there are multiple apps to choose from. Select the app of your choice and follow the same steps above.
Using Fonts on iPad
At this point, you know how to get the fonts of your choice on your iPad. Here is what you need to do to use the installed fonts.
First, download the Adobe Creative Cloud for iOS if you don't already have it.
Next, create an account and either get the subscription plan or go for the free trial.
Now, tap on the "Fonts" tab at the bottom and install the downloaded fonts.
Head to "Settings" > "General" > "Fonts" on your iPad to find the installed fonts.
Next, open a font-compatible application, e.g., Keynote, Mail, or Pages.
Finally, type new text or choose from existing text, move to the editor, and find new custom fonts.
Summary
In this step-to-step guide on how to download fonts on iPad, we have explored the different reasons for installing custom fonts and how to download them on your device using third-party apps and finding fonts on the web. We have also looked into using these fonts on your iPad.
Hopefully, one of these methods has worked for you, and now you can successfully get your favorite fonts on your iPad device to enjoy editing your text and images.
Frequently Asked Questions
Where are fonts stored on the iPad?
Fonts can be downloaded from App Store and later used in documents you create on your iOS devices. After installing the app containing fonts, browse through the application and get the fonts you like. Navigate to "Settings" > "General" > "Fonts" for managing fonts on your iPad.
To find these fonts, either go to "System" > "Library" > "Fonts" or navigate to "System" > "Library" > "Fonts" > "Cache".
What fonts does iOS/Apple use?
The system font in iOS, tvOS, and macOS is SF Pro. However, watchOS uses the SF Compact font. These system fonts are neutral and legible to match the visual clarity of the iOS devices.