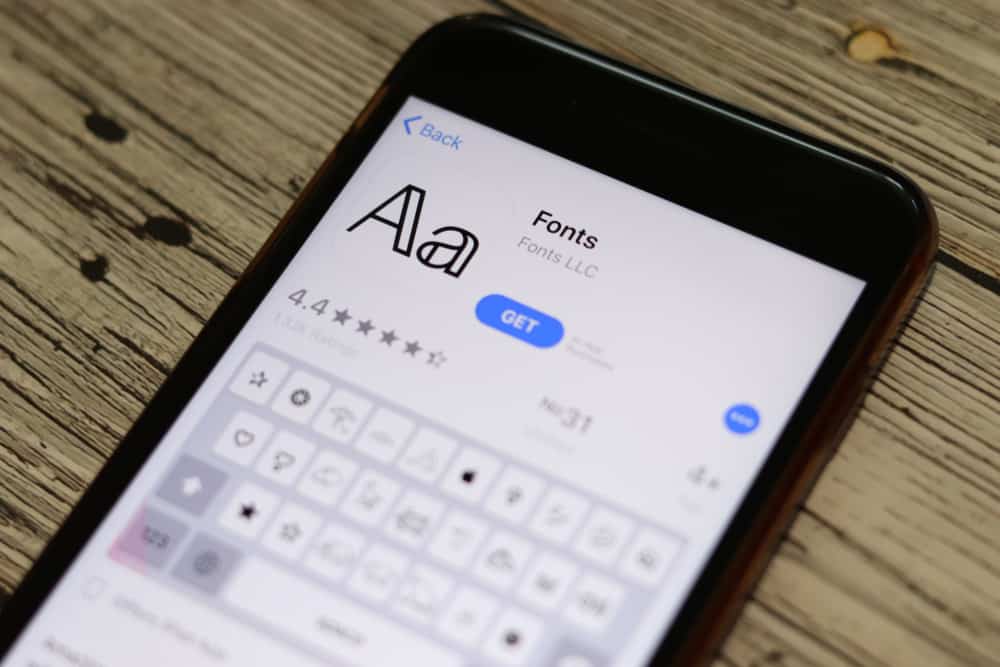 Before iOS 13 came out, iPhone users had difficulty downloading and customizing third-party fonts. Most people put up with the bland system iPhone fonts, but if you're using the latest iOS version, you have no excuse for using a font you dislike. So how do you download these fonts to your iPhone?
There are several third-party font apps you can download from the App store. After installing the apps, you need to open the settings menu on your iPhone, go to "General," and select "Font." The pre-downloaded fonts will appear on the list where you can choose your desired font and customize it.
Unfortunately, you can only use the downloaded fonts on select Apple apps such as Pages, Keynote, and Numbers. However, all is not lost because some third-party font apps allow you to use their fonts on Apple Mail, Whatsapp, Instagram, and Facebook. 
This guide sums up two methods of downloading fonts on an iPhone. Let's not waste any more time and dive right into it!
Method #1: Using a Third-Party Font App
You can download fonts on your iPhone using third-party apps like iFont, Font Diner, Fonteer, and Adobe Creative Cloud. The installation process varies from one app to another but follows the following procedure:
Open the App Store on your phone's home screen.
Search for the font app on the app store.
Find your preferred app, click "Activate" and install it.
Open the app after a successful download.
Scroll down to explore the available fonts.
Select your desired font.
Customize the font and use it with compatible system apps.
For this guide, we will use the Adobe Creative Cloud. This third-party app has over 1300 free fonts which work with Apple Mail. However, these fonts only work with system apps and won't be helpful with third-party apps like Facebook and Whatsapp.
Using Adobe Creative Cloud
Below is the step-by-step guide on how to download fonts on iPhone using Adobe Creative Cloud:
Open "Settings" on your iPhone.
Tap on "General."
Select "Fonts" and wait for the menu to load. It would help if you had pre-downloaded fonts from a third-party app, in this case, Adobe Creative Cloud. A prompt to open the App Store will appear.
Click "Open App Store" or go to your home screen and open the App Store.
Type the word "Adobe Creative Cloud" on the search bar.
Click on the right result to open the download link.
Install the app on your iPhone.
Open the app after it has finished installing.
Sign up or Log in to the app using an Email address, Google, Apple, or Facebook account.
After a successful login, you will see hundreds of free fonts.
Explore the fonts and select the one you desire.
Then, install the chosen font. When the download is finished, you'll receive a green notification saying "Installed."
Return to the home screen and select "Settings."
Click on "General."
Select "Font."
Click on your downloaded font. The font is ready to use.
Method #2: Downloading Fonts for Use in Third-Party Apps
It's annoying to go through the long process of downloading an interesting font only to find it doesn't work on third-party apps like social media apps. 
Fortunately, some third-party font apps allow you to use their fonts across most apps, such as Instagram, Snapchat, Facebook, and Whatsapp. One such app is Buzzer Fonts, which will be the subject of this second guide. Let's get into it.
Using Buzzer Fonts
Buzzer Fonts offers not only free fonts but also additional symbols and emojis. Below are the steps to download custom fonts on your iPhone using this third-party app.
Open the App Store.
Search for "Buzzer Fonts."
Click "Install."
After the download is complete, open the app and tap on "Settings."
Alternatively, go back to your home screen and tap on "Settings."
Select "General" and tap on "Keyboard."
Now, go to "Keyboard Options and tap "New Keyboard."
Scroll down to find the third-party keyboard section.
Tap on "Fonts." and select a new font. This step adds the downloaded font.
A prompt asking you to allow full access appears. Select "On" to enable the font to have access to all compatible apps.
Open any messaging app to customize the new font.
Tap and hold the Globe icon, then select the "Buzzer Fonts" option.
Pick your preferred font from the "Buzzer Font" styles.
Start typing and enjoy your new font.
Summary
To download fonts on your iPhone, you need to install third-party font apps. These apps have free and premium fonts, which you download and integrate into your system and third-party apps. Go ahead and use any of the two methods to enjoy exciting third-party fonts.
Frequently Asked Questions
How do I change the font style on my iPhone without an app?
You can change the font style on your iPhone without an app, but it involves jailbreaking your phone. Jailbreaking your iPhone is a risky and complex process that we wouldn't advise you to undertake, but it's achievable if you have the know-how.
How do I uninstall a font from my iPhone?
To remove a font you no longer use or need, do the following:
1. First, open the list of downloaded fonts.
2. After that, click on the "Edit."
3. Select the font you want to uninstall.
4. Tap "Remove."