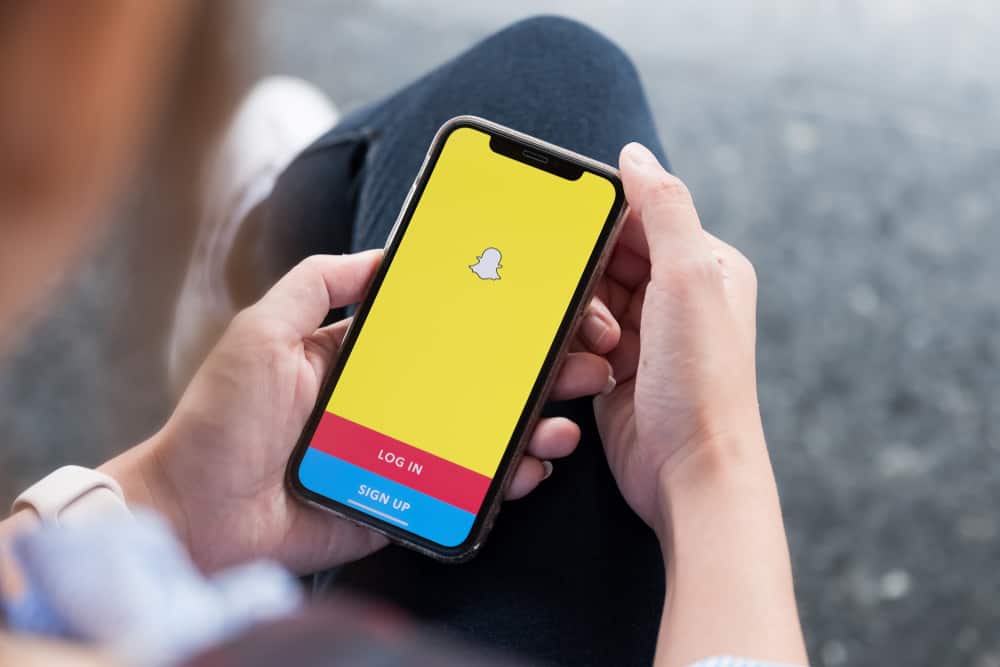 App crashes on iPhones aren't uncommon, but the good thing is they are super easy to fix. We'll zero in on one app that always seems to have this problem in this article. This app is none other than Snapchat. 
Fixing a Snapchat app that keeps crashing on your iPhone can be as easy as restarting your device. But if the problem persists, try out the quick fixes outlined below. 
A crash on this social network can occur either while the app is in use or immediately after its launch. Either way, the same remedies apply to both scenarios. 
Before we dive right into the various ways you can fix Snapchat crashing on your iPhone, let's understand why this issue might occur.
Why Is Snapchat Crashing on My iPhone?
 Sometimes, your Snapchat app might crash because you haven't updated it to the latest version. Apps usually have some bugs that mess with their usability, and one bug or the other usually gets addressed every time there's an update.
The version of Snapchat you have might be old, which might be why it keeps crashing on your iPhone. 
Your Snapchat app might also crash when your device is low on storage. In this case, it will keep shutting down until you delete stuff or free up some space.
Lastly, this issue might occur because you haven't updated the iOS software on your iPhone to the latest one.
How Do You Stop Snapchat From Crashing on Your iPhone?
Often, you can quickly resolve crashing issues with Snapchat by rebooting your iPhone, and you rarely ever have to go to a phone repair shop to get it sorted. But if rebooting doesn't work, here are several ways to tackle this problem.
Method #1: Update Your Snapchat to the Latest Version
To update the app to the latest version, check out the steps below.
Make sure you are connected to Wi-Fi.
Log in to your Apple ID.
Open the App Store.
Tap your profile icon at the top of the screen.
Scroll to see pending updates and release notes.
Tap "Update" next to an app to update only that app, or tap "Update All".
Method #2: Free Up Some Storage Space
Freeing up storage space is pretty straightforward. Here are the steps. 
Go to Settings.
Click on "General".
Tap on "iPhone Storage".
Scroll down to find the apps that are taking up the most space.
Delete or offload them to free up some space.
You can also backup and delete some videos and pictures. Empty your browser's cache and text messages or delete some apps you don't need.
Method #3: Update Your iOS Software in Settings
If your iOS is outdated, the following steps will help you update it to the latest version.
Go to Settings. 
Go to General.
Click on "Software Update".
Tap "Automatic Updates".
Toggle on "Download iOS Updates".
Select "Install iOS Updates".
This will automatically update your device to the latest version of iOS.
Method #4: Quit Snapchat and Re-Open It
I'm confident this is the first thing you did when your app crashed; it's what everyone would do. Still, don't panic. You can do other things to get your app to function correctly again. 
Method #5: Make Sure You Have a Good Internet Connection
There's a possibility that your Snapchat might not be working because of your internet connection. 
If your network happens to be poor, try hooking your phone up to be a better connection. If there are no changes, enable Airplane Mode for a few seconds, then turn it off.
Doing this will refresh your internet connection and clear up errors that make your internet connection weak or insecure. 
Method #6: Uninstall Snapchat and Download It Again
Some misconfigured files may cause your Snapchats' crashing issues on your iPhone. You can uninstall Snapchat and install it again from the App Store, and here are the instructions.
Go to the Home Screen.
Remove or uninstall Snapchat.
Open the App Store.
Search for "Snapchat".
Download Snapchat again.
One of the reasons for the constant crashing could be corrupted data.
Some data in the app's memory, like cache or temporary data, might be corrupted and could be affecting the app's functions, which brings us to the next quick fix.
Method #7: Clear Your History on Snapchat
Sometimes, cached data piles up and causes apps to misbehave. This could be why your Snapchat is acting up.
Clear your Snapchat history through the following steps.
Access Snapchat on your device.
At the top left, you'll see your profile. Tap on it.
Tap on the Settings icon 
You'll see a section labeled "Account Action".
Hit the "Clear Cache" icon under the section.
A pop-up would appear stating that the system will wipe your cache, and your Snapchat would need to be restarted. 
Please ensure that your memories are backed up before following through with this remedy.
Method #8: Clear Snapchat From Frequently Used Apps
To do this, follow these steps.
Go to the Home Screen.
Swipe up if you're using an iPhone X or later model, but press the Home button twice if you're not.
On the screen, you will see a list of frequently used apps. Look for Snapchat, then swipe up to clear it.
It would help if you also cleared any other apps running in the background. Follow the same steps mentioned above to remove the apps.
Method #9: Delete Unauthorized Third-Party Snapchat Apps
There are a lot of third-party Snapchat apps like Swipe, Snaptools Phanthom, etc. Some of them use an insecure connection to access your Snapchat account. 
Try deleting any third-party app on your device, then access your Snapchat app to see if the crashing issue persists.
Method #10: Turn Off Your VPN
The last quick fix on our list is equally simple to do. Try turning off or deactivating your VPN if it's on your device. 
You can do this by following the below directions.
Open your Settings.
Tap on General.
Go to "VPN Device Management".
Disable or deactivate the VPN service.
After doing this, open your Snapchat to see if it still crashes.
Final Thoughts
We hope we've been able to help you navigate your Snapchat crashing issues. We guarantee you that one of these steps will help resolve the problem.