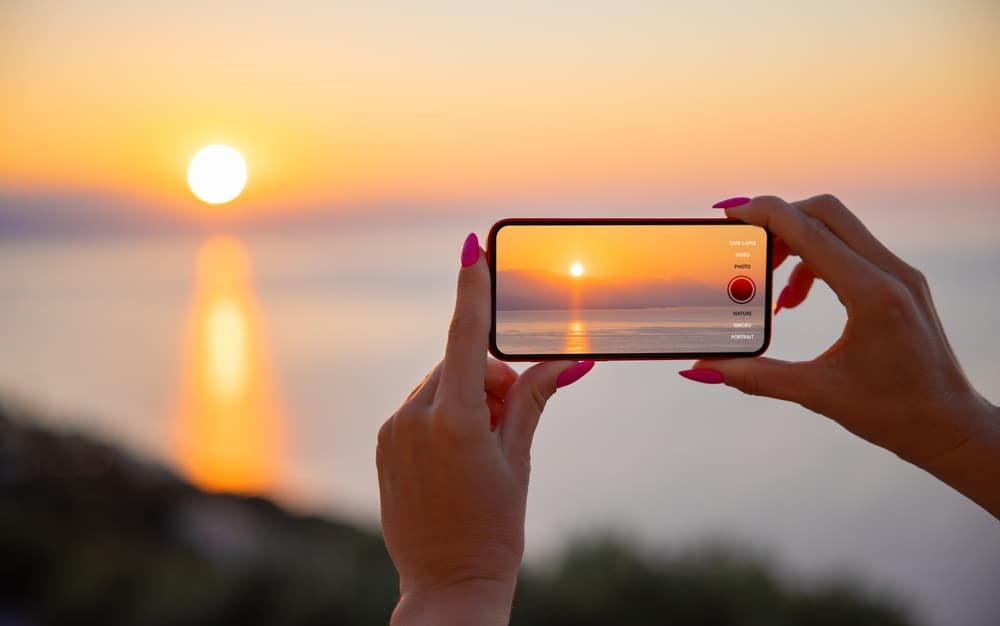 Framing a photo adds a special atmosphere to the picture. There are countless ways you can add borders to images. But the question is, how do you add the frame using only an iPhone?
There are three ways you can frame a phone with an iPhone. Firstly, you can use Markup to add frames to photos on your iPhone, which is the native way to do it. Another way to add a frame to an image is using a third-party app or online editing software. 
If you plan on sharing the photo on social media, it might be possible that the social media platform has its photo editing program, which you can use to add a frame to your photo. Your options to add an edge to your image are numerous.
We will enlighten you on some of the easiest and best ways to add a frame to a photo on an iPhone. Let's explore more.
Different Ways To Frame a Photo on iPhone
Suppose you don't want to install third-party software on your iPhone because of framing a photo. There is a method for everyone looking to frame a photo on an iPhone. Below are three of the best ways you can go about it.
Method #1: Using Markup
The Markup is a photo editing feature that comes on the iOS 10 version. With your iPhone, this feature lets you doodle, add text, magnify and edit pictures and screenshots, etc. The most exciting thing about this feature is that it is not limited to the Photos app of your iPhone. You can activate the Markup feature in your Mail, Messages, Files, and so on to make necessary edits.
Here's how to add a frame to a photo using the Markup tool.
Launch the Photos app and open the image you want to frame.
In the corner, you will see the edit icon, tap on it and click on the "Markup" button.
Once Markup opens, click on the plus icon.
You would see a square from the list of options; tap on it.
With the square at the center of your image, tap on a color to change the appearance, and use the dots around the edges to adjust the size. Click "Done" to save when satisfied.
Tap the crop button to crop out the excess image, so it's perfect, and click "Done" to save.
Method #2: Using a Third-Party Photo Editor
Another way to add frames to photos is with a third-party app. There are several of these third-party apps you can use, like Adobe Photoshop Express, InFrame, etc. You can download these apps from the App Store or the developer's website. Note that using a third-party app might be free, and sometimes you might have to pay for it. However, the advantage of using this way to add frames to images is that you have more options in terms of design.
Here's how to add a frame to a photo using Adobe Photoshop Express.
Launch the App Store, search and download the Adobe Photoshop Express app.
Launch the app and tap on the border icon at the bottom toolbar (it looks like stacked rectangles).
At the bottom of your photo, you will see three categories: frames, edges, and basic; tap on the frames.
Select the frame, adjust its color and every other option you'd want, and tap on "Done" to save when satisfied.
Method #3: Using an Online Photo Editor
If you do not want to download an application on your iPhone to add a frame, you can use an online photo editor to add the frame. There are several tools like Canva, BeFunky, etc. These tools give you access to many resources, sometimes more than what an app you downloaded would. However, it would be best if you had a stable internet connection and may have to subscribe to a premium account to get the most out of these tools. 
Here's how to add a frame to an image using Canva.
Open a web browser on your iPhone, such as Safari or Chrome, and go to the Canva website.
Create an account and tap on "Create a design".
You must choose the design size, be it a letter, A4, etc.
Choose a frame you want to use from the library and the side panel editor, and click on photos to upload the image you want to use.
Make necessary adjustments and when satisfied, use the download icon at the top right corner of your screen to save the image to your iPhone.
While online photo editing platforms like Canva offer a web version, they also have free software you can download on your iPhone.
Conclusion
Adding a frame to your photos is a brilliant way to make them pop out. Using Markup on your iPhone is great, but it is very limited in the type of frame you can add as it wasn't mainly designed for adding frames, but it is free to use and doesn't require you to use anything other than what is on your iPhone.
If you want to download a third-party app, you need to be sure the app you are downloading has the feature you wish, as not all photo editing apps allow you to add a frame. The best way to add a frame to a photo remains using an online photo editor, as it is easy to use and offers many resources.