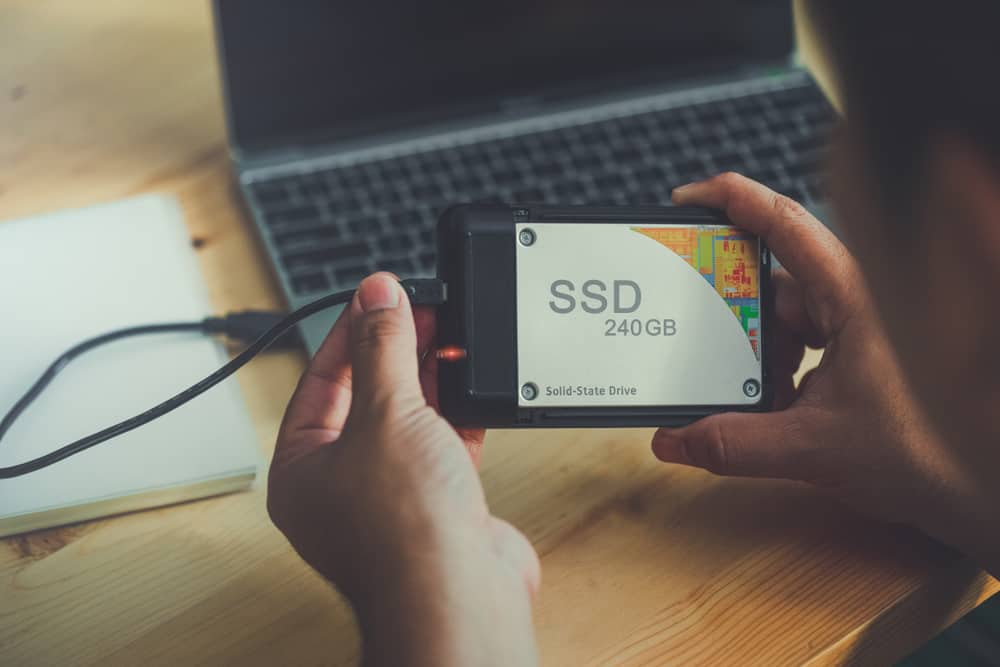 There is a 100-fold speed increase over HDDs and a shorter boot time with SSDs (solid-state drives). Because of this, many people choose SSDs over HDDs when they purchase a computer or laptop. Only their relatively small storage capacity makes SSDs prone to run out of space quickly. 
Many people don't know how to manage their SSD disk space correctly and are therefore experiencing insufficient disk space. If you're in the same situation, deleting personal files isn't the only option for freeing up SSD space. To ensure you have enough space on your SSD, there are multiple methods you can use. 
This blog will walk through 5 methods you can follow to free up storage space on SSD. Also, we'll share a list of problems you can experience due to low disk space. And we'll explain how to determine what is occupying your SSD storage space. 
What Happens if Your SSD Runs Out of Space?
When your SSD space is almost full or full, you might experience these problems.
Your PC speed will decrease, and boot time will increase.
A low disk space warning will pop up more often.
Sometimes you might encounter a system crash.
You can't store large files.
This will impede the installation of new OS updates.
What Is Taking Up Storage on Your SSD?
To free up space on your SSD, you should first identify what is consuming your SSD's space. You can do so by following the steps mentioned below.
Guide to Settings and click "System".

From the left sidebar, click the "Storage" option.

Browse and analyze the next screen to see what is taking up storage on your laptop or computer. 

Now you know what is taking up storage on your SSD, let's move and figure out how you can clean the storage space.
How To Free Up Space on an SSD in Windows 10/11
You can attempt multiple methods to free up space on your solid state drive. Let's scroll down to explore those methods.
Method #1: Empty the Recycle Bin
Deleted files will not be immediately deleted; they will go to the Recycle Bin instead. These files might no longer be helpful to you. Still, these files are taking up the space on SSD. Therefore, emptying the recycle bin whenever you see a warning of insufficient space is recommended. 
Let's see how you can empty the recycle bin.
Hover your mouse on the Windows Search bar, search for "Recycle Bin", and choose to open it. 

Click "Recycle Bin Tools" from the header menu and select "Empty Recycle Bin".

Method #2: Enable Storage Sense
Storage Sense is one of the most intelligent features of Windows that automatically wipes the temporary files to keep the free space on the SSD. 
If Storage Sense is not enabled by default on your Windows laptop or computer, you must enable it by following the steps below.
Head to Settings and click "System".

From the left sidebar, click "Storage".

Click "Configure Storage Sense or run it now".

Turn on the toggle under "Storage Sense" and set "Run Storage Space" to "During low free disk space".

Select the files you want to delete with the timeframe in which you want to delete files.

Method #3: Delete Temporary Files
You should consider deleting the temp files if you are running low on the SSD space. When creating or editing a file, temporary files are intended to store information in the meantime.
It is safe to delete the temporary files to free up space on the SSD. Here is how you can do so.
Head to Settings and click "System".
Click the "Storage" option located in the left sidebar.
Click the "Temporary files" option.

Browse the next screen for a list of all the temporary files you can delete without affecting the system's functioning. 
Method #4: Delete Big Hidden Files
After emptying the recycle bin, deleting temporary files, and still seeing full storage on the SSD, you should consider deleting big hidden files to free up storage space. 
Hidden files are not visible in File Explorer. First, you have to unhide them by performing the following steps.
Head to the Control Panel and click "File Explorer Options".

Click the "View" tab, mark "Show hidden files, folders, and drivers", and click "Apply" to save settings.

Go to File Explorer and look for the unhidden files and delete those that are no longer useful to you. 
Method #5: Uninstall Apps and Programs
Another way to free up space on an SSD is to delete the unwanted app or program files from your PC. 
Here is how you can uninstall apps and programs on Windows PC.
Head to Settings.
Click the "Apps" option.

Select "Apps & Features".

Choose the application or programs you no longer find valuable, and click the "Uninstall" button.

Conclusion
Running low on SSD space shows slow speed and increased boot time. To ensure the smooth operation of your PC or laptop, you must leave sufficient space on the SSD. If you also face a low space problem, you can follow the abovementioned methods to free up storage space on SSD. 
In addition to these steps, you should delete the large personal files stored on the SSD. If possible, you can attach an external HDD with your computer to store your large personal files to keep up enough space on the SSD. 
Frequently Asked Questions
What is the impact of freeing up SSD space on performance?
Sufficient storage space will enhance the performance, and you can expect better system functioning. When SSDs have enough storage, they perform better. 
Can I extend the SSD storage capacity on my laptop?
To increase SSD storage capacity, all that needs to be done is to replace the old drive with one that has a larger capacity.