Do you want to create high-quality videos on TikTok but struggle to do so while using the Camera app on your device? Luckily, the TikTok app allows you to amp up the quality of your camera effortlessly.
To get better camera quality on TikTok with an iPhone, open Settings, navigate to "Camera", tap "Record Video", and choose the highest resolution.
To make things easier for you, we've created a comprehensive, step-by-step guide on how to get better camera quality on TikTok. We'll also review why your TikTok videos might be blurry and how to improve the video quality. In the end, we'll also mention tips for improving camera quality.
Why Are My TikTok Videos Blurry?
If you have cleaned your device's camera lens before recording and your TikTok video still becomes blurry, here are some reasons why that might be happening.
Reason #1: Screen Resolution
When it comes to screen resolution, TikTok supports a maximum of 1080p. If the resolution of your videos exceeds their maximum amount, TikTok readjusts it and brings it down a notch.
Fortunately, resizing your videos before uploading them is a way to avoid this error. Remember that TikTok also readjusts the screen resolution based on your device.
Reason #2: Video Specification
If you've uploaded a video that has not been recorded from the TikTok app, the quality might be compromised due to resolution adjustment according to the app's specifications.
You can resolve this error using the TikTok app camera to record your videos. 
Reason #3: Web Server Capacity
Posting and storing high-quality videos can be grueling on TikTok's web server, which is why the app adjusts the video and reduces its quality. Unfortunately, you can do nothing to fix this error except wait for things to get better. 
Getting Better Camera Quality on TikTok
If you're struggling with how to get better camera quality on TikTok, follow our 2 step-by-step methods to help you resolve this issue without any hassle!
Method #1: Increasing Camera Quality on an iPhone
To get a better camera quality to record TikTok videos on your iPhone, increase the resolution with the following steps.
Unlock your iPhone.
Open Settings.
Tap "Camera".
Tap "Record Video".
Choose "4K at 30 fps" to improve your iPhone's camera quality for TikTok videos!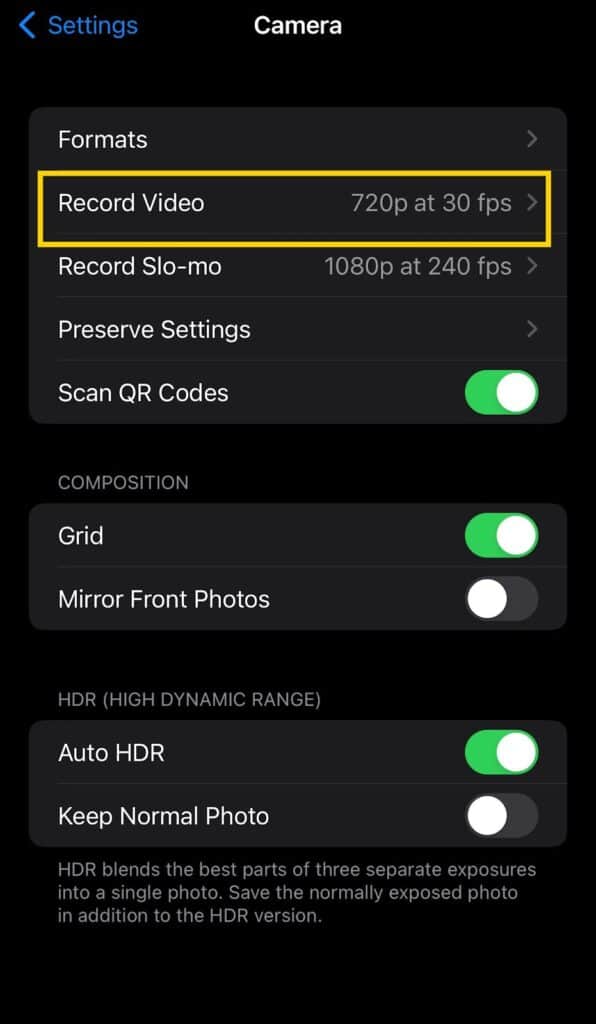 Switching to higher-quality resolution decreases the chances of low-quality content after the video is transported to TikTok and readjusted.
Method #2: Increasing Camera Quality on Android Smartphones
Follow these steps to make the most of your Android phone camera while recording TikTok videos.
Open Camera.
Tap "Settings".

Tap "Resolution".
Choose the highest resolution to amp up your TikTok content using your Android camera.
Method #3: Using Your Rear Camera
The rear camera of your smartphone has the power to catch good lighting and provide a better resolution, which helps improve the video quality. Additionally, the rear camera has various features to adjust the camera frame and setting per your preference.
Method #4: Using Good Lighting 
It is no surprise that the trick to a quality camera recording lies with good lighting! We recommend using natural or warm ring light to record your TikTok video to bring the quality up a notch.
Method #5: Using Editing Tools
As TikTok is all about visuals, editing your videos with the right tools can help amplify their quality. So, after creating one, use suitable applications to edit transitions and add filters to further improve the content before uploading.
Viewing/Uploading Better Video Quality on TikTok
If you want to upload or view TikTok videos in better quality, our following 2 methods can greatly help you.
Method #1: Selecting High Video Quality
To improve the quality of the uploaded videos on TikTok, utilize the high-quality uploads feature by following these steps. 
Launch TikTok. 
Tap the "+" sign to record or select a prerecorded video.
Edit the video and select "Next".
Scroll down to "Allow high-quality uploads" and toggle the switch to turn green.
Tap "Post" to upload the video on TikTok in a high-quality format.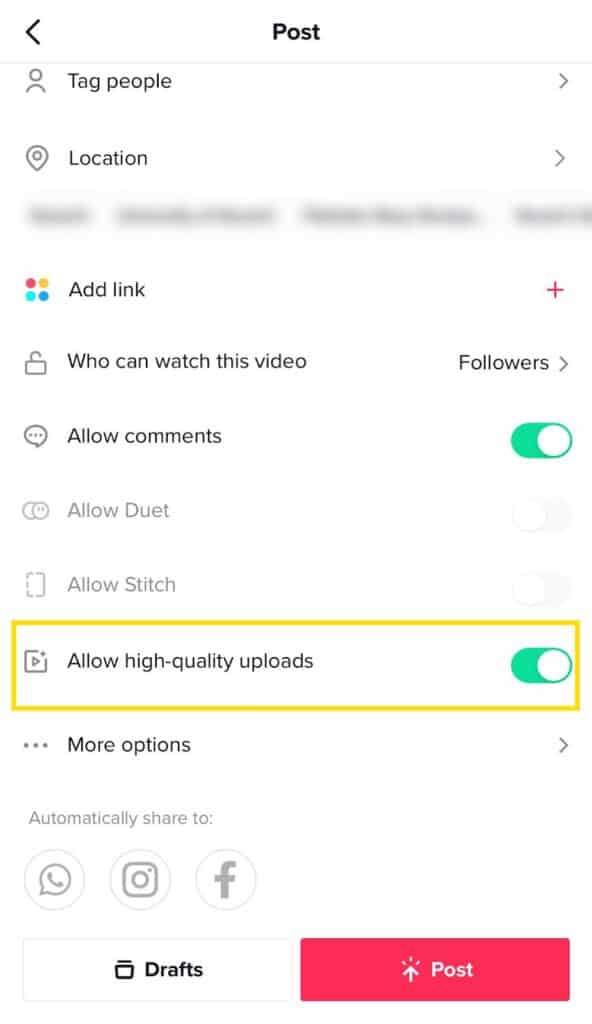 Method #2: Turning Off the Data Saving Feature
To view TikTok videos in better quality, try turning off the Data Saving Feature with the following steps.
Launch TikTok.
Tap "Profile" and select the three stacked lines on the right to access settings.
Tap "Settings and privacy".
Scroll down to "Cache & Cellular Data".
Tap "Data Saver".
Toggle the button to the left until it turns grey to turn off the data saver.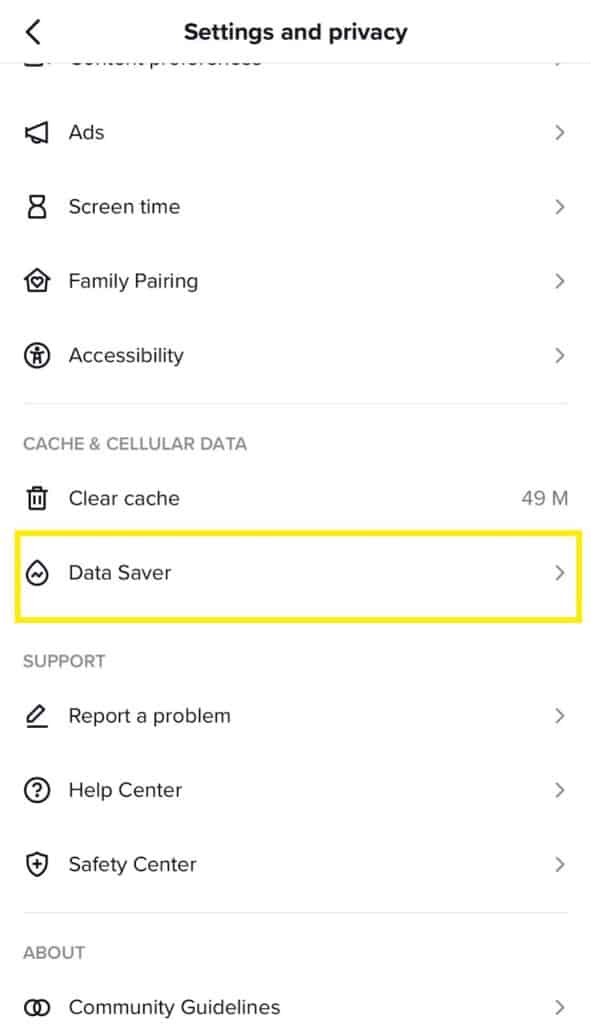 Summary
In this guide, we've discussed how to get better camera quality on TikTok. We have also discussed the reasons why your TikTok videos may get blurry.
In the end, we've wrapped up the article by informing you about uploading and viewing TikTok videos in better quality using the High-quality uploads feature and turning off Data Saver mode within the app. 
Hopefully, your question has been answered in this article, and now you can quickly post high-quality videos that are entertaining and pleasing to the eye!
Frequently Asked Questions
Will TikTok let me upload 60fps videos?
TikTok allows users to upload videos with a frame rate between 23fps and 60fps but not more than that.
Why does TikTok crop my video's frame?
Like any other social media platform, TikTok has a set margin of 150px for the horizontal axis and 64px for the vertical axis. If your video is out of that margin, TikTok readjusts the frame.