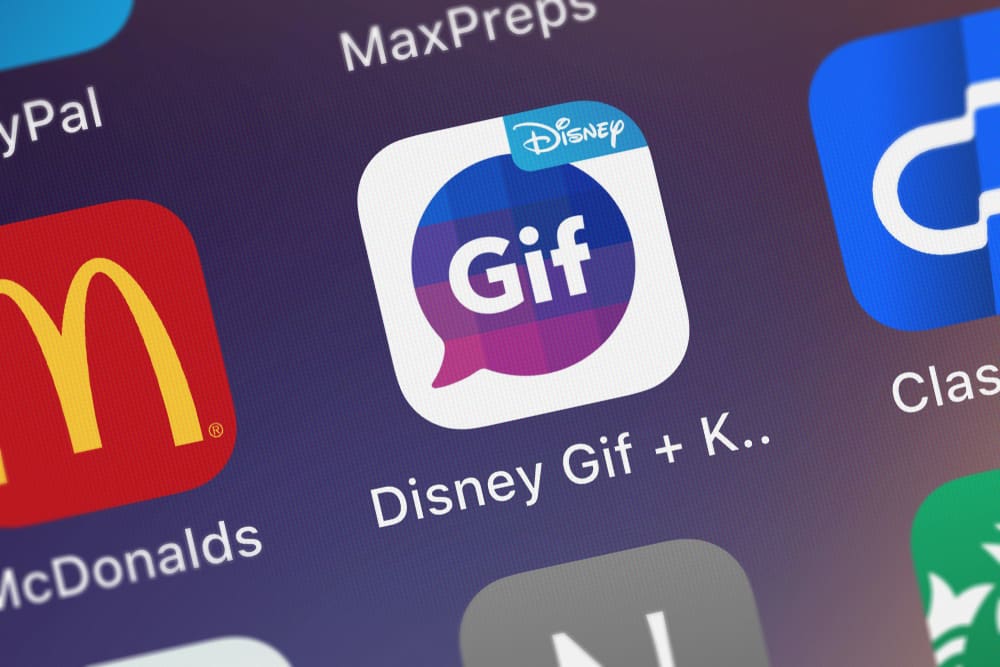 Do you use iPhone and love to send GIFs while texting? Or maybe you are looking for a way to send GIFs through an iPhone keyboard. If yes, you are at the right place because I'm going to teach you how you can send GIFs on your iPhone keyboard.
You must go to any chat and click on the type box. A keyboard will appear on the screen; here, you must look at the icons above the keyboard's first row, spot a red search icon, and click on it. It will open all the available GIFs for you to send.
This could be challenging for you if you are a new iPhone user. So to help you, I will show you a step-by-step guide that will eventually lead you to get the GIFs on your iPhone.
What Are GIFs?
GIFs are short, looping videos that repeatedly play without audio. You can use them to show a small moment, like someone's face when they are surprised, or a small action, like dancing.
You can also use them to show motion in something static, like an image of a dog sitting still. GIFs are often used to express emotions, but you can also use them to share ideas or jokes.
So, let's learn how to get GIFs on the iPhone keyboard.
How To Get GIFs on iPhone Keyboard
There are two methods of getting GIFs on the iPhone keyboard: using the stock method or a third-party app.
This article will show you ways to help you conveniently get the needed GIFs so you can show your emotions while chatting.
Method #1: Stock Method
Here are the steps you can follow to get the GIFs on your iPhone keyboard.
Launch WhatsApp or any other messaging app and open anyone's chat.
Click on the message typing box to pull up the keyboard on the screen.
Spot and click on the red search icon.
Another window will pop up with all the GIFs; click on any to send.
If you don't find the one according to your needs, you can click on the search bar above the GIFs and search accordingly.
This is the easiest way to get and send GIFs to someone while using only your iPhone keyboard.
Method #2: Add GIFs Using a Third-Party App
Sometimes you don't find the needed GIFs according to your emotions on the stock iPhone keyboard. You will have to try using the third-party app and get different GIFs in this situation.
For this, you will have to follow the steps given below.
Go to the App Store and search for third-party GIF apps (e.g., GIPHY, GIF X, and GIFWrapped).
Download and install the app of your choice.
Now go to any messaging app and open any chat.
Click on the message type box and spot the GIFs app icon. The icon will be the same as the downloaded app's icon.
Click on the icon, and a new window will appear with all available GIFs.
You will see different GIF categories that can help you find the most appropriate GIF according to your emotion. You will also see a search bar that you can use to search the GIFs.
So, this is how you can quickly get the GIFs on the iPhone keyboard by installing the third-party apps.
Conclusion
So, this is how you can quickly get GIFs on the iPhone keyboard without any problem. iPhone's keyboard has a built-in function that allows you to send GIFs without leaving the chat for a second. You can try both the ways mentioned above and get amazing GIFs according to your needs.
Frequently Asked Questions
Does the iPhone keyboard have GIFs?
Yes, the iPhone keyboard does have GIFs. All iPhones with iOS 10 or later operating systems have GIFs on the keyboard. This allows you to quickly send GIFs to anyone without even leaving the chat. You can get this fantastic feature by following the steps mentioned above. 
Why can't I get GIFs on my iPhone?
If you can't see the GIFs icon on your iPhone keyboard, you should swipe the list to the left. You will see an option icon with 3 dots at the end of the list. Click on it, and it will take you to the screen where you can add the GIFs icon to your keyboard.
Why can't I send a GIF in a text message iPhone?
GIFs are the media files, and you can't send GIFs in a text message unless you are connected to the internet. It's because of the file size, which is too large for a text message.
How do you save GIFs on iOS 14?
If you want to save any GIF in your iPhone storage, you must follow the steps below.
1. Long-press the GIF that you want to save.
2. A list of options will appear; you must click on the "Open in New Tab" option.
3. The GIF will load on another tab. Long-press on the GIF again and click on the "Add to Photos" option from the list. The GIF will be automatically saved to your iPhone.